Thu., July 19, 2012
East Side shoulders weight of Washington wolf recovery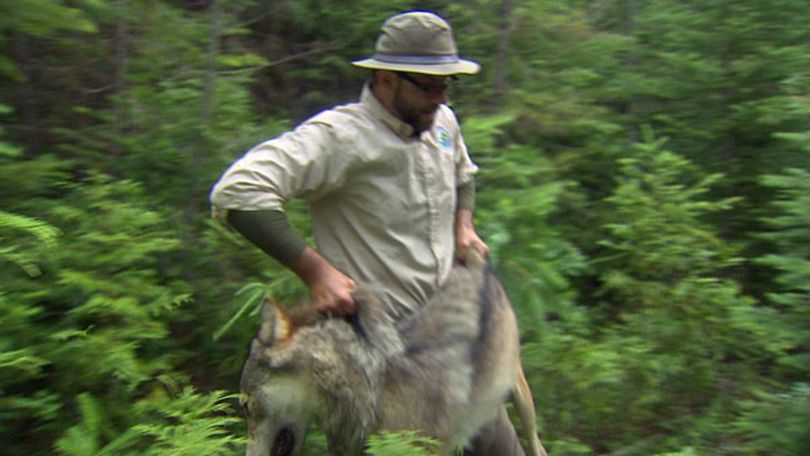 ENDANGERED SPECIES -- Today's Outdoors column rounding up the recently elevated profile of gray wolves in Washington ends with a hint to another irony of Washington's East-West dichotomy.
Washington's wolf management plan requires 15 breeding pairs of wolves to be established for three years in all regions of the state before they could be removed from endangered status and their populations could be controlled.
But while wolves are moving in naturally from Idaho and Canada and establishing packs naturally in Eastern Washington, wolves would have to be trapped and relocated into the Western Washington and especially the Olympic Peninsula to complete the delisting requirements within a reasonable time frame.
The catch is that a lengthy environmental and public outreach process would be required before wolves could be translocated -- even to the Mount St. Helens area where elk are starving from overpopulation. It's not clear whether Western Washington residents would welcome wolf releases, especially in the Olympics.
The East Side is getting wolves without management authority whether they like them or not. West Side residents get to have a say in whether they want wolves in their woods.
East Side wildlife will take the brunt of wolf recovery until West Siders make their decision.
With eight packs confirmed in Eastern Washington and more unconfirmed packs almost surely formed in the area, it seems like NOW is the time to begin the environmental reviews and public outreach required to get the ball rolling toward delisting wolves.
Why wait until wolves wear out their tentative welcome in Eastern Washington and give more East Siders a reason to hate them?
-- See map graphics and details on Washington's eight confirmed wolf packs.
-- See KING 5 News video report on Monday's capture and release of a 94 pound adult male and a pup from the Wedge Pack. The trapping effort confirmed the presence of a breeding pack between the Columbia and Kettle rivers near the Canada border.
-- See five wolf pups in a short video clip from a remote trail cam that confirmed the presence of the Huckleberry Pack, a breeding pack in northern Spokane and southern Stevens counties.
---
---