Sat., March 10, 2012
Iron-dogging the Iditarod Trail:
Diary, days 1-6, plus links for entire trip
SNOWMOBILING -- Snowmobiler Bob Jones, 72, of Kettle Falls was in Alaska this winter, once again following the annual Iditarod sled dog race with his son-in-law, Josh Rindal, who works at Fairchild Air Force Base.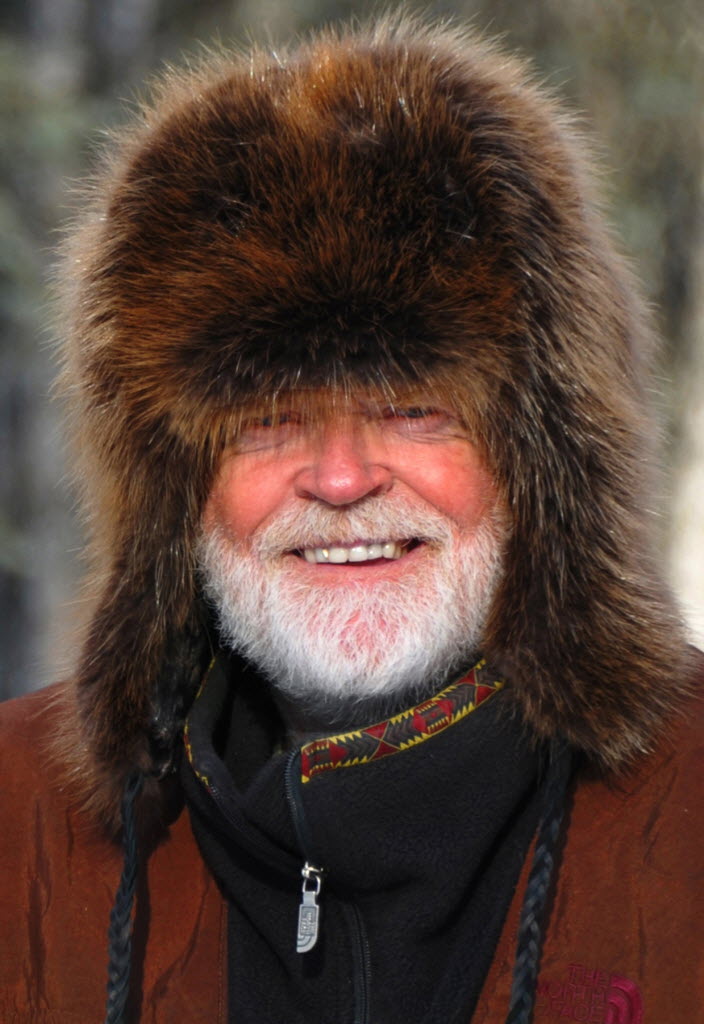 We followed Jones's diary of ups and downs from the arduous trip on the Iditarod Trail as he reached several personal milestones:
-- His 100th Alaska visit.
-- A total of more than 20,000 miles following the 950- to 1,100-mile race from Anchorage to Nome.
Here's a wrapup story about Jones and his love-hate relationship with snowmobiles, but read on to follow his journey day by day.
Jones, a colorful guy with a gift for gab, is a familiar face in the remote villages along the race's two routes since he began following the event by snowmobile in 1995.
"The first year, eight snowmobiles followed the route, and my Washington group had four," he said. "One year, I was the only one doing the whole thing."
He tows a trailer with gear for camping in bitter cold. Sometimes he stays in roadhouses.
"The villagers all know me and like me because I only stay a day, have a good time and leave," he said.
Live the arctic life with with Jones by clicking "continue reading" for the first six days of diary posts from the Iditarod Trail, followed by links for Bob's take on the rest of the trip.
Also, click here to see a photo gallery of the Iditarod Sled Dog Race.
Saturday, March 3, 2012
Day 1. +25º, Wasilla, Alaska
We planned to have our machines and gear on the ground at Knik Lake by 10am so we could get an 11am start up the trail. But getting out on time is a very tall order.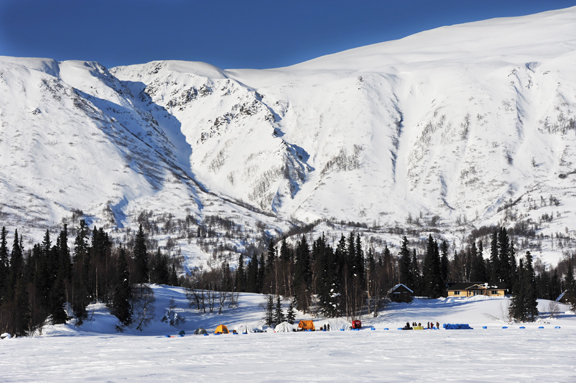 We awoke to a dank day of heavy overcast skies and a steady sprinkling of snow in Wasilla. It stayed that way as we took our equipment to Knik Lake and spent a couple of hours doing the final packing. We saw three individual moose feeding in snow above their knees along the Knik-Goose Bay road on our way down. There is plenty of the white stuff in this country this winter.
We finally got the packing-up done and got on the trail at 1:15pm: Two hours and some change later than planned. It snowed heavily a couple of days ago, and there hadn't been many snow machines on the trails since then. We made our way out the Historic Iditarod Trail to Flat Horn Lake and on to the Big Susitna River without seeing a single other machine.
Traffic increased dramatically when we hit the mouth of the Yenta River and turned north to follow it to Skwentna. I got terminally stuck a couple of miles short of Yenta Station, and when I steped off the machine I went in above my waist. Josh and I worked for an hour getting me out, and then he immediately got stuck worse than I had been. When finally staggered into the Station and they told us that it had snowed thirty inches two days ago. And that was on top of the big load that was already there.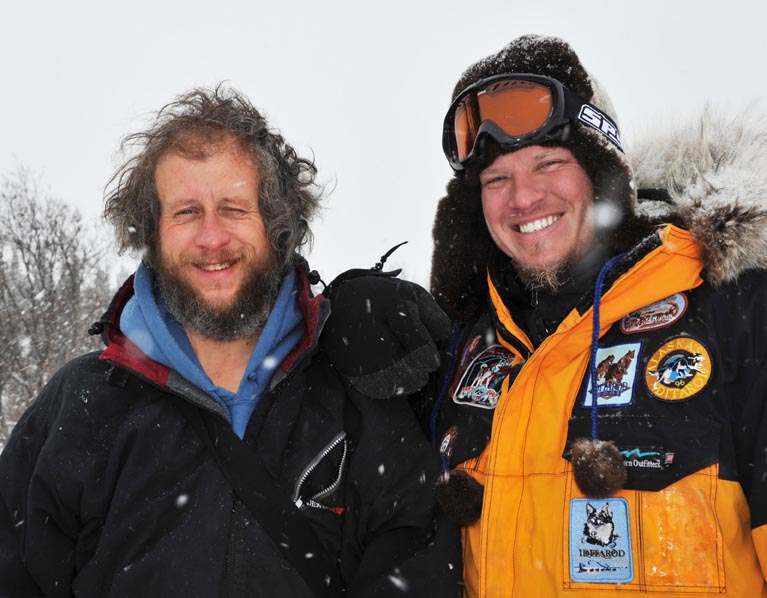 Yentna Station was packed with all the Iditarod volunteers, as usual, and Jim Gallea of Seeley Lake, Montana, was the first person I bumped into when I got through the door. Jim and his mother take turns mushing dogs from their kennel to Nome every year, and I've run into him out on the trail many times.
Josh and I each had a very welcome cold beer, to the tune of five bucks each, and got back on the trail. But not before making arrangements to camp here on our return trip from Nome. It was now completely dark and the trail could be seen much better in our headlights. The fact that we had a hard time seeing the scant trail in the flat light of late afternoon resulted in our getting off the trail and getting stuck in the deep powder.
We finally rolled into our quarters for this first night on the trail at the Skwentna Roadhouse at 9:30pm. Dinner was hot and ready and we dished up our plates in the kitchen. There were only four of us for dinner and it was a great feed. Half of the tables in the kitchen were covered with a dozen varieties of desserts.
Midnight came fast. The thing I hate about getting to the Roadhouse late in the evening is that we don't get to spend enough time here. The food is great, the rooms are warm and dry, and there are always enough characters around to make any evening an interesting one. This is one of the old-time, classic roadhouses of old Alaska.
The Iditarod Trail Breakers came through yesterday, which put them up the trail after the big storm. That might mean that the trail north of here will be much better than the trail was from Knik out here. We are hoping!
Josh got Room 205 and I got Room 201. The wireless was working, so I wrote up the events of this first day and turned in at 1am, under clear skies and a temperature of +15º.
Sunday, March 4, 2012
Day 2. -4º at 7a.m., Skwenta Roadhouse
The cloud cover of yesterday disappeared during the night, and we awoke to a cool, crisp and totally clear morning. This is more like it.
Breakfast was scheduled for 9am and it was served buffet-style, all-you-could-eat. We pigged out, as usual, and packed up and got ourselves ready to go. Fuel was seven bucks a gallon. My machine took 8.1 gallons for the 85.4 mile ride which meant 8.5 miles per gallon. Joshes machine did a little better. It took 8 gallons for a mileage of 10.4. We hope the volume of fresh snow on the trail yesterday caused the poor mileage. We need to get better than that!
Cindy at the Roadhouse told us that the 'shortcut trail' to Shell Lake had been groomed with a pull-behind-a-snowmobile type groomer all winter, and that it was in great shape. So we decided to give that route a try. Leaving Skwentna at 11am.. Cindy was right. The trail was flat, hard and fast.
We got to Shell Lake at high noon, took a few pictures, and went into the little Shell Lake Lodge (Iditarod Trail mile 110) for on one Zoe's famous cheeseburgers. I always kid her that she makes the best cheeseburger on the Iditarod Trail. And she proved it again! Zoe told us that she had been in that spot for 37 continuous years.
The short-cut trail joins the Iditarod Trail at Shell Lake. When we got to that junction it became evident that winter traffic declines drastically at that point. But the trail was smooth and the gorgeous sunny day made it a cinch to ride. We stopped at the Finger Lake Checkpoint just to look it over. There were probably twenty-five people there with a nice tent-camp waiting to assist in the race when it comes through during the night tonight.
The trail through the Happy River Steps was in great shape. There are three places that are so vertically downhill going north that Josh and I were wondering if we can climb back up them if we ride back south from Nome. They are steep!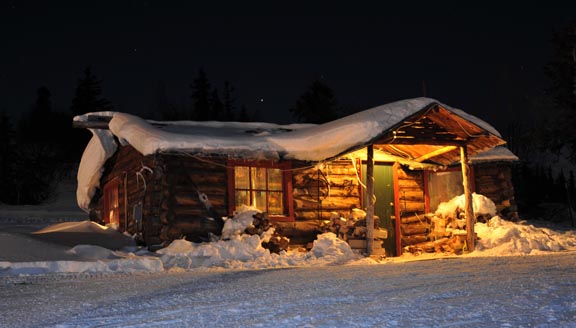 We made good time on a great trail and got into the Rainy Pass Lodge at 6:30pm. It had begun to feel colder as the day went on, and Josh reported -15º when we arrived. We had gone from clear and cool at Skwentna to clear and cold at Puntilla Lake today.
The Perrins crew was hustling around taking care of their race crowd, which seemed to be a little larger this year. They put Josh and I in the Guides Cabin and we found our names on sheets of paper on the two bunks in the little back room. The old guide shack has seen its better days, and to call it 'rustic' is almost an exaggeration. The roof and the walls are sagging badly, and some of the logs in the walls are almost gone from rot. I found a plastic garbage bag and stuffed it into a big hole in the wall by the door to keep a little more heat in. There are bunks for about ten sleepers, no running water, and a couple of bare bulbs for light. A little kerosene heater kept our portion of the cabin at a perfect sleeping temperature, and the bunks came with blankets and pillows.
We walked to the main lodge for dinner at 7:30. And a great dinner it was: Prime rib and all the trimmings! Everyone was in a great mood and it got better after dinner when we went to another cabin for a wine tasting session put on the the Kiska Metals mining company. I got my share and decided to call it a day at 11pm.
The bunk felt great!
Monday, March 5, 2012
Day 3. -7º, Rainy Pass Lodge aka Puntilla Lake Checkpoint
What a difference a day makes……in reverse! At 5am it was cold and clear as a bell. By 8am a low front was moving in. By 9am it was warming up and snowing hard. The way a blind person can tell if this place is stormed in during the Iditarod is to simply listen…..for airplanes. In good weather, like we had yesterday, this place would be noisy and busy with planes landing and taking off from the lake. Dozens of them. This morning there isn't a sound. Not a single plane has been in the area. It's socked in.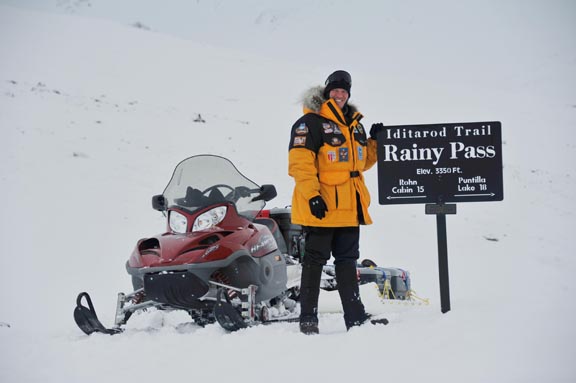 Josh and I went to breakfast. Most of the crowd was down on the lake waiting for the first musher to arrive. Lo and behold, as we were dishing up, a dog-team appeared down on the ice: It was Ray Reddington, who arrived in 1stplace at 9am. I had 9:31am on my $5 arrival guess ticket, so the 27 minutes he got here early cost me the pot! Ray had come 150 miles in about 31 hours on the clock.
Carl Savola of Northport came by for a quick visit. Carl is working at the gold deposit a few miles from here, and he and his partner rode over to watch the dogs.
Josh put the 15 gallons of fuel we carried from Anchorage into our machines. He filled our tanks brim-full and still had a gallon or two left. Quick math indicates a fuel mileage average of 10.5 mpg. That's a total of fuel used for the distance traveled by both machines together after our fuel up at Skwentna.
Right now it's 10am and Josh and I haven't decided on a definite plan for the day. The visibility is horrible with the blowing snow and the flat light, and we have some tough country to go through between here and Rohn. If the clear weather had stuck around we would be spending a couple of hours with the mushers here, and then would headed north to camp somewhere along the trail.
During my experiences on thirteen trips to Nome over the Iditarod Trail the worst three things have been, in order or importance: 1. Flat light. 2. Blowing snow. And 3. The area between Rainy Pass and the Rohn Checkpoint. The distance is only about twenty miles, but it is a long twenty miles. Today we will have all three at once. A few times, and very few times, I have had to ask myself "Is all this really worth the effort?". Well, today is one of those times!
We toyed with the idea of simply sleeping in our nice, warm bunks again tonight. But we knew that by tomorrow we would at the back of the pack leaving here. And the chances of the weather being any different were probably slim.
So, at 3pm, we were packed up and heading out. We followed a departing musher off the end of the lake and headed uphill towards the high country. The musher was traveling seven to eight miles an hour, so we just stayed back and went his speed. His dog tracks gave us a little hint of detail on a trail that, otherwise, was like looking closely into a flat pan of milk: Not a hint of detail.
The wind was blowing a little harder 'up top', but not enough to cause us any real problem. Seventeen miles north of the lodge, and just below the 3350 foot summit of Rainy Pass, lies a tiny lake. The country surrounding this lake consists mostly of bare rock. Before leaving the lodge I told Josh that the owners of the lodge had built a very crude log cabin during the summer of 2008, and that I had spent the night there on two previous occasions. One of those nights was with the Iditarod photographer Jeff Shultz and two of the Perrins boys. It had been -16º outside that night, and the wind was howling through the pass above. The temperature inside the cabin never got any higher than -3º on the thermometer hanging by my head. And last year Hayden and Harley Douglass and I had spend the night here in another blizzard. We plugged holes in the walls for the better part of two hours before we could get things warmed up.
So, when Josh and I came to the little lake, we turned and went over to the cabin to check things out. No one had been there all winter. There was snow piled everywhere inside and the walls looked like a sieve. But there was a little table, some chairs, and a barrel stove with lots of semi-day wood. We decided this was to be our home for the third night of our journey. I hung my thermometer on a nail on the front deck and it immediately read +4º.
I got a fire going while Josh shoveled snow out the front door. Then we set out to plug the majority of the holes between the logs in walls. The cabin is a two-story sort of affair, and Josh used plywood and some foamy mattresses to seal the upstairs area off. We knew we could never get enough heat out of the barrel to off-set the open-air area upstairs! And we cut up a couple of the oldest and worn-out foamys to use for insulation. It didn't take long and things started to warm up.
After we got things sealed up and heated up we moved our gear in for the night. Mountain House Seafood Chowder and some hot chocolate made for a hot and simple dinner.
We had arrived at 5:30 pm. By 7:30 we were all moved in and had dinner out of the way. About that time a snow mobile pulled up out front. It was Colton Perrins with a guy who stayed in the guides shack with us last night. It turns out that the guy is a free-lance photographer from Anchorage who is doing a story on the race for the Alaska Dispatch news. They didn't stay long. It was dark, blowing snow, and they had the seventeen mile ride to get back to the lodge. Colton was one of the "Our 5 Sons" brothers who had built this cabin. Josh and I kidded him about the wind-tunnel effect.
It is now 8:30pm and all is well. I'll keep the fire going in the barrel all night just to keep the frost off. Almost every time we look out the window we see a dog team passing by. The bright headlamps worn by the mushers can be seen for a long way.
From here we will climb steeply up and onto the summit in the morning. From that point the trail drops steeply down into the Dazlell Gorge and onto the Tatina River and into Rohn. The distance from here to Rohn is about 15 miles.
Tuesday, March 6, 2012
Day 4. +10º, Rainy Pass Lake Cabin
We hit our sacks at 10:30pm last night. I stoked the barrel at 12:30am, 2:30am,
6:30am and we got up at 7:30am. The stove kept the cabin at perfect sleeping temperature all night. The only sound was the dripping of water onto the floor around the stove as the snow upstairs melted and came downhill through the ceiling. We hung our gear out of the drips.
Every time I got up I would see a mushers headlamp passing the other side of our little lake. I think there are about 65 entered in Iditarod 40, and a bunch of them came by here during the night.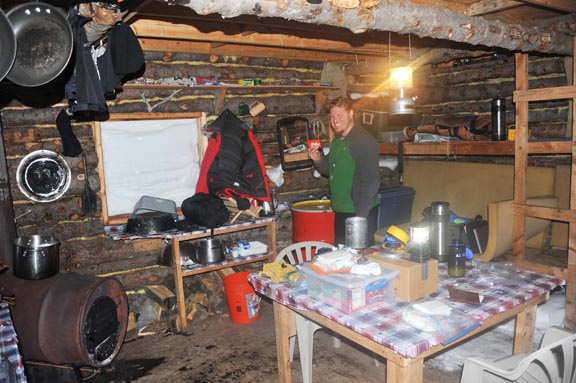 It snowed lightly most of the night and we awoke to about 4" of powder on our machines and a totally overcast, flat light morning. The world today will be black and white with a few shades of gray thrown in. The number of team passing here should leave us a trace of a trail with a little definition to follow. One good trick on these white-out days is to just wait until it gets dark. Then the light from a machine makes it easy to see the trail. Otherwise you just have to 'feel' your way along. The tendency is to hang on tight because you really don't know what your machine is going to do next.
We left the cabin at 10 am, rode up to the pass, and found the trail passing within a few feet of our Rainy Pass sign that Harley Douglass and I put up in 2007. It had a slight tilt, so I asked Josh to straighten it slightly. When he did the base anchor bolt failed and broke clean off! Our beautiful steel sign, which was designed to last 500-years, had failed in only five! I came very close to loading it into the sled. After some thought we decided to wire the sign into an upright position against the old post and bracing left over from the wood sign we had placed in the pass in 1999. The weather in the pass and the grizzles had pretty much demolished that sign, so we replaced it. Hopefully the wire job will allow us to find the new sign in the snow so we can re-install it at some future date. The two signs we have erected in Rainy Pass have been the only signs at any point on the entire 1049-mile Iditarod Trail. Few people pass by, and the ones that do really find our signs to their liking.
We left the top and dropped down toward the infamous Dalzell Gorge in some very low, flat light. Once we got below the area where the winds of the higher country had resulted in some rather firm snow, the trail got punchy instantly. Most of the teams in the race are now ahead of us and those dogs and sleds tend to destroy a soft trail. On the steep downhill runs the musher stands hard on his brake in an attempt to slow 16 charging dogs from killing him with too much speed and a lot of solid objects lining the narrow trail.
Josh ran in the lead with the tow sled and that tended to smooth things out a little for me. The snow in the gorge was deep this year and it had almost no base. Josh stepped off the little ice shelf called a trail and went into his waste instantly.
We ran along at speeds between five and ten miles and hour until we finally hit the solid, wind polished ice of the Tatina River. A few yards before we got to the river we came to the first camp we had seen on the trail. It was the three guys that we had talked to at the Shell Lake fire pile. They told us where they were headed. It would have been nice to say 'Hi', but they were out somewhere on their machines. We had been lucky coming over the pass and through the Dalzel, and we didn't have any serious stuck problems. Josh got his machine onto it's side on a dog-legged turn right at the top of a very steep pitch and that was our only incident.
The flat running on the Tatina to the Rohn Checkpoint was a cinch.
My old pals of the checking crew at Rohn were all there and it was fun to see them again. They were just a little haggard from being up all night and checking in almost the entire flotilla of this year's race in one session. The amazing fact was that, out of a race with 69 teams entered, there were 63 teams into Rohn when we got there. And not a single team had scratched from the race up to that point.
Head checker Jasper Bond fixed Josh and I some fancy sandwiches and hot coffee and we had a great BS session. Martin Buser came into Rohn in 40thplace. He told the boys that his time was faster than it had been when he came into Rohn the year he set the record for the fastest time to Nome. That record held for about ten years and was broken by John Baker last year. Now here he is actually going faster but is all the way back in 40th. The race is getting faster every year, and is on its way to becoming a thousand mile 'sprint race'.
The boys were a little mysterious and they told us to ride back out to the airstrip, turn towards the Iron Dog Trail, and see what there is there. We did. A quick look through the trees along the trail showed us a big black wolf, frozen in a position that it could be placed in the snow standing up. They found the carcass out on the river where, evidently, it had been killed by other wolves. At any rate it was dead and made for some different photos.
We had arrived at noon at 12:30pm and the four hours we spent there were not nearly enough. There was plenty more to be said, but by 4:30pm Josh and I had to go. We planned to ride 45 miles to a little BLM shelter cabin for the night, and the trail through the mountains can be a little rough. So we shook hands for the 5thor 6thtimes and pulled out. There were only three or four teams left at Rohn when we left.
Night riding is very different than day riding and, sometimes, it can be better. The headlights really show the trail. Other than going through some of the prettiest country on the entire trail, we had a great night ride to Bear Creek.
The boys at Rohn told us about the new weather person at Farewell Lake. The Farewell Lake Lodge and all it's outbuildings were tragically destroyed in a huge forest fire in 2010. We rode through that fire for about 40 miles. Anyway, when we got to a little trail leading from the Iditarod Trail to Farewill Lake, we decided to check out the story: Terry Boyle and a couple of other checkers had ridden over a few days before, and they reported that the best looking red head in the state was occupying the yurt. They seemed sincere. Josh and I stopped and talked it over. We could easily be being set up for a futile detour. But it was a short detour and gorgeous red-heads are in serious short supply out here on the trail. Besides, it was only a couple of miles out of our way. Sure enough, when we rode up to the yurt in the dark, out stepped the weatherman and his young son. I said you don't look like a redhead to me, and told him the story. We had been had! But he was a great guy and he told us about a short cut back to the Iditarod Trail. He had just gotten back from a 4-wheeler ride and we could just follow his tracks. We sailed across a couple of big frozen lakes in the darkness, and great patches of wind-polished ice flew by under our machines. I stopped and asked Josh if he was a little worried about breaking through. He said the though had crossed his mind. I told him not to worry, the ice was probably over 4-feet thick. And I told him that some of the largest pike in Alaska were swimming around right under our machines. 40-pounders have been caught here.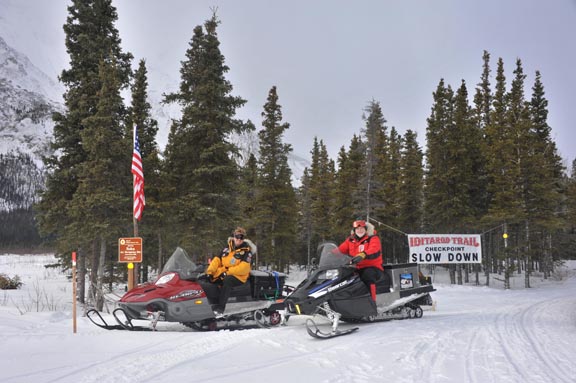 We soon came to a line of reflective stakes crossing Steele Lake. We turned north and followed them. When we got to Submarine Lake we came to some super cub airplanes lined up along the shore in a little protected cove. There were five of them. And there were five pilots sitting around a big fire in the trees. We introduced ourselves and they were a great bunch. They were only the second group that we had seen camped along the trail all the way from Knik. And they were a diverse group: One from Texas, one from Seattle, one from California, and two from Alaska. The three from outside had met in Spokane and had flown all the way to Alaska, in those little cubs, just to see the country and to watch the Iditarod. They said they had done it four years ago, but the price of gas was putting a little damper on their travels. If you have ever ridden in Super Cub you can imagine flying one from Texas to Alaska and back in the winter……. They all had skis on their planes and they could land about anywhere. We took them up on their offer of a couple of big gulps of whisky 'for medicinal purposes', said our goodbyes, and headed north.
The trail through the Farewell Burn was about as good as I have ever seen it, and we made good time. We rode up to the little cabin at 11:30pm: It had taken us seven hours of pretty steady riding to make the 45 miles from Rohn.
It had felt warm all evening, and the guys with the cubs were surprised at how warm it was. I hung the thermometer on a nail on the front of the cabin and it read +22º. I've been here at -40º. We liked twenty-two better……
We decided to forego a fire, eat a quick dinner, and get into our bags. It had been a 13 ½ hour day and we were tired. It really wasn't cold enough to waste the wood.
I turned off the lantern at 1:30 a.m.
Wednesday, March 7, 2012
Day 5. +20º, Bear Creek BLM Cabin
We got all packed up for our run to McGrath when I checked out our trip schedule. We need to be in McGrath tomorrow, not today!
Now that was really dumb!!!!!!!!
Josh and I talked it over and we decided that it would be hard to find a nicer place to spend a day. We got out the chainsaw and cut up all the tree-length wood, which meant 10-foot trees, that was lying alongside the cabin. That filled the woodbox and a little extra.
Cleaned up the cabin and kicked back for the day. It felt good.
9 pm. Out peace and quiet was shattered when the Trail Sweeps rode up to join us for the night. There were 7 of them and they are a great and interesting group. But a more dis-organsed bunch you would never find. They spent three hours trying to fix dinner and get moved in. Josh and I get it all done and can be in bed in less than one hour….
But it was fun to have them. We had had plenty of sleep and the characters were fun to spend a night with. When you have nine people camped for the night in a little cabin that is 12 feet by 18 feet, you don't have much extra floor space!
Thursday, March 8, 2012
Day 6. +22º, Bear Creek BLM Cabin
We all got up around 7am and worked around each other to get our gear packed up. Josh and I had ours ready to go first, and we rode out of the cabin at 9:30am, bound for the village of Nikolai. The day was like the last couple: Heavy overcast, snowing, and just too gray and dull to enjoy either the country or photographs of it.
The snow is deep in this country, probably approaching 3-feet deep on level ground. It's been cold all winter, and there isn't a hint of a base from the top of the snow to the muskeg below it. It's powder all the way. The trail consists of a narrow band of compacted snow lying on top of all that powder. It would probably be possible to dig a tunnel under the trail with not much effort. The wind had blown this loose snow into drifts in the open swamps and we got one ski off the trail a bunch of times. Luckily we were always able to get back on. If you got your machine totally off the trail you be in powder snow up to the handlebars. With our big, heavy Arctic Cat Bearcat machines that is a serious problem. It's hard to get back up and onto the ice shelf.
We crossed the Sullivan Creek Bridge, came by Fish Camp, and got into Nicolai at 12:30pm. That made for a 33-mile ride in three hours.
The usual crew was all there to meet us. Big Ed Scollard, John and Marty Runkles, Phillip Esai, Nick Petruska, Nick xxxx, George Gregory, and a few more. They are a friendly lot, and it's always great to get to Nikolai. I have spent a night in the musher's tent there on two trips and slept in the school once. They had taken the musher's tent down this morning and said they left it up an extra day in case we wanted to use it. We were a day late…..
We called the fuel guy and he came down and gave us the keys to the pump. We took 24.7 gallons between us: A little calculation showed that my machine got 7.7 mpg from Rainy Pass Lodge, while Joshes 4-stroke machine got 10.7mpg. At eight bucks a gallon it had cost us about $200 for the fuel to ride the 115 miles from Puntilla Lake.
The Trail Sweeps rode into Nicolai just as Josh and I were getting set to ride out at 4:30pm. They had taken three hours to get ready after Josh and I left Bear Creek Cabin. They are a great bunch, but we hoped that last night would be the only night to share a cabin with them on the trip!
It's about 50 miles of good trail from Nicolai to McGrath. The country is mostly flat and most of the trail is on frozen water consisting of lakes, swamps and rivers. There is some inter-village traffic here, and usually there are scads of parallel tracks. This year there were none. The deep snow kept everyone in the defined trail. The snow got deeper at we got closer to McGrath and is probably 4-feet + here in town on the level.
We rode off the ice of the Kuskokwim River and into the village at 8pm, a 50-mile run in three and a half hours.
A quick check of the two local watering holes failed to show our pal Stephen Strick, so Goomi of McGuires Bar, gave him a call and he came right down. He told us that our quarters would be two cots in a back room at his house and that dinner was ready. So we decided to have only ONE quick Miller Lite. I ordered them for four of us, counting trailbreaker Bucko Norman, when Dean Capaul, formerly of Northport, walked in. So I made it 5. Dean has been in town for over a year working at the power plant as an electrician.
We followed Steph in his truck to his place. There is so much snow piled around McGrath that, even though I'd been there many times, I wasn't sure I could find it. The northern lights were putting on a great show as we drove under clear, cold skies. Maybe the weather is going to give us a break and get some light into the country.
Dinner was delicious and we turned in at midnight. I was so tired that laying down felt like having a tub of warm milk gently poured over me. I was asleep in seconds!
Continue to Diary and photos for Days 7-10.
Jump ahead to Diary and photos for Days 11-12.
Jump ahead to Diary and photos for Days 13-14.
Jump ahead to Nome Sweet Nome: Diary and photos for Day 15.
Jump ahead to Diary and photos for days 16-17.
Jump ahead to Diary and photos for days 18-21.
---
---