Mon., March 12, 2012
3 dozen people address commission on hunt rules
HUNTING -- More than three-dozen people testified, mostly on new hunting rules proposed for the 2012-14 seasons, during the Washington Fish and Wildlife Commission meeting last Friday and Saturday in Moses Lake.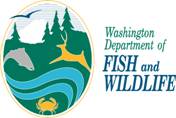 Hunters have passionate feelings on both sides of many of the proposals. Audio transcrips of the meeting should be posted soon on this portion of the commission's website.
Those proposals range from a measure allowing waterfowl hunters to use electronic decoys
The commission is scheduled to take action on more than a dozen proposals at a public meeting April 13-14 in Olympia.
Washington's Wolf Conservation and Management Plan also was discussed.
To help keep the public involved, the Washington Fish and Wildlife Department has set up an online reporting tool to record observations of wolf activity.
In otherwords, when people see a wolf, or identify wolf tracks or hear a wolf howl, they're requested to file a wolf observation report at the agency's website/
Livestock owners suspecting wolf harassment of their animals would continue to call (877) 933-9847.
Posted on the Fish and Wildlife commission's website is a draft Statement on Wolves in Washington to guide the state agency's implementation of the state's wolf plan.
---
---