Sat., March 31, 2012
Region is flush with great spring hikes to waterfalls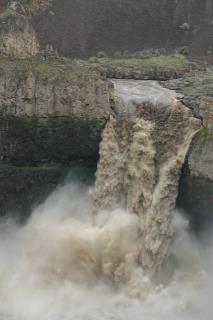 STATE PARKS -- The Palouse River is running flood-stage big this week, prompting prime time for a visit to Palouse Falls State Park.
The park is between Washtucna, Wash., and the Snake River at Lyons Ferry
The falls are chocolate brown and thundering about 185 feet in a billowing cloud, as the folks at Lyons Ferry Marina verify in the photo (left).
Palouse Falls State Park (Discover Pass required) has some sweet hiking trails leading out toward the falls.
BE CAREFUL if you hike. Some trails lead right to the edge of steep cliffs, and they are particularly slippery when wet.
Do you love hiking and waterfalls? Here are details on some sweet waterfall hiking destinations in this region.
---
---