Wed., Nov. 14, 2012
Volunteers clear tangled timber from Big Lick Trail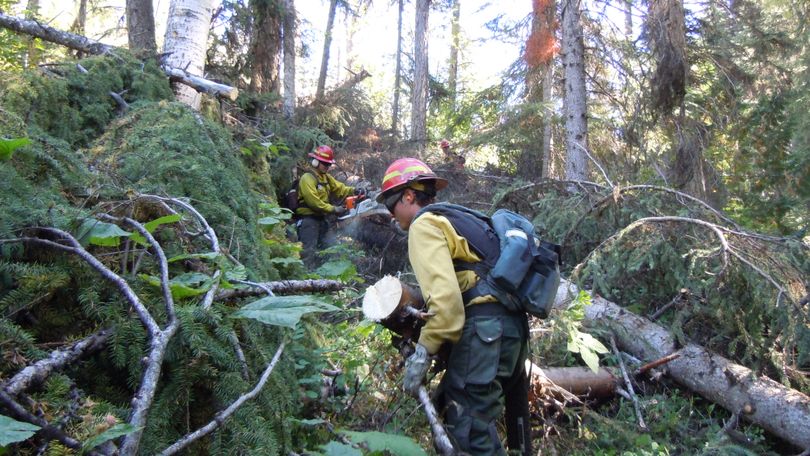 TRAILS -- A skilled group of skilled youths and other volunteers have prevailed after putting a week of sweat into the seemingly hopeless task of clearing blowdowns off the Big Lick Trail in the Kettle River Range.
The maze-like tangle of downfall had rendered the historic route impassable before volunteers from Kettle Range Conservation Group and Curlew Job Corps forestry students put in a herculean effort requiring seven days and 366 person hours to clear 5.5 miles of trail. The hundreds of blowdowns in some locations were piled into twisted trunks and branches more than 7 feet deep, said Tim Coleman, KRCG director.
"That's a tremendous amount of hours and work, but thanks to the volunteers that organized work parties and the Curlew Job Corps crew that completed much of the heavy lifting to reopen this trail, the task got done this year," said Eric McQuay, Recreation Program Manager for the West Zone of the Colville National Forest. "Without help from groups such as these, we simply couldn't keep trails such as Big Lick maintained with the Forest Service's limited trail maintenance budget," he said.
Big Lick Trail is a historic Ferry County trail along North Fork St. Peter Creek and traversing the Kettle Range between Mt. Leona and Profanity Peak. It links the western side of the Kettle Range to the Kettle Crest / Pacific Northwest National Scenic Trail and to Ryan's Cabin Trail and S. Fork of Boulder Creek on the range's eastern flanks. Historically, this route was used by fur trappers, market hunters, ranchers and prospectors, but more recently its use is primarily for backcountry recreation.
Read on for more details about this effort that serves everyone who uses and appreciates trails.
"This is the kind of project Curlew Job Corps students enjoy doing because it provides tangible benefits to the local community," said Jim Beckwith, Forestry Program instructor for Curlew Job Corps. "I heard students say how pleasing it was to work on this project and know that one day in the future they might return and enjoy this trail with their family," he said.
Kettle Range Conservation Group adopted Big Lick Trail in 1991 and maintained it yearly until 2004 when the group merged some programs with Conservation Northwest which discontinued maintenance. In 2010 KRCG separated from CNW and is once again organizing trail maintenance and a summer hiking program.
"I can't say enough about students and their instructor Jim Beckwith from Curlew Job Corps Forestry Program contribution to this effort. It simply wouldn't have happened without them," said Timothy Coleman, executive director of Kettle Range Conservation Group. . "The work was so exhausting and as we literally waded into tangled masses of trees working hour upon hour towards the center of the blockage. After four days it took a solid hour hiking in with saws and hand tools just to reach the work site," he said.
From its western trailhead off Aeneas Creek Road and Forest Road 260 just north and east of Malo and State Route 21, the trail traverses one of the most diverse mixes of forest vegetation and wetlands that the Colville National Forest has to offer. Its shrub-steppe grasslands are interspersed with ancient ponderosa pine that blend into interior rainforest of cedar, fir and spruce. The trail offers true wilderness adventure, solitude and startling beauty.
Special thanks to Curlew Job Corps Forestry Program instructor Jim Beckwith and his students Aron Osborn, Aaron Rowe, Erik Lamphere, Stuart Cowger, Lucas Camden, Alexei Ramotowski, Kyle Steen, McCord Pierce, Shaun Noll, Tommy Thompson, Matt Barrett and Codylee Hettinger
---
---