Mon., Nov. 19, 2012
Even experts hesitate to guess age, sex of snowy owls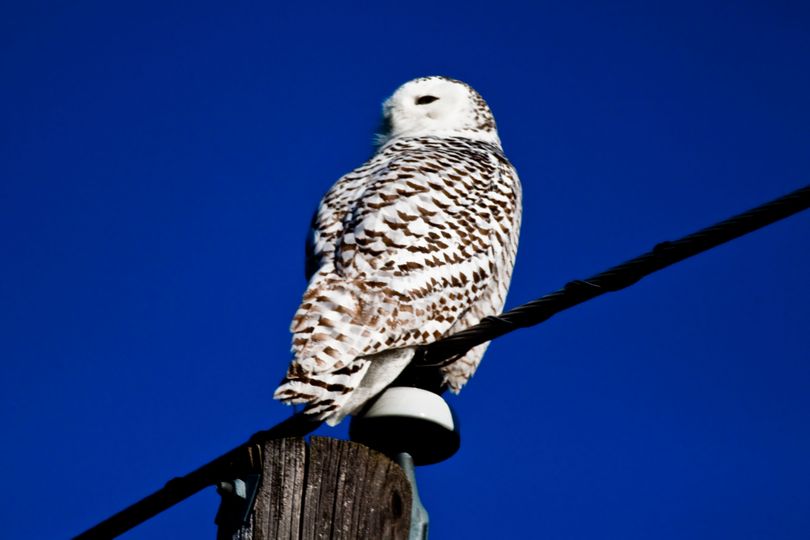 WILDLIFE WATCHING -- Getting personal with wild birds is tricky.
Verifying whether a swan is male or female requires a hands-on fairly invasive peel-it-back and look.
Western Washington raptor biologist Bud Anderson offers these observations to people he's heard declaring the age and sex of snowy owls that are migrating into Washington and catching attention:
Here is some recent information on ageing and sexing snowy owls from

www.frontierscientists.com

, an Alaskan website. Note the article by Mat Seidensticker.

"Birders usually want to know: Is it Male or Female?

Denver Holt, an owl researcher

who has spent the last 20 years studying the Snowy Owl up in Barrow, is cautious about identifying the sex.

Seidensticker and fellow researchers based their paper on a study of 140 owls from 34 nests (at Barrow). Specifically they looked at a secondary flight feather #4 on the left wing. Then they compared their predictions with blood tests. The model that correlated their data said they were 98% correct, actually they were 100% right. In short what the secondary feather #4 told them was: the female owl had a marking that they called a bar because it touched the feather shaft, while the male had a marking they called a spot or blotch that did not touch the feather shaft."

So I think that it is really important to understand how challenging it can be to age and sex these birds in the field. If Denver Holt is cautious, I would be too.
---
---