Tue., Nov. 20, 2012
Bald eagles show up for annual congregation at Lake CdA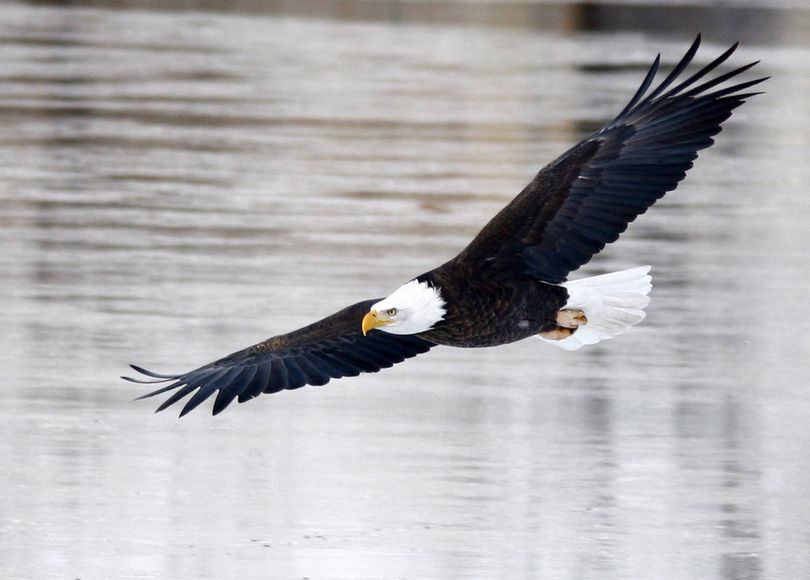 WILDLIFE WATCHING -- Wildlife biologist Carrie Hugo counted 64 soggy bald eagles today in the Wolf Lodge Bay area of Lake Coeur d'Alene.
Bald eagles from around the region congregate in the bay in November through December to feast on the spawned out kokanee salmon.
For years, U.S. Bureau of Land Management biologists have conducted weekly surveys to monitor the eagle congregation. The BLM joins with Idaho Fish and Game and local birding expers to stages an Eagle Watch information fair at Wolf Lodge Bay each year during the Christmas holiday break, which tends to coincide with the peak numbers of eagles visiting the area.
Eagle watching cruise boat tours can be booked out of the Coeur d'Alene Resort, (208) 765-4000.
Top viewing areas are from Higgens Point as well as south from the Wolf Lodge Exit off I-90 on Highway 97 around to Beauty Bay.
Today's count was Hugo's first weekly survey of the season. She counted 58 adult bald eagles distinguished by their white heads, and six juveniles. That compares with a total of 12 bald eagles (six adults and six juveniles) on Nov. 22, 2011.
A record 273 bald eagles was counted at Lake Coeur d'Alene on Dec. 29, 2011.
"Because the hordes of people are not out yet, there seemed to be a quite a few at Higgens Point -- 16 in fact, which is more than usual these last few years," Hugo said this afternoon. "Visibility for juveniles on this rainy day was horrible so it is likely I missed quite a few of them."
---
---