Mon., Sept. 17, 2012
Diamond Pack wolf killed by hunter in Idaho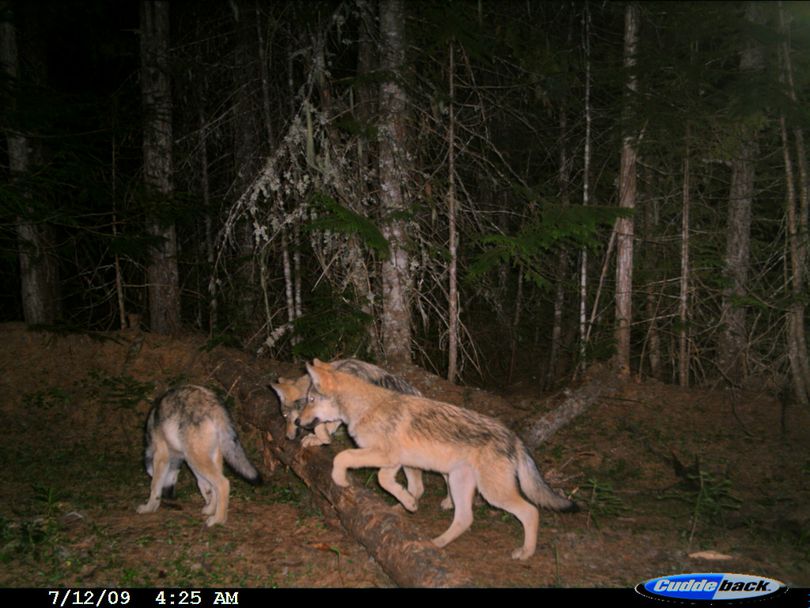 ENDANGERED SPECIES -- Even though Washington wolves are still protected by state endangered species rules, Idaho offered a touch of "management" to the Diamond Pack of northeastern Washington over the weekend.
A Washington man with an Idaho wolf hunting license killed a wolf on Saturday just east of the Pend Oreille County/Washington border.
The wolf had the red Washington eartags 379, 378, which means it had been caught, tagged and released by Washington Fish and Wildlife Department biologists studying the Diamond Pack's movements.
According to Jim Hayden, Idaho Fish and Game Department regional wildlife manager, the male wolf was killed by the hunter in Kalispell Creek. which drains into Priest Lake near Nordman.
The Diamond Pack had been observed as early as 2007 and was confirmed as the second breeding wolf pack in 2009. The photo above shows Diamond Pack pups photographed in Pend Oreille County in 2009 by a remote camera placed by the Washington Department of Natural Resources.
Only a few tagged Washington wolves have previously strayed to legal doom in other jurisdictions.
A Diamond Pack female wolf was killed by a trapper in Idaho last winter just east of the Washington border.
A Teanaway Pack female wolf was shot last spring in a southeastern British Columbia pig pen.
Read on for details on the Diamond Pack from the WDFW.
2009
Citizen reports, howling surveys, and remote cameras confirmed the presence of a breeding pack of wolves, named the Diamond Pack, in Pend Oreille County in 2009. Wolves had previously been photographed by remote cameras in the county in 2008 and again in May 2009. The breeding male (WA-398M) was captured and fitted with a GPS radio-collar in July 2009. Two small pups were also captured, ear tagged, and released that year. In 2009, the breeding pair produced six pups and at least four of those survived to 2010.
DNA analysis of the breeding male links him to the naturally recolonizing southern Alberta-northwestern Montana wolf population. The Diamond Pack dens in Washington and therefore is counted as a Washington pack. Monitoring of radio-collared animals in the Diamond Pack show that the pack uses a territory of about 350 square miles and that 25% of the territory is in Idaho. The home range area of the pack contains a multi-species prey base (moose, elk, and two species of deer).
2010
The battery expired on WA-398M's collar in July 2010, but a yearling female (WA-376F) was captured and GPS radio-collared that June. Three other yearling wolves (WA-378M, WA-380F, WA-382F) were captured and ear-tagged, but were not collared and one small pup was caught and released. The pack produced six pups in 2010 and numbered 12 wolves at the end of the year. During late summer/fall 2010, WDFW conducted ground searches of GPS cluster locations obtained from the telemetry data; the primary prey item documented was moose.
2011
In June of 2011, WA-376F (2 years old now) was recaptured and her GPS radio-collar was changed. Unfortunately, the GPS portion of her new collar failed and no longer transmits remote location updates; however, the regular VHF beacon on the collar continues to function and on a location flight during November 2011, WA-376F was located with a radio-collared yearling male member of the Cutoff Peak Pack from north Idaho in that pack's territory. Neither of those two wolves was heard on location flights in December; however efforts to locate them are ongoing.
Although the collar on WA-398M no longer functions, remote camera images from July 2011 indicate that he is still alive and with the pack.
WA-382F (2 year old) was recaptured in June of 2011 and was also fitted with a GPS radio-collar. Unfortunately, she was legally killed by an Idaho trapper 300 yards from the Washington border in December. While there are currently no functioning GPS radio-collars in the Diamond Pack, there is one regular tracking collar remaining in the pack on adult female WA-013F, who was also captured in June 2011. There were three pups confirmed during September surveys and a total of 10 wolves were counted in this pack at the end of 2011.
---
---