Thu., April 11, 2013
Poachers caught with nets, 242 Lahontan cutts at Lake Lenore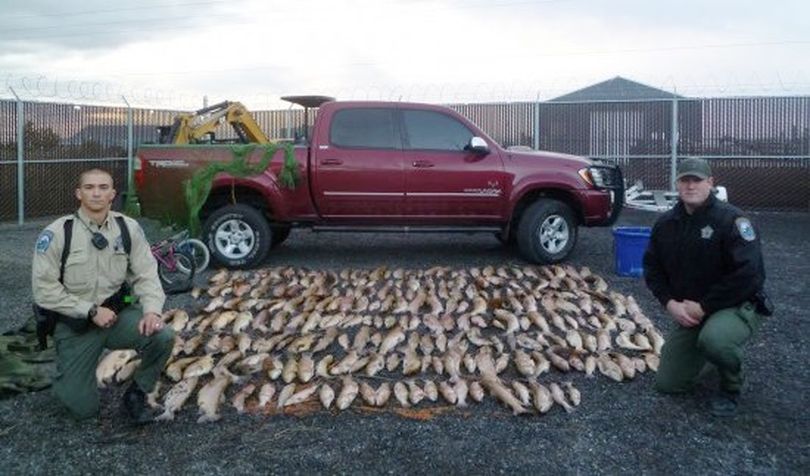 UPDATED 11:41 a.m. with details of arrest from officer's incident report:
FISHING -- Last night, a man at the Spokane Fly Fishers program asked me if I'd heard a fishing report from Lake Lenore. I didn't have an answer for him, but I do today.
The fishing for large Lahontan cutthroat trout at the quality fishery is pretty darned good - IF YOU'RE POACHING with GILLNETS.
Washington Fish and Wildlife Department officers arrested four Western Washington men in the early hours of Saturday morning with 242 cutthroats seized in an illegal night-time netting operation at the prized Grant County lake.
The lake is managed as a "quality fishery," attracting anglers who want to use single barbless hooks and no bait to catch-and-release large fish. Anglers are allowed to keep no more than one fish at day from Lenore.
Arrested were Vitaliy Kachinskiy, 23, of Mount Vernon and three Everett men: Sergey Otroda, 32, Igor Bigun, 26 and Oleg Pavlus, 25.
The Grant County prosecutor's office said today it has not yet begun processing the case.
"We have members of two ethnic groups involved with an annual thing of illegal netting that's causing great concern for our fish program," said WDFW Capt. Chris Anderson in Ephrata. "One group has been caught targeting mostly whitefish at Banks Lake and this group was targeting the big spawning cutthroats at Lenore. The 242 fish were just one night's catch. We're not sure how many nights or weeks worth of fish they've taken out of the lake."
WDFW agents also nabbed two Spokane men from another ethnic group for similar illegal netting activity in January. One of the subjects threatened an arresting officer with retribution.
This is a huge bummer for fishermen. Not only do we deal with environmental issues that plague fish, but also with human pond scum that will do this to a fishery that means so much to anglers and the local economy.
Read on for the chilling details about the stake out and arrest.
From Capt. Chris Anderson's incident report:
Friday night (April 5) State Fish and Wildlife Officers Smith and Busching teamed up for a night patrol at Lake Lenore to watch for people sneaking into the fish trap to take Lahontan Cutthroat Trout. The fish trap is filled with thousands of large trout and are easy pickings for poachers. About an hour after they arrived they observed a vehicle pull into the area of the boat launch and shut off its lights. The vehicle was there for less than a minute before turning the lights back on and leaving.
A couple of hours later they saw the vehicle come back and stop in the parking area. Four men jumped out of a 2005 Toyota Tundra and quickly began to load nets and back packs filled with fish into the truck. Three of the men took off running when confronted by Officer Smith, while the fourth man, jumped back into the truck and tried to drive away. Officer Busching used his patrol vehicle to block the suspect from leaving the parking area. Officer Smith pursued the three other suspects on foot. One man quickly surrendered, but the other two suspects dived into the lake, which still had a water temperature still only slightly above freezing. One of suspects was observed swimming approximately 40 yards out from the bank, and having a difficult time with all of his clothes on. Officer Smith located the other man lying in the lake holding onto a tree limb.
As the officers were taking the three suspects into custody, they lost track of the 4th suspect, who was last seen swimming away. Once additional units from the sheriff's office arrived to assist, the officers started a sweeping search for the 4th suspect. Within a few minutes Officer Smith observed what appeared to be the body of the man floating in the lake. When he got to the other side of the small cove, he discovered that it was only the suspect's waders and coat that were floating. Fearing that the man may have drowned, the officers summoned search and rescue units to help search the lake.
At about 5:00 am, a Soap Lake Police Officer who had assisted with the search earlier spotted a subject walking through the city park wearing camouflage clothing and had no shoes. The officer contacted the man and was able to identify him as the missing suspect. The men were found to be in possession of nearly 500 pounds of trout, with an exact count of 242 fish.
The men were cited for illegal use of a net, fishing closed waters, fishing without a license, and 1st degree exceeding the bag limit. The fish were later donated to the Moses Lake Food Bank. The suspect's 2005 Toyota pickup truck was seized for forfeiture.
---
---