Tue., April 30, 2013
Grouse puts wildlife police officer in pecking order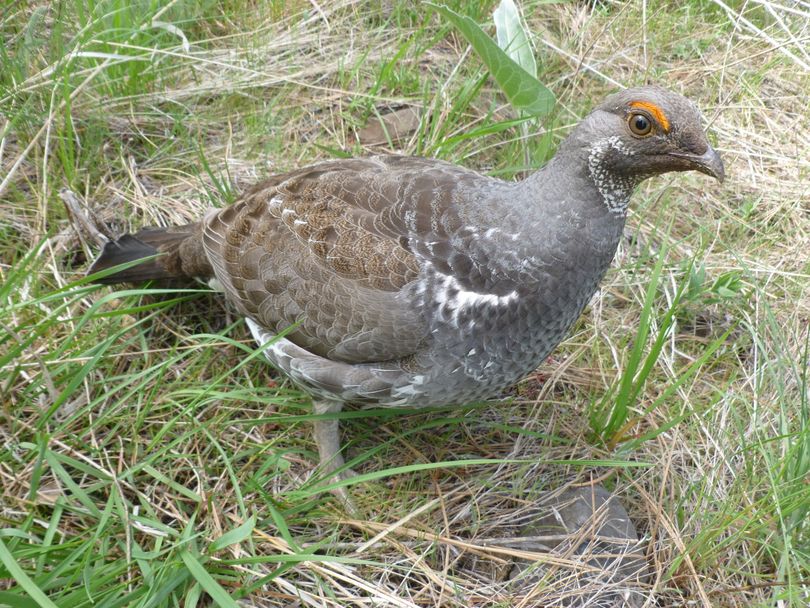 WILDLIFE -- Washington Fish and Wildlife police officers are accustomed to dealing with testosterone-charged males strutting their stuff.
But officer Curt Wood stood up to a bird-brained attacker to get these photos. Here are the details from an edited version of the agency's Enforcement Division's weekly report:
While patrolling Lincoln County for turkey hunters, Officer Wood encountered a male dusky grouse that was strutting head on a primitive road. Officer Wood pulled his patrol vehicle up to the grouse and stopped.

Within seconds, the grouse jumped up onto the front of the officer's pickup and started strutting on the hood. Officer Wood was able to get one picture with his cell phone camera before the grouse jumped back onto the ground in front of the truck.

Wood got out of his vehicle and eased to within a foot or so of the grouse. While the officer was snapping more photos, the grouse suddenly attacked Wood's hand, sending his camera flying several feet.

Wood was able to get a few more pictures (and a few more pecks to the hand) before he returned to his vehicle and tried to get out of there with his ego intact. While driving away, he observed the grouse chasing his vehicle for quite a distance down the road.
At last report, no charges have been filed.
---
---