Fri., Aug. 2, 2013
EWU bass team fishing for top spot in national championship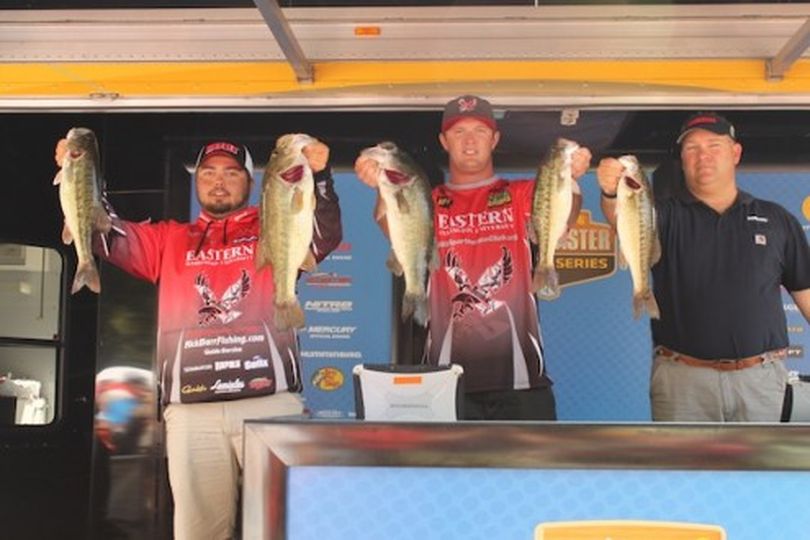 TOURNAMENT FISHING -- Nick Barr and Jarred Walker of Eastern Washington University are in third place among 64 teams after the second day of fishing in the 2013 Carhartt College Series National Championship at Chatuge Reservoir near Young Harris, Ga.
Barr and Walker had jumped to a commanding lead on Day 1, tanking five fish for 19 pounds 4 ounces -- almost six pounds ahead of the field.
Today the EWU anglers had a drought, catching only four fish totaling 6 pounds.
But they're solidly in third place, 6 pounds behind the leaders and local favorites from Auburn University-Montgomery, and they've made the cut for the top five teams heading into the final day of fishing to determine the championship on Saturday.
Read on for a BASS report from the tournament quoting Barr and Walker after EWU's first-day performance, which left locals stunned.
Rich Landers
Nick barr At national colegeiate bass tourney... lake chatooga,, georgea. BASS Nick and partner in first place, 6 pounds ahead of scone palc team Facebook... Not surprised to see West coasters doing well on Chatuge this week. This lake is deep and clear and
YOUNG HARRIS, Ga — Eastern Washington University's Nick Barr and Jarred Walker put together an astonishing five-fish limit that left locals scratching their heads as to how out-of-towners — they're geographically the farthest team from Lake Chatuge — could amass a 19 pound, 4 ounce five-fish limit. For Barr and Walker, however, it might as well have been a day on their home lake, Potholes Resevoir.

"Being from Washington state, Chatuge lays out a lot like my home lake does. It plays a lot to our strengths, which is finesse fishing," Barr, a senior, said. "I heard that the lake was clear, but when I looked I could only see 4 feet deep, and that's dingy for Washington. We can see 20 feet usually. But still, this is the closest thing you guys have got on the East Coast that's like home."
Barr, who has served as a smallmouth guide in Washington for the past three years, said the biggest factor in their success today was patience.

"A lot of guys were fishing too fast. Even though they were throwing a drop shot or something, they'd flip it out, then reel it back up a few seconds later. That's too fast," he said. "We caught fish in areas where we shared water with other guys by working super slow."

"It's a soft plastic, so the less you move that bait the more natural it's going to look," Walker added.

Though they fished slowly, they hurriedly rotated among several spots they had located in practice.

"We didn't have time to come down here and plant brushpiles like some guys did or Side Image (study through their electronics) the whole lake, we had to get here and get to it right away, so we got here and got to work, and it's paying off so far," Barr said.


Barr and Walker are currently enjoying a 5 pound, 10 ounce lead over the University of Louisiana at Monroe's Nick LaDart and Brian Eaton, who sit in second with 13-14.
"We've set the bar high for ourselves, and we definitely want to go out there tomorrow and repeat what we did today," Walker said.

In third are local favorites, Young Harris' Brad Rutherford and Matthew Peeler. The duo is more familiar with Chatuge than any other team, and refuse to let a 6-plus-pound deficit sway their courage.

"It's not good out there right now by any means, so you've got to slow down and stay persistent. The big ones are there, and the ticket to catching them is to stay cool, calm and patient the whole day and you can slowly upgrade to a good bag," 22-year-old Peeler said. "We're not worried at all right now; we're right where we want to be.

"You absolutely cannot win a tournament on the first day, but you can definitely lose one. Our goal was to go out there and do what we do and we're in a good position right now. It was a good feeling to get out there and execute, especially since there's a big 'X' on our back. We've just got to keep it up and see what happens."

Rounding out the top five are, in third, Alex Pisarski and Justin Gangel of Cal State Long Beach with 13-6, Jordan Lee and Shane Powell of Auburn University with 13-5 and Seth Hausman and Weston Brierley of Utah Valley University with 13-0.

Carhartt Big Bass of Day One goes to Florida State University's Cody Spears and Charles Fee, who caught a 5-15.

TV coverage of the Championship will air in August on ESPNU in two parts. The first will be Sunday, Aug. 11, noon to 1 p.m. ET. The second part will air Sunday, Aug. 18 in the same time slot. They will be preceded by an Aug. 4 show from noon to 1 p.m. ET that recaps how the anglers qualified for the Championship through the five Regional Conference events.
---
---