Sat., Aug. 3, 2013
EWU bass fishing team holds on to finish fourth in college nationals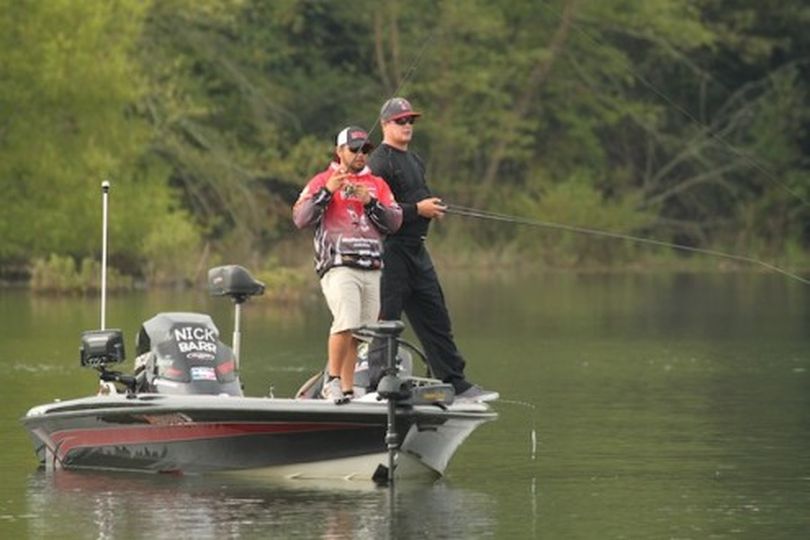 TOURNAMENT FISHING — The Eastern Washington University bass fishing team placed fourth in today's finals of the 2013 Carhartt College Series National Championship, missing first place by more than 8 pounds of fish, but earning a berth to another select national fishing tournament.
Nick Barr and Jarred Walker of EWUcaught five fish totaling 9 pounds 4 ounces today at Lake Chatuge near Young Harris, Ga., to end the event with a three-day total of 14 fish weighing 34 pounds 8 ounces.
Jacob Nummy and Tom Frink of Auburn University-Montgomery won the championship with a total of 15 fish weighing 43 pounds 3 ounces.
The team from EWU was the farthest from home at Chatuge, adding to the amazement locals with their first-day performance to take the lead among 64 teams with 19 pounds, 4 ounces of fish — almost 6 pounds ahead of the field.
On Day 2, Barr and Walker had a drought, catching only four fish totaling 6 pounds. Competing with the five finalist teams on Day 3, EWU did only slightly better, but held on to fourth place overall.
The top four teams qualify for the Carhartt Bassmaster College Bracket Championship, the winner of which will earn a spot in the 2014 Bassmaster Classic set for February on Alabama's Lake Guntersville.
---
---