Tue., Dec. 3, 2013
Big Sky bigger than ever as three ski resorts merge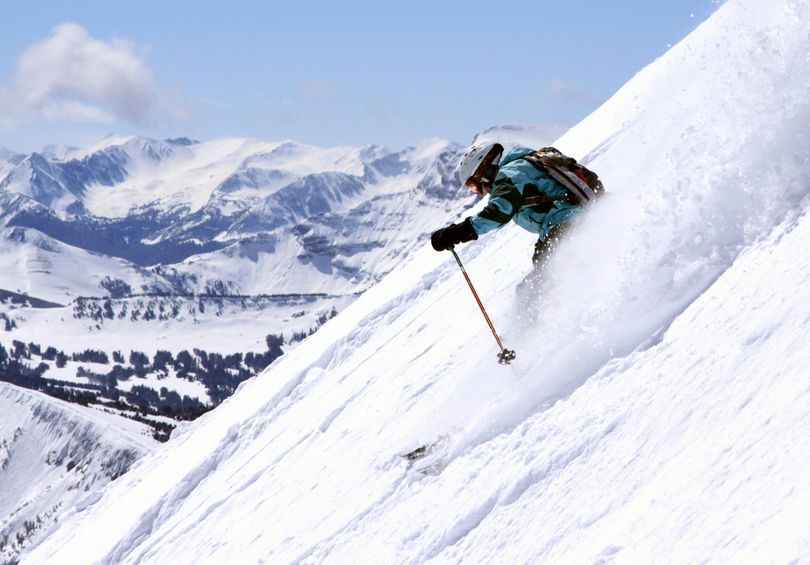 WINTER SPORTS -- The expansion of Big Sky Resort in Montana is BIG news in every way.
The resort's owners purchased neighboring resorts, Moonlight Basin and Spanish Peaks in August, and debuted the transformed mega resort -- now the largest in the country -- during the Thanksgiving holiday.
"The acquisitions make Big Sky the big boy on the U.S. alpine skiing and snowboarding scene," says Brett French of the Billings Gazette. "The combination means more than 30 lifts, 4,350 vertical feet of drop and 5,750 total acres for riders to roam. In comparison, the other big dog — the tony Vail Mountain Resort in Colorado — has about 5,300 acres and 3,450 vertical feet."
The new Big Sky is treating skiers to the longest vertical run in the lower 48 states.
Read on for details from the Gazette story:
Big Sky is owned by Boyne Resorts which, in partnership with the Boston-based investment firm CrossHarbor Capital Partners, purchased Moonlight Basin and Spanish Peaks in August. Moonlight and Spanish Peaks abut Big Sky Resort to the north and south, respectively, on 11,166-foot Lone Mountain, a dominating spire that on clear days provides stunning views of the surrounding mountain ranges and valleys.

CrossHarbor also owns the elite Yellowstone Club, a neighboring community that founder and onetime billionaire Tim Blixseth gave to his ex-wife in a 2008 divorce settlement. She went bankrupt months later.

Lehman Brothers Holdings Inc. bought Moonlight in 2012 after forcing the developers into bankruptcy. The sale came four years after Lehman also declared bankruptcy on $639 billion in debt, the largest in U.S. history.

Lehman Brothers had loaned Moonlight more than $170 million in 2007. When Lehman went bankrupt in 2008, it demanded full repayment of the loan with interest, foreclosing on the resort in 2009. The move forced Moonlight Basin into bankruptcy and prompted the resort to sue Lehman.

Pocketbook drain

One downside to the resurrection of Moonlight and expansion of Big Sky is ticket prices.

A full-day adult lift ticket at Big Sky has increased from $89 to $99. For the same adult all-day ticket at Vail, riders will dish out $85. But Big Sky is still a long way from the most expensive resort in the country, Utah's Park City Mountain Resort, which charges $128.

Local riders are worried that Big Sky's ticket prices could continue to climb.

"The biggest question is how much the ticket prices are going to change after this year," said Stuart Lange, general manager of PhD Skis, a Bozeman ski shop.

Even a $10 increase is likely to bump some Montana skiers and snowboarders away from Big Sky, Johnson said.

"The loss of Moonlight's prices, I'm not sure that's good for locals," he said.

Last year during peak season, Moonlight Basin was charging $66 for an adult all-day lift ticket, and $59 during the non-peak season. Chapman said company officials are discussing whether to keep a lower rate available at Moonlight Basin to offer a less expensive alternative, but no decision has yet been made.

Moonlight, Montana's youngest ski area, had carved out a niche as a family mountain, smaller than its neighbor but with a friendly vibe. The resort even gave free passes to youngsters in the surrounding school districts who had good grades, a definite draw for families looking to save money and a great way to invest in future skiers and snowboarders. For this year at least, that program is "still very much alive," Chapman said.

Although steep, Big Sky's ticket price is $4 less than the $103 the two resorts charged last year for skiers and snowboarders who wanted to ride at both ski areas — a ticket referred to as The Biggest Skiing in America.

There are ways to lower Big Sky's ticket price, including discounts for multiple ticket purchases, or devoted Big Sky riders can buy a Sky Card for $179 and lower their daily rate by $20 per ticket and also receive free and half-price tickets on certain days.

The big attraction

Some local skiers and snowboarders will undoubtedly be digging deeper into their wallets for the opportunity to ski the longest vertical in the United States.

By taking Big Sky's Lone Mountain Tram to the top, expert riders will be able to glide 4,350 vertical feet down the double black diamond North Summit Snowfield to the old Six Shooter lift on Moonlight Basin.

"That's the longest vertical run in the lower 48," Lange said. "It's a really unique ski experience."

The website MountainVertical.com disputes ski resorts' calculations of vertical drop and skiable acreage. Instead of simply figuring the difference between highest point in a ski area and the lowest to calculate vertical drop, the website looks at actual skiable terrain. It also does the same for its calculations of acreage.

Under MountainVertical.com's calculations, Big Sky's true skiable vertical drop is now 4,016 feet. Jackson Hole Ski Resort in Wyoming claims the longest vertical in the U.S., by MountainVertical.com's math, at 4,105 feet.

Johnson noted that being the biggest isn't a benefit in places like Europe, and he said that smaller resorts in Utah and Colorado can often be very nimble in offering discounts to skiers and snowboarders who are increasingly making quicker decisions on where to go based on snowfall.

So this first year of an expanded Big Sky Resort will be a learning experience for riders as well as the companies involved.

"From the point of view of the skier, it's probably a good deal," Johnson said. "It's pretty clear the Moonlight business plan wasn't going to work.

"From the point of view of the industry, you've got two really great ski area managers partnering on this — CrossHarbor and Boyne. If anyone can get it right, it seems like they are capable."
---
---