Wed., Dec. 11, 2013
Deer takes icy plunge to flee mountain lion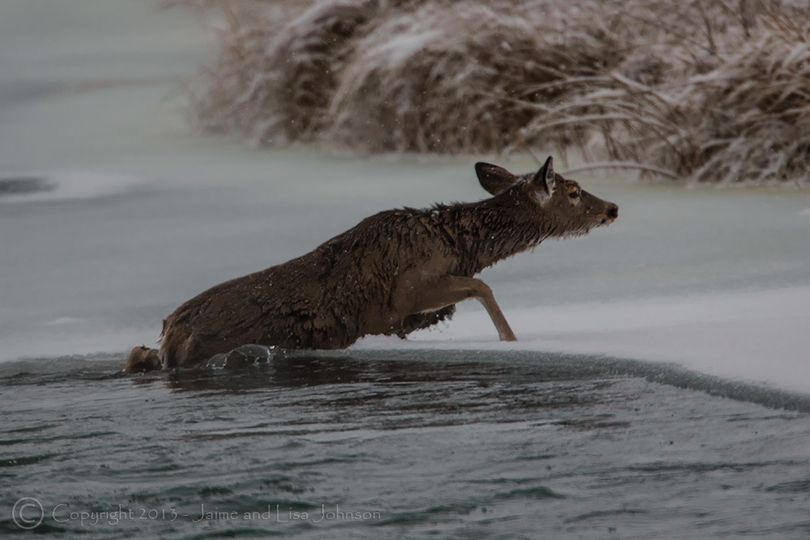 WILDLIFE WATCHING -- Montana outdoor photographer Jaime Johnson and his wife, Lisa, were in the right place at the right time to see a killer wildlife drama play out on below-zero temperatures on Monday. I'll let Jaime explain:
We had a really amazing thing happen today. We were heading up a mountain road to get to a whitetail deer spot that we frequent when we spotted a nice 5x5 whitetail right across the river from us. It has been sub-zero here

for several days and the river has four or five feet of ice on each side frozen. Slush is flowing down the river. River is four or five feet deep. It looks really really cold. I was photographing the buck when all of the sudden, he looked behind him and bolted. In an instant, he was gone. I lowered my camera to see what was up. Then, to our left - a doe whitetail on the opposite side of the river was running full steam towards us (towards the river). Before I could get my camera raised, she jumped with all of her might over the icy edge of the river strait into the swift current. Reminded me of a kid jumping into a deep swimming hole except it was almost zero, I couldn't believe what I saw – (what was she thinking).

Then, right behind her – a mountain lion appeared. He hit the brakes when he saw us, turned and vanished instantly (no pictures). The doe was swept downstream about a hundred feet or so before she could get started up on the ice. She managed (after several attempts) to get her front legs up on the ice, but couldn't seem to get her hind legs up. She laid there for a few minutes and then flailed until her hind legs got up. We could tell she was freezing, but could do nothing. She walked about 15 feet and shook as much water off as she could, barely able to walk. She eventually laid down and stayed there for the next six hours. She eventually got up and fed away.
---
---