Thu., Dec. 12, 2013
Viral video: Spokane hunters free antler-locked bucks
WILDLIFE WATCHING -- Two whitetail bucks that locked their antlers in battle near Liberty Lake during the rutting season set the stage for a ghoulish drama video that's gone viral on YouTube.
Pete Caruso of Spokane and Eric Martin of Colbert were heading out toward Mica to hunt predators on Nov. 15 when they spotted three coyotes feeding on what they initially thought was a gut pile -- until a buck rose up from the bloody melee.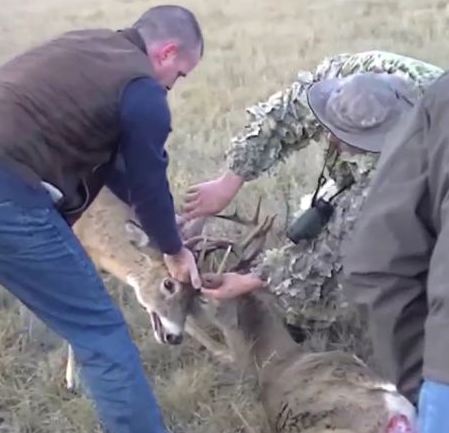 The coyotes were chewing on the haunches of a dead buck whose antlers were locked with a buck that was still very much alive and struggling futilely to break away. The dead buck had died, possibly of a broken neck, in what must have been one heck of a battle for mating dominance that night.
After spooking away the coyotes and sizing up the situation, the two hunters and two other men moved in to help. They risked harm from the still-alive buck's flying hooves and sharp antler points as they struggled to unlock the entangled antlers.
Caruso captured the ordeal on video as one unidentified man sat on the bloody, mangled carcass of the dead buck to give Martin and the other man more leverage for twisting the antlers apart.
The best part of the video comes at the end, when the freed buck sprints away, offering a classic whitetail leap as if to say "Yahoo!" as it disappears over the horizon.
"Eric and I are starting working to start an outdoorsman video club for hunting and wildlife action clips," Caruso said.

This video clip of Martin using a decoy and predator call to lure a cougar into close range is an example. Check out the look on the cougar's face when it senses it's been had.

Stay tuned.
---
---