Wed., Feb. 20, 2013
Thaw melts plans for Hauser Lake ice fishing event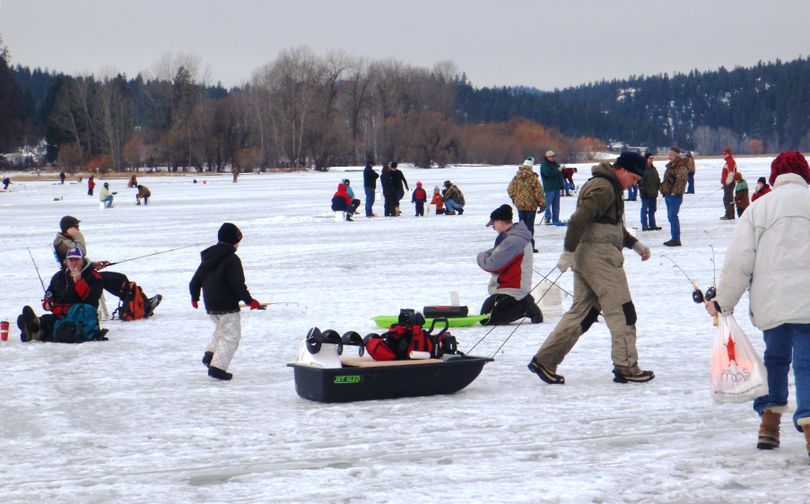 FISHING -- Thinning ice has caused the Idaho Department of Fish and Game to cancel the Take Me Fishing ice fishing event planned for Saturday, (Feb. 23) at Hauser Lake, officials announced Tuesday evening.
Located in Idaho almost within a long fishing cast of Washington; Hauser Lake is a popular fishery for yellow perch, bluegills, crappie and other species. The lake normally produces excellent fishing in both the summer and winter.
However, this winter has not been kind to northern Idaho ice fishing anglers. There were only about three weeks of good, solid ice present on Hauser and some of the other lowland lakes.
Only two anglers were on the entire 550 acre lake on Tuesday morning. They were fishing on the north side of the lake, precariously near open water.
"While two individual anglers may be able to get on and off the ice successfully, IDFG cannot sponsor an ice fishing event that could attract several hundred people when the ice is thin," said IFG spokesman Phil Cooper.
IDFG plans will have to hold off until next winter to redo the event, which allows anglers to borrow gear and fish without a fishing license during specified hours. About 550 people showed up for last year's event, and ate a ton of free hot dogs to boot.
Ice conditions can change every day with fluctuating temperatures and changing water levels. Because of that, anglers must be very careful before venturing out on the ice. Ice that is at least 4" thick is safe if it is clear. Anything less or with bubbles embedded in it can be weak and dangerous.

Anglers looking for late season ice fishing opportunities could look at Upper Twin and Lower Twin lakes which tend to hold ice longer than most area waters. As of President's Day there was solid ice on both. However, the channel between the lakes thins out early.

Some of the Boundary County lakes may have safe ice.
---
---