Sat., July 6, 2013
Record rockfish was 64 years old, not 200, tests show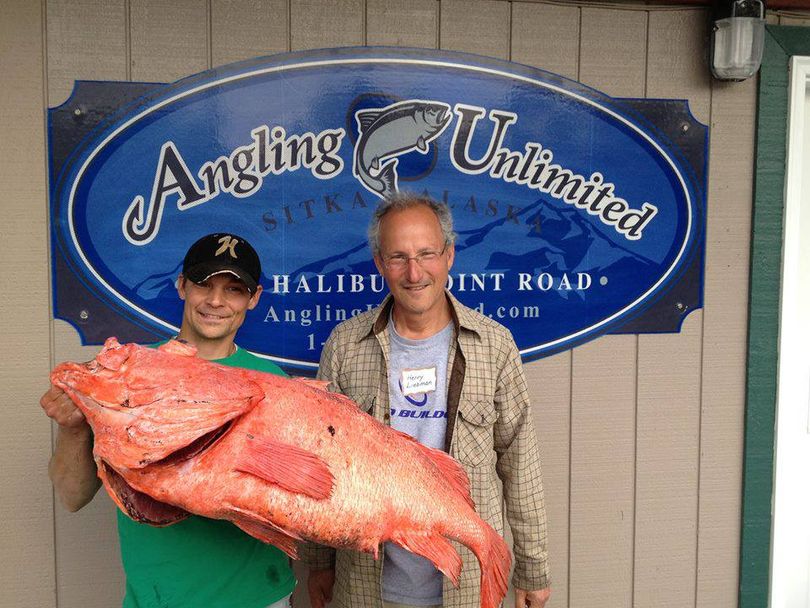 Update: Tests later indicated the fish was 64 years old, according to an Alaska Fish and Game report..
FISHING -- The record-breaking rockfish that caught national attention last week after biologists esitmated it was more than 200 years old has been proved to be a youngster.
Henry Liebman of Seattle caught a 39.08 pound shortraker rockfish while fishing with Angling Unlimited out of Sitka on June 21, 2013, breaking the Alaska state record of 38.68 pounds caught in 2001. Alaska Fish and Game Department biologists officially aged the fish at 64 years old.
Initial reports of the fish's age were estimates based on observations.
The official report was issued Friday after scientists in Juneau studied the otolith, the fish's equivalent of ear bones.
"It's impossible to age a rockfish once it has matured just by looking at it," said Kristen Green, groundfish project leader for Alaska's southeast region.
The oldest aged rockfish, a rougheye, was 205 years old and measured 32 inches. Liebman's fish measured 41 inches, which encouraged unsubstantiated claims of a 200-year-old fish.
Shortrakers mature by age 10 and reach their peak size shortly after.
Liebman, who'd caught a huge shortraker in a prvious visit with Angling Unlimited, asked his skipper to help him and his party target big rockfish again. They were fishing in 850 feet of water when he hooked the record fish.
The fish was weighed at 45 pounds on the boat, so Captain David Goss, knowing the fish would lose weight every hour out of the water, raced back to get the fish officially weighed by Fish and Game officials.
Follow the process of the fish going through the official channels to be named a state record.
---
---