Mon., Oct. 7, 2013
Hanford Reach anglers catch record number of fall chinook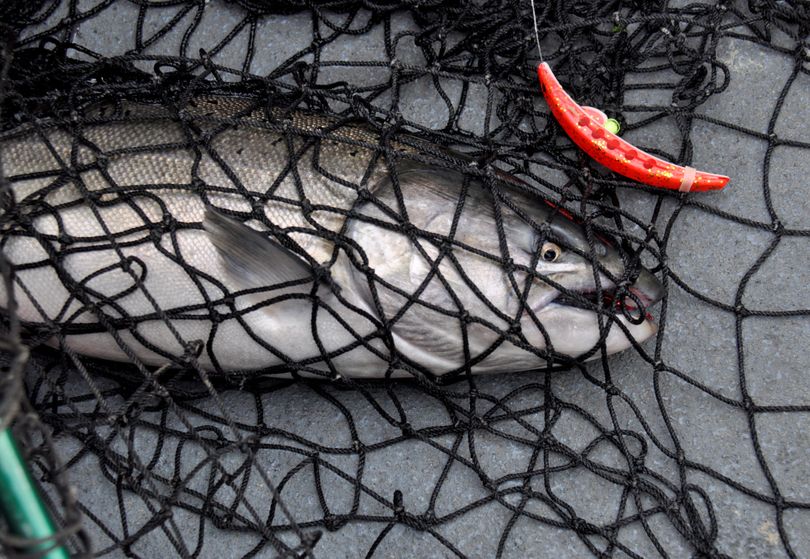 SALMON FISHING -- The 2013 record run of chinook salmon that's stampeding up the Columbia River is making history, and so are anglers.
Sport fishermen caught a record number of chinook in the lower Columbia when the run was peaking there.
Now Washington Department of Fish and Wildlife creel surveys have confirmed that anglers alrealdy have set a record for the catch in the Hanford Reach, where they averaged a whopping 2.5 kings per boat last week.
And the season doesn't close until Oct. 22 in that stretch of river.
Here's the report just received from Paul Hoffarth, WDFW fisheries biologist in the Tri Cities.
Angler effort remained strong this past week with an estimated 7,714 angler trips for the week. Anglers averaged 2.5 Chinook per boat.

Staff interviewed anglers from 477 boats (1,191 boat anglers) and 382 bank anglers fishing for Chinook reporting a harvest of 1,099 adult Chinook and 107 jacks. Harvest for the week was estimated at 6,531 adult Chinook and 651 Chinook jacks.

For the season, 14,967 adult Chinook and 2,014 jacks have been harvested. The adult harvest breaks the previous record of 13,102 adults harvested set last year. There have been 27,958 angler trips for the fishery through October 6.

The in-season run update for natural origin adult Hanford Reach fall Chinook returning to the Hanford Reach is 181,137 (updated Oct 1).
---
---