Mon., Oct. 14, 2013
Hanford Reach salmon effort thins, catch stays high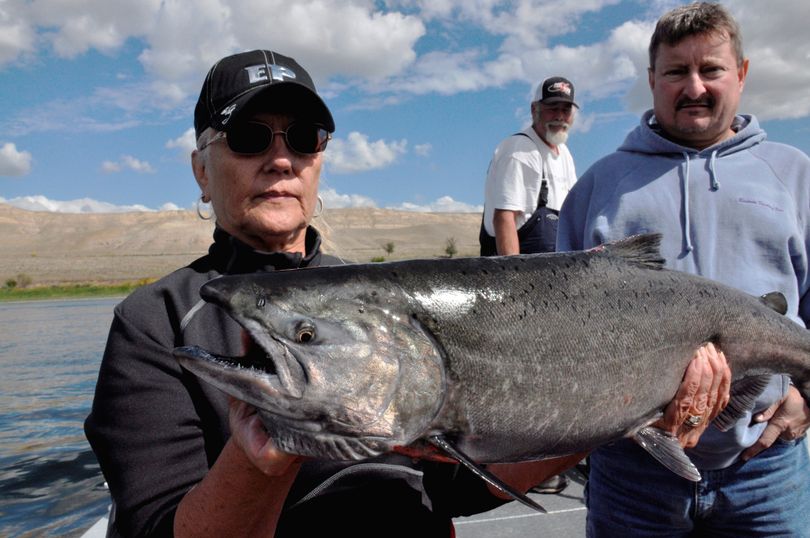 FISHING -- Chinook salmon anglers are finding a little more elbow room on the Hanford Reach of the Columbia River and anglers numbers declinced slightly last week, but the catch rates on the 2013 record run remain high.
Here's the report just received from Paul Hoffarth, Washington Department of Fish and Wildlife area fisheries biologist:
The number of boats on the water in the Hanford Reach dropped a bit this past week compared to the two weeks prior. There were an estimated 5,123 angler trips for the week. Anglers averaged 2.2 Chinook per boat and 20 hours for each Chinook caught from the bank.

Staff interviewed anglers from 572 boats (1,309 boat anglers) and 227 bank anglers fishing for Chinook reporting a harvest of 1,221 adult Chinook and 102 jacks. Harvest for the week was estimated at 4,357 adult Chinook and 357 Chinook jacks.

For the season, 19,313 adult Chinook and 2,365 jacks have been harvested. The adult harvest breaks the previous record of 13,102 adults harvested set last year. There have been 33,081 angler trips for the fishery through October 13. The in-season run update for natural origin adult Hanford Reach fall Chinook returning to the Hanford Reach is 136,902 (updated Oct 7).
Yakima River fishing for chinooks hasn't been bad, either. Says Hoffarth:
WDFW staff interviewed 185 anglers between October 7th and 13th. Anglers reported harvesting 86 adult Chinook, 14 jacks, and 7 coho. An estimated 662 adult fall Chinook, 148 jacks, and 76 coho were harvested this past week from 1,657 angler trips. Anglers averaged 1 salmon for every 4.4 hours fished.

For the season, 5,942 anglers trips have been taken and 995 adult Chinook, 313 chinook jacks, and 83 coho have been harvested.
---
---