Tue., Sept. 3, 2013
Day hiking the Salmo-Priest loop; de-trashing the wilderness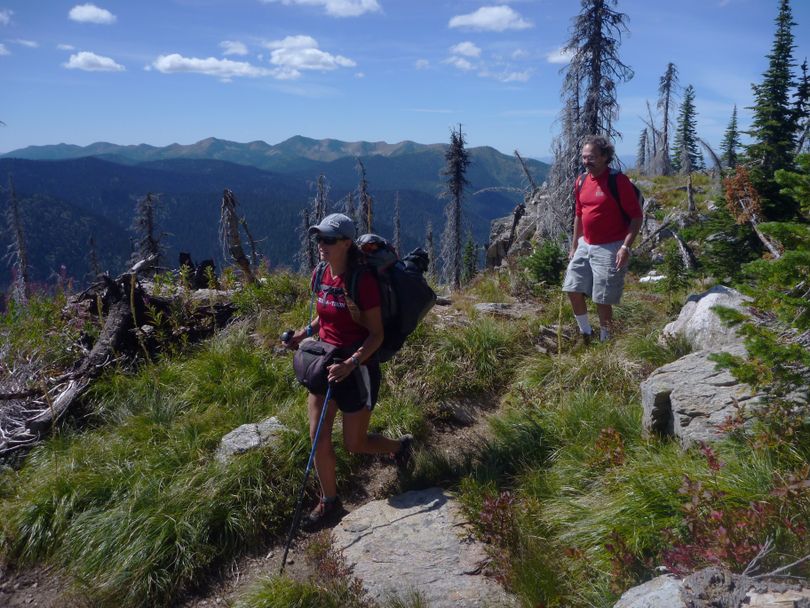 HIKING -- Holly Weiler of the Spokane Mountaineers led a 20-mile day hike on the Salmo Loop in the Salmo-Priest Wilderness on Saturday to bring her August Hike-A-Thon mileage close to 300 miles as she raised donations for the Washinton Trails Association.
Photo shows Holly and Ed Bowers about 12 miles into their day hiking down off Little Snowy Top Mountain. In the background is Crowell Ridge and Gypsy Peak, highest point in Eastern Washington.
Why is Holly carrying such a big pack for a day hike, you ask?
Because, as usual, she's been picking up garbage along the way as she cruised through the wilderness, including lots of plastic stuff, plus empty butane fuel canisters and full freeze-dried food packages that were being chewed through by rodents in the Little Snowy Top lookout.
Note to the uninformed:
Fire pits are not garbage disposals.
Aluminum does not burn in a campfire.
If you can pack it in, pack it out.
Wilderness found: The Salmo-Priest is getting plenty of attention. We counted 36 hikers including our group of three had signed in on 8-31-13 at the two Salmo Basin Trailsheads at the end of Colville National Forest Road 2220.
---
---