Thu., Aug. 7, 2014
Canada's massive mining dam failure reinforces opposition to Pebble Mine in Alaska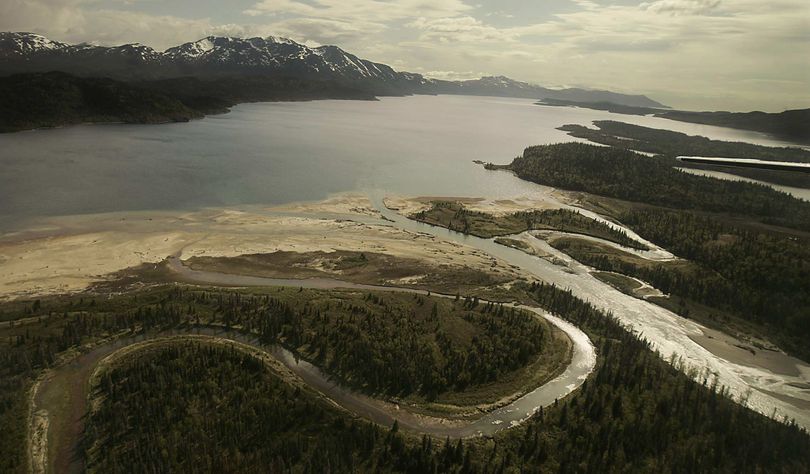 FISHING -- Just as the U.S. Environmental Protection Agency has opened another round of comments on the controversial proposal to authorized the Pebble Mine near the headwaters of Alaska's prized Bristol Bay salmon fisheries, a disaster in Canada has struck an emphatic case in point.
Monday's devastating tailings dam failure at the Mount Polley copper mine in British Columbia sent an estimated 4.5 million cubic meters of mine waste solids and 2.6 billion gallons of mine waste liquids into streams, rivers, and lakes in the headwaters of the Fraser River watershed.
See an aerial survey of the impacts in the video above.
The massive release of materials from a mine tailings pond near Quesnel is "virtually impossible to clean up," according to a marine researcher — and may have already damaged salmon habitat beyond repair.
Dr. Peter Ross heads Vancouver Aquarium's ocean pollution research program and said on Wednesday the spill likely spells death for the fish that use the affected waterways.
Missoula-based Bonnie Gestring makes a few sobering comparisons between the Mount Polley Mine in a post on Earth Island Journal:
Both mines are large, open pit, copper porphyry mines at the headwaters of important salmon streams.
The company behind the proposed Pebble Mine, the Pebble Limited Partnership, has repeatedly pointed to the Fraser River as an example of a watershed where mining and fish can coexist.
Knight Piesold, the firm that provided designs for the tailings pond lifts at Mount Polley, also provided the designs for the tailings pond for the proposed Pebble Mine.
Moreover, a consulting firm in 2011 warned the British Columbia Ministry of the Environment that a contingency plan was needed should the tailings pond holding mining waste at the Mount Polley Mine fail. No contingencies were made.
"It is the toxic time bomb explosion that all of us who've fought the Pebble Mine have predicted could happen," writes Joel Reynolds of the National Resource Defense Council in the Huffington Post.
The Environmental Protection Agency has already taken the first step to stop development of the Pebble Mine under the Clean Water Act, but the agency opened up the process for one more public comment period before making a final decision.
Care to comment?
Here's an update and another video from the Vancouver Sun.
---
---