Fri., Aug. 15, 2014
Wolves kill 14 sheep in Stevens County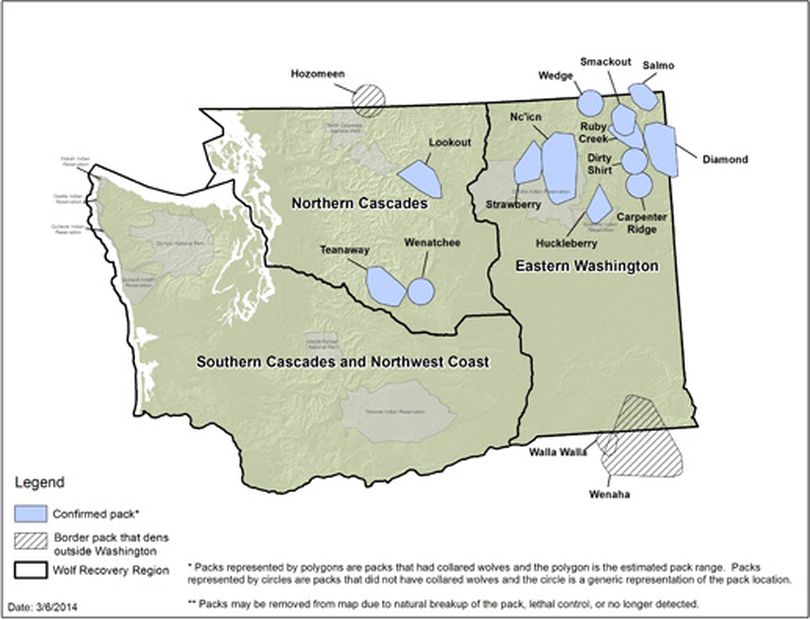 ENDANGERED SPECIES -- The Washington Department of Fish and Wildlife has confirmed that one or more wolves from the Huckleberry Pack in southern Stevens County killed 12 sheep Aug. 11 and two more Aug. 12 on private property off the Springdale-Hunters Road.
The attack just north of Blue Mountain and about two miles north of the Spokane Indian Reservation is the first confirmed loss of livestock to gray wolves this year in Washington.
About 1,800 sheep are being grazed in the area under a lease with the Hancock Timber Company, which owns the land, said WDFW officials who verified the attacks.
The state is working with the operator to move the sheep to another grazing allotment and remove the sheep carcasses to avoid wolves returning to the kill site.
WDFW staffers are on site with the sheep and are prepared to haze away any wolves that might return, said Madonna Luers, department spokeswoman in Spokane. A contract range rider will also be on the site for five to seven days while the sheep are moved.
The sheep producer may be eligible for compensation for the sheep lost to the wolves, she said.
The Huckleberry pack was confirmed as Washington's seventh wolf pack in June 2012 and currently is believed to have at least six members, including a breeding pair and the radio-collared male. This does not include pups produced this year.
Luers said the Huckleberry Pack, named for nearby Huckleberry Mountain, has not been associated with livestock attacks before this incident.

---
---