Thu., Aug. 21, 2014
Fall chinook season to open early in Priest Rapids pool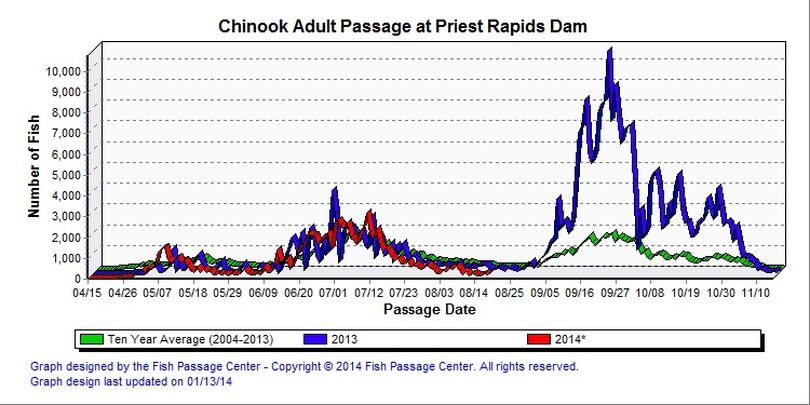 FISHING -- This announcement just posted by the Washington Department of Fish and Wildlife is good news if you're champing at the bit to cast for the early portion of the record run of fall chinook heading up the Columbia River.
Action: Fall chinook season opens two days early to coincide with Labor Day weekend.

Effective date: Aug 30, 2014 (one hour before official sunrise).

Species affected: Chinook salmon

Location: Columbia River from Priest Rapids Dam to Wanapum Dam

General Rules: Daily limit six (6) chinook only; up to two adults may be retained. All other rules for Columbia River apply, including barbless hooks. Two poles allowed through Aug 31, 2014.

Reason for action: The standard opening date for fall chinook in the Priest Rapids Pool is September 1. With Labor Day weekend falling on August 30, 2014, opening two days early will allow for additional angling opportunity.

Anglers are required to possess a Columbia River Salmon/Steelhead Endorsement as part of their valid fishing license Revenue from the endorsement supports salmon or steelhead seasons on many rivers in the Columbia River system, including enforcing fishery regulations and monitoring the upper Columbia River spring chinook fisheries. The endorsement has generated more than $1 million annually for WDFW to maintain and increase fishing opportunities throughout the Columbia River basin.

Monitor fishing rule changes on the fishing hotline at 360-902-2500 or the WDFW webpage.
---
---