Thu., Aug. 21, 2014
New wolf kill authorization broader than state law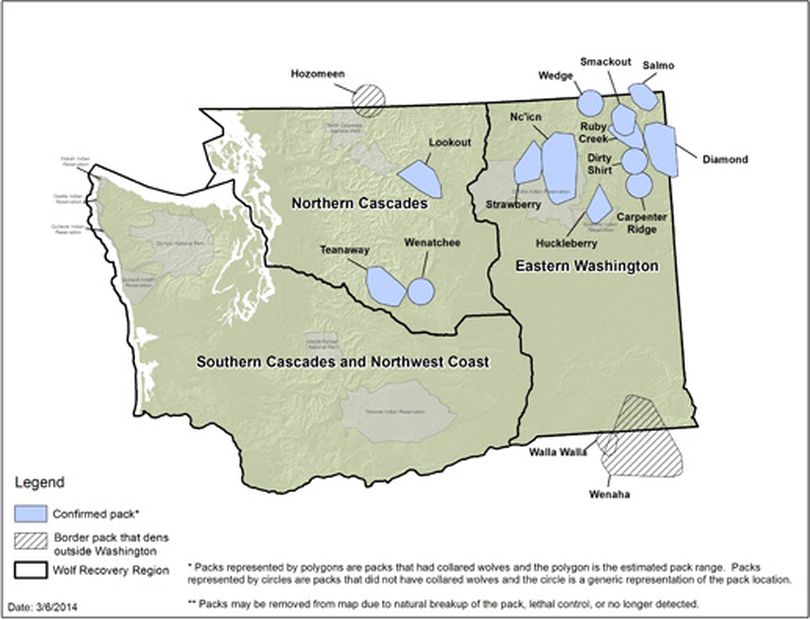 ENDANGERED SPECIES -- Some readers reacting to my recent report have pointed out that the public already has the right in Eastern Washington to shoot a wolf that threatens a person or domestic animals even though wolves are protected by state endangered species laws.
So why did we headline the announcement that the Washington Department of Fish and Wildlife has given a rancher the OK to shoot wolves?
I asked department officials to explain and here's a summary of the answer:
Gray wolves are managed under state regulations in the eastern third of the state while federal Endangered Species rules apply to wolves farther west.
Following incidents with wolves preying on sheep and pets in rural areas, the Washington Fish and Wildlife Commission adopted a standing rule that any person in the eastern third of the state who sees a wolf in the act of attacking livestock or domestic animals can shoot and kill up to one wolf to stop the attack.
The new authority given in the case of the recent sheep attacks in southern Stevens County is broader.
Rancher Dave Dashiell as well as WDFW staffers on the scene to help move and protect the sheep were given the authority Wednesday to shoot any wolf they see even near the sheep. An attack does not need to be underway and they can kill more than one wolf if the opportunity presents itself.
That said, the chances are very low even under the broader guidelines that they will get the chance to shoot a wolf. When the decision was finally made to destroy the cattle-eating Wedge Pack in 2012, the state got nowhere with killing wolves until they hired a helicopter. The aerial gunner took care of the issue in a couple of days.
"These attacks (on Stevens County sheep) have occurred mostly at night and unnoticed even though people are out there with dogs and lights," said Madonna Luers, department spokeswoman. "It's a stretch to expect even one wolf to be shot under these rules, but at least they have the authority if the the chance presents itself."
---
---