Wed., Aug. 27, 2014
Wolf update: Huckleberry Pack avoids helicopter gunners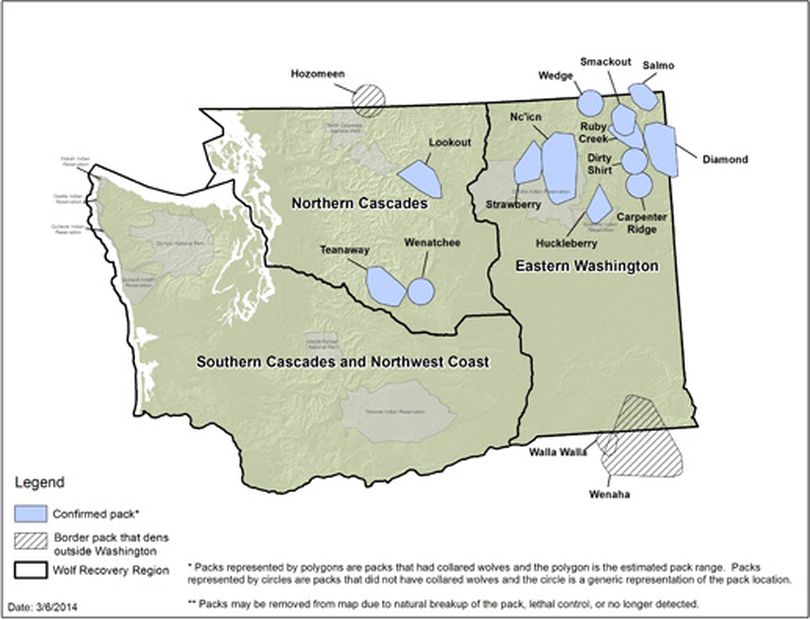 ENDANGERED SPECIES -- Still only one wolf has been killed in a helicopter gunning operation that started Aug. 22 to kill up to four wolves from the Huckleberry Pack that's been attacking sheep in southern Stevens County.
The Washington Department of Fish and Wildlife has issued an update on the operation to relieve attacks that have claimed at least 22 sheep from a flock of 1,800 grazing on Hancock timber company land.
Here is the full update from Nate Pamplin, WDFW assistant wildlife program director. It addresses helicopter flights, continued use of non-lethal measures and moving the sheep away from the wolves to other pasture:
Helicopter flights occurred on Saturday, August 23 through Tuesday morning, August 26. As we noted in Monday's news release, one female wolf has been removed. Helicopter activity provided hazing which may have kept wolves from the flock, and we have had only one sheep injured by a wolf attack, found on Sunday morning (and was later found dead this week, and it is being investigated). As indicated before, on the Saturday morning flight (and the subsequent ground investigation), five sheep were found dead and three were injured.

We did not fly on Tuesday evening and do not plan to fly today. We have established a trapline and have provided instructions to euthanize up to three more wolves caught. We also have ongoing authorization for our staff and the rancher to kill up to two wolves observed in the vicinity of the flock. We will continue to assess these efforts each day, and the directive is to remove up to four wolves from the Huckleberry pack.

Nonlethal measures continue to be in place, with the rancher, a range rider, and up to four department staff, and four guard dogs providing an on-going presence.

We continue to work with the producer to try to find an alternative grazing location. We're hoping that will occur soon, and the producer understands our desire that for this particular situation, we're hoping to eliminate the killing of his sheep by wolves by moving the sheep to their winter range. He received a communication yesterday saying that he should be able to move the sheep soon.

We've received a lot of inquiries about why moving sheep hasn't happened sooner. A couple items I hope you'll keep in mind. First, with the Carlton Complex Fire in Okanogan County and other fires across the state, there has been a tremendous demand for alternate pasture for displaced livestock operations. We're offering whatever assistance we can to help the operator with the various logistics.

Second, I think it is important to remember that neither the Wolf Conservation and Management Plan nor our preventative measures checklist suggest that moving livestock off of an allotment is a requirement to address wolf-livestock conflicts. With the operator moving his sheep to winter range anyway, we're hoping to work with him to expedite that move. But in the long run, and in other conflict situations that we will face, it is not likely to be feasible for a rancher to move livestock out of the vicinity of problem wolves. Maintaining working lands and the livestock industry is important both from the perspective of social tolerance of wolf recovery, and the overall maintenance of viable local economies and support for working lands (and the wildlife conservation benefits of those lands continuing in that status).

Finally, we have approached the rancher about compensation for sheep injured and killed by wolves and will likely continue that dialogue with him at a later date, once some of the immediate issues are resolved.
---
---