Wed., Feb. 19, 2014
Bjornsens looked good in Spokane years before Olympics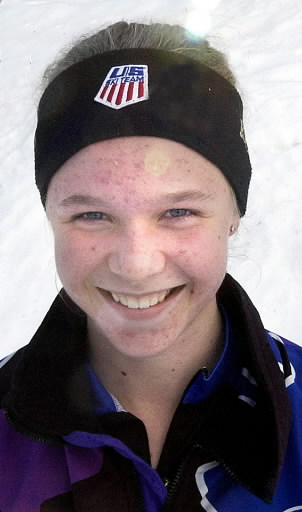 WINTER SPORTS --They gave us a preview of their world-class talent during Langlauf on Mount Spokane.
Erik Bjornsen -- and his sister Sadie -- of Washington's Methow Valley are skiing their hearts out in the nordic events at the 2014 Winter Olympics in Sochi. But winning Langlauf, the annual 10K classic event at Mount Spokane, was one of their milestone achievements to get there.
The photo above shows Erik competing today in Sochi. A photo below shows Erik in 2008 at the age of 16 when he was the overall Langlauf champ. He's posing with the top woman that year, Annie Pokorny of Spokane.
The photo at left shows Sadie Bjornsen at the age of 13 when she won the Langlauf women's division -- the youngest competitor to take the Langlauf crown.
See today's story about the Bjornsen's attraction to a college in Alaska that's primed them for international competition.
See my story on their connection with the Spokane Langlauf.
Click "continue reading" to see photos of Erik and Sadie Bjornsen in action during the 2014 Winter Olympic Games in Sochi.
---
---