Fri., July 11, 2014
Jail time sought for men guilty of netting Banks Lake whitefish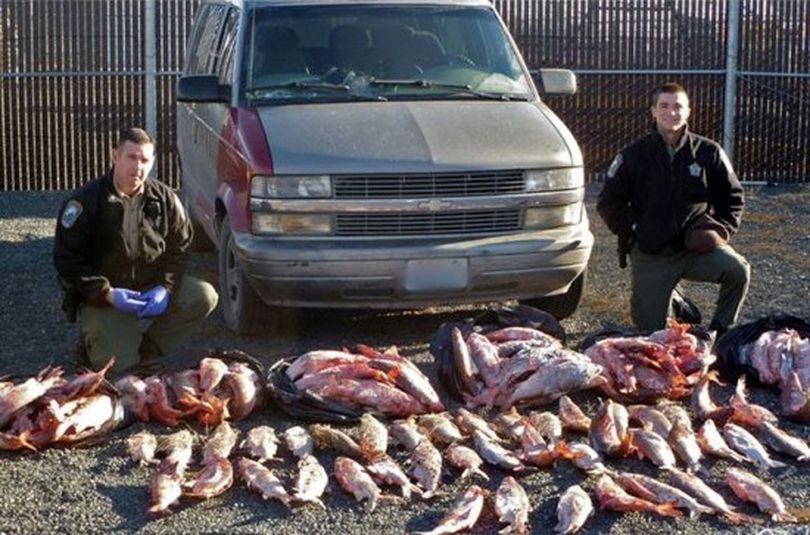 POACHING -- A Grant County jury this week found four Western Washington men guilty of illegally netting 194 whitefish out of Banks Lake on Dec. 5, 2013
But the best news is that the Grant County prosecutor doesn't plan to give them a slap on the hands.
"There really is no excuse for this behavior," said Prosecutor D. Angus Lee. "We will be asking the court to impose two months of county jail time on each of these four defendants." Sentencing is set for Aug. 27.
Vladimir Savchenko, 36, of Edmonds, Peter Zhezhelev, 46, of Kenmore, Aleksandr Kashnikov, 45, of Everett, and Sergey Mitsevich, 39, also of Everett were each found guilty of unlawful use of a net to take fish, a second-degree gross misdemeanor and illegal recreational fishing, a first-degree gross misdemeanor.
Charges also had been assessed to Mikhail N. Mitsevich, 38, of Everett, the defendant who nearly drove over a Washington Fish and Wildlife Department officer as he attempted to escape in a van the night of the arrests. I'm trying to get verification from the Grant County prosecutor if Mikhail N. Mitsevich and Sergey Mitsevich are the same person and what became of those "attempted vehicle assault" charges.
See also several other high-profile fish poaching cases involving men of Eastern European descent in Central Washington in the past few years.
---
---