Mon., June 16, 2014
Found bighorn just short of Boone and Crockett world record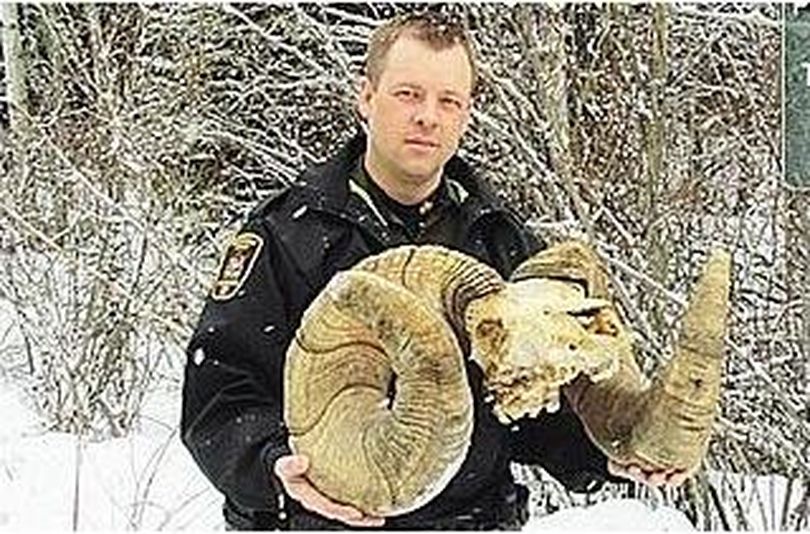 WILDLIFE -- Close but no cigar for a bighorn skull found in Canada. It just misses world record status, the Boone and Crockett Club says.
A long winter buried in snow apparently swelled the horns of a bighorn sheep that died of natural causes. The ram was found this spring by Alberta wildlife officials and green-scored as a potential new world record.

Following the Boone and Crockett Club's mandatory 60-day drying period, the ram's horns lost an astounding four inches in net score. The original scorers reconvened to find that every measurement was smaller on both horns.

Still, with a final score of 205-7/8, the ram ranks No. 5 all time. It has been entered into Boone and Crockett records on behalf of the citizens of Alberta.

The reigning World's Record, taken by a hunter in Alberta in 2000, stands at 208-3/8.

"Though it's not a World's Record, it is another tremendous specimen symbolic of continuing, successful conservation programs. For that, we congratulate Alberta wildlife officials," said Richard Hale, chairman of the Club's Big Game Records Committee.

Hale added, "Biologists speculate this latest ram died of old age in early summer 2013, so the horns were exposed to the elements through the remainder of summer, all fall and all of a wet, snowy winter. Apparently, the horns absorbed an incredible amount of moisture, because four inches of shrinkage during the 60-day drying period is very rare."

The Boone and Crockett Club, long recognized as the leading authority on big-game recordkeeping, requires air drying all trophies at habitable room temperature for 60 days immediately prior to final scoring. It's a rule made precisely for this kind of situation.

"By standardizing the scoring process as much as possible, we ensure the credibility of our records. That's very important for the biologists who use these data to compare and contrast outstanding habitat, strong recruitment into older age classes, sustainable harvest objectives and other elements of sound wildlife management. It's also important to sportsmen in that all trophies are being treated as equally as possible," said Hale.

---
---