Sun., March 2, 2014
Frigid fat tire race extends to 10-hour epic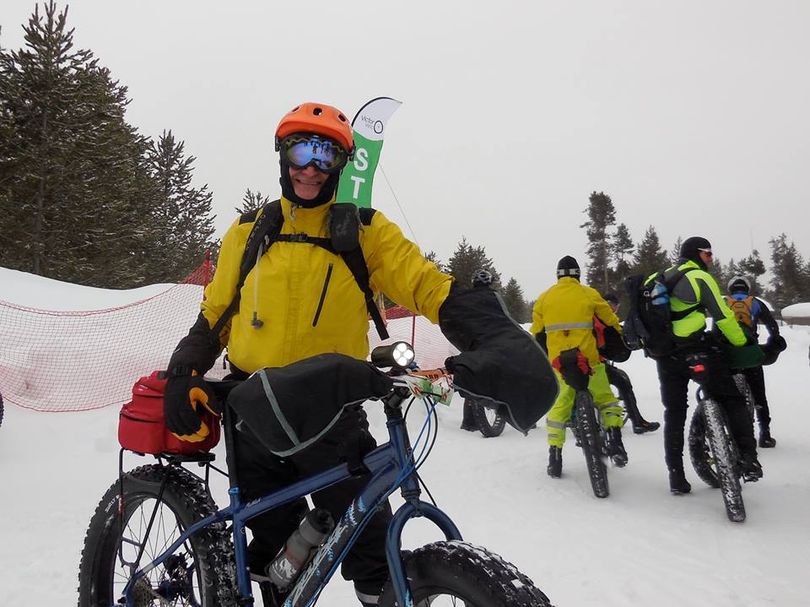 WINTER SPORTS -- Spokane wide-tire mountain biker Dan DeRuyter traveled to Island Park, Idaho, for the annual ultramarathon race called Jay's Backyard Fat Pursuit. Riders chose from 60K and 200K snow-covered routes.
Hours after this starting photo was shot at minus-zero temperatures, DeRuyter logged another photo of himself on the 60K route with this caption:
Here's a 'selfie' at around 11 AM. GPS, Water Bottle, Camel-pack and Bike-chiladas, already long since frozen solid. Never would have guessed I'd have another eight hours to go.
Then, when his body had sufficiently thawed, he filed this report after the race:

Finished, Crashed twice, and wasn't last (but, in truth, last wasn't far away), in what became a very tough, ten hour/60 k effort. Here are shots before (thinking I'd finish around 3 PM), and at the Finish (at 7 PM) . A brutally long, cold (-5 F to 15 F), and windy day. All my water, and most of my food, were frozen solid long before the first check point. My finger tips are all still numb today. My Race diary's entry for yesterday will be filled with the many, many things I'll do better next time. This Race deeply rewards those who properly prepare.

The highlights of my day were having the one and only Jay Petervary periodically checking my (all Racers') progress on his show machine, and my Exposure Maxx D that strobed for nine hours and then had enough juice left to light me to the Finish.

Lastly, 'awe' is the only word I can think of that comes close to describing the 19 who opted to Race the 200 k, and what will be a 24 + hour effort for them - completely unsupported. Truly the very best & gifted endurance athletes there could be.
---
---