Sun., March 2, 2014
Iditarod snowmobile Diary: Day 2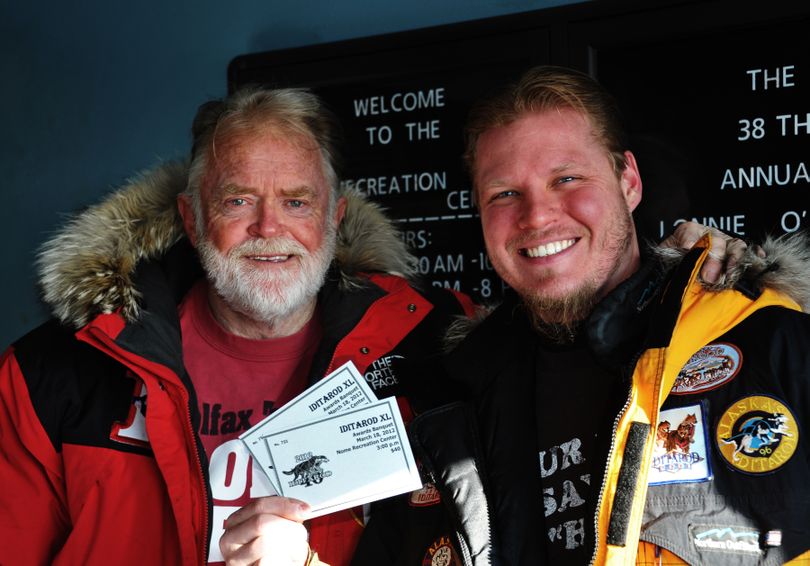 SNOWMOBILING -- Bob Jones of Kettle Falls and Josh Rindal of Spokane are "150 miles up the trail and all is well" as they repeat their effort to follow Alaska's Iditarod Sled Dog Race by snowmobile. "We're hearing constant horror stories about things ahead," reports Jones by email. "All in all the trail has been very good. The cold nighttime temperatures of the last couple of nights have really saved our bacon. Wireless is weak here... no photos until McGrath...."
See the complete diary and photos from their 2012 trip -- which marked Jones's 14th time on the Iditarod.
Click "continue reading" to see Jones' diary from Day 2 of their 22-day, 1,400-mile adventure underway this winter.
Below are links to each of the other diary posts and photos of their trip on the Iditarod Trail.
Day 2: (March 1, 2014) Saturday
Skwentna Roadhouse, +19º at 8 a.m.
The overnight freezing temperatures were most welcome, and they served to set-up the trail in great fashion.
We had a nice breakfast this morning with the crew, as Josh and I were the only ones there last night. And we fueled up both machines. I only took 3 gallons and got 20.7 mies per gallon from Deshka. That is great fuel mileage!
We got on the trail our of Skwentna at 9:30am and made good time over the 'short-cut' trail to the Shell Lake Lodge. It was 15.9 miles.
A gal named Zoe built and owns the little bar and beanery there, and she creates the best cheeseburger on the entire Iditarod Trail. We get there almost too early to delve into one of these treats, but we always do. And we always chase it down with a cold beer. After all, it is NOON somewhere! Zoe was happy to see us and we had a great chat.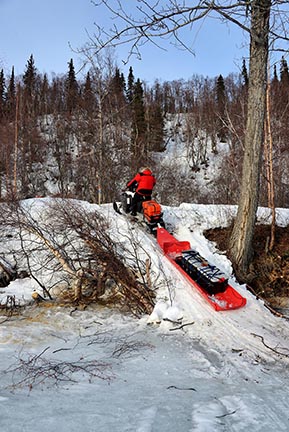 The trail out of Shell heads for the Finger Lake Checkpoint and we made good time to there. But from Finger Lake north a definite change occurrs: There is very little trail traffic, and the nature of the trail reflects that.
We bounced through the forested country, pretty much from the top of one mogul to another, and our top-end speed decreased to something less than ten miles and hour.
The a trail crew had been through ahead of us, and it was evident that they had done a great deal of work. There were many places of open water where they had thrown down birch limbs and spruce trunks and boughs and then shoveled those little platforms over with snow. They were narrow and they were fine.
We made the steep drops of the south Happy River Steps and got onto the frozen river without any problem. Just prior to the steep ascent of the north Happy step, there was a giant black hole filled with swift and deep water. The trail crew had actually build a bridge of spruce logs and plywood to bridge this gap. It wasn't much. But it worked! Without that primitive, makeshift bridge the Iditarod would have ended right there!
We snuck slowly across the bridge and made the steem ascent to the top of the step. I always breath a little sigh of relief to be at that point: Up trail from the dreaded Happy River Steps. The place is a total nightmare for the mushers, and it isn't much less for us!
From the Happy the trail runs mostly throgh thick timber and has about as many moguls as we see on the trail. The result is slow going. The trail also crosses Shirley and Finnebear Lakes in this stretch.
We finally rode up to the Rainy Pass Lodge on Puntilla Lake with the last light of day.
After about 150 trail miles behind us, it is always gratifying to get the type of welcome we get here. The window to the kitchen announces our arrival, and about 20 people all come running out with giant hugs and handshakes and pats on the back. They are a great bunch. And they are a big part of this trail.
We got our little ass-out cabin, with a couple of lightbulbs, no running water, and a barrel for a stove. But the little, old log cabin has a class of it's own. We love to camp there!
Dinner was ready, and the normal Iditarod feast was in place. There was only one paying guest here so far, but friends and relatives of Steve and Denise Perrins were in long supply.
Josh and I chowed down and I brought my computer to the lodge to take advantage of a weak internet to send this message. It won't reach our cabin!
Josh read the thermometer and he thinks it says +13º at 10pm! YES!!
---
---