Wed., March 5, 2014
Dog that survived wolf attack mauled by cougar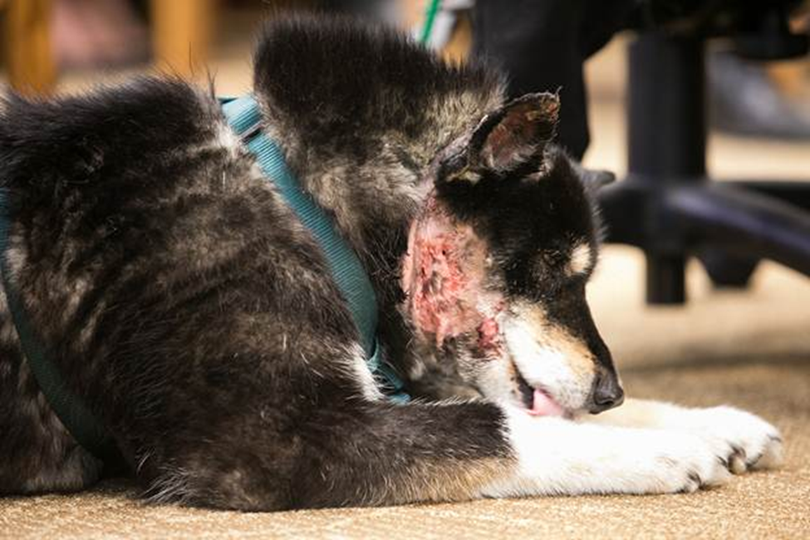 PREDATORS -- You may remember the story about Shelby, the dog that went with its owner to a committee hearing at the Washington Legislature last year (above) all scarred up after being attacked by a wolf as it slept on the porch of its Twisp-area home.
This week, Shelby is back in the news after being attacked again in its yard -- this time by a mountain lion.
It's just the latest in this winter's spree of confrontations involving mountain lions in the Methow Valley.
Read on for the Wenatchee World story about Shelby that's been moved by the Associated Press.
A wolf, now a cougar -- Twisp dog survives again

By K.C. Mehaffey/The Wenatchee World

TWISP - Shelby is one tough dog.

Last March, the 60-pound female husky-wolf hybrid was attacked by a wolf while she slept on her owner's porch south of Twisp. The wolf ran away after her owner, John Stevie, tried to separate them and his other hybrid, Lopi, jumped in and attacked it.

On Monday morning - less than a year after the wolf attack - Shelby was mauled by a cougar after Stevie let her outside.

Shelby made a splash in Olympia last year when, after the wolf attack, she traveled to Olympia with her owners, who testified in favor of a bill giving people the right to protect their property and pets from gray wolves. Her wounds then were considered near-fatal. Officials say her wounds from the cougar were also severe.

"The dog was ripped up pretty bad," said state Fish and Wildlife Sgt. Dan Christensen, who heads Wildlife enforcement in Okanogan County. "She's expected to make a recovery, but she'll require a lot of stitches," he said. Because they are deep tissue injuries, it will take multiple visits to the vet, he added.

The attack and other sightings over the weekend prompted the agency to issue a depredation permit, and call in a designated hound handler to try to track the cougar. The handler has been authorized to kill up to three cougars with the permit, Christensen said. He tracked this cougar to a large boulder pile, but there were too many tracks to determine where the cougar was. The handler planned to return today for another try.

The depredation permit is separate from five special permits issued in the Methow Valley in February allowing hunters to use dogs to track and kill cougars in response to numerous cougar complaints since December.

So far this winter, cougars in the Methow Valley have killed goats, sheep, chickens and a calf. Shelby was the second dog to be attacked. Then last week, an 11-year-old girl shot a cougar 10 feet from their Twisp residence as it followed her brother to the door.

Five of the big cats have been tracked and killed with help from Wildlife officials, and six others have been killed by hunters, including some deemed problem animals.

"We just have a unique winter right now," Christensen said. He said wildlife officers are using every tool they can to make sure the public is safe.

He said there have been far more cougar complaints in Okanogan County this winter than in previous winters - nearly all of them in the Methow Valley.

However, another Wildlife officer was investigating a complaint from a rancher near Tonasket who believed his horse had been attacked by a cougar, he said. The cause of the horse's injuries have not yet been confirmed, he said.
---
---