Wed., March 5, 2014
Iditarod snowmobile Diary: Day 6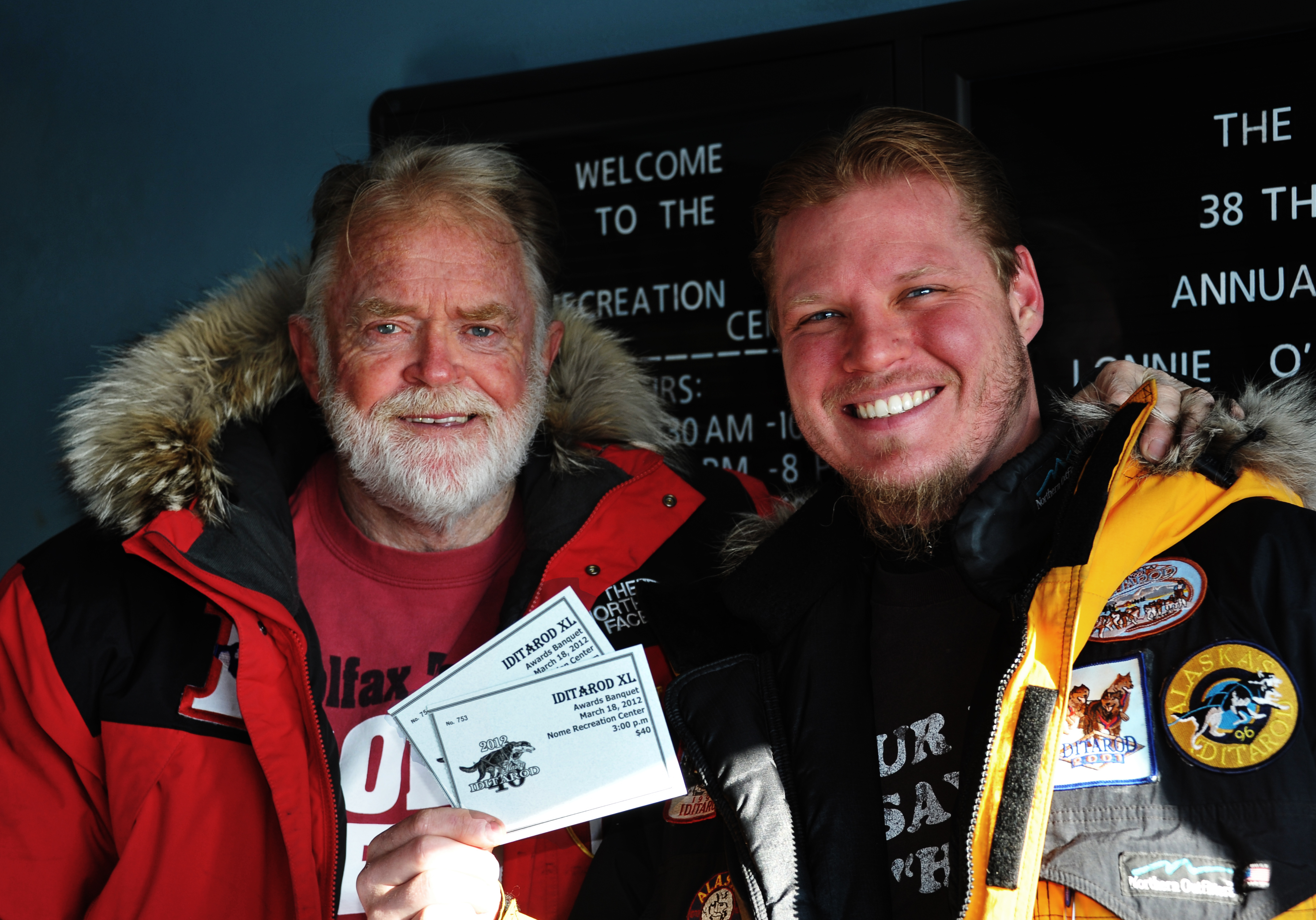 SNOWMOBILING -- Bob Jones of Kettle Falls and Josh Rindal of Spokane are repeating their effort to follow Alaska's Iditarod Sled Dog Race by snowmobile in February and March 2014.
See the complete diary and photos from their 2012 trip -- which marked Jones's 14th time on the Iditarod.
Click "continue reading" to see Jones's diary from Day 6 of their 22-day, 1,400-mile adventure in 2014.
Below are links to each of the other diary posts and photos of their trip on the Iditarod Trail.
Day 6: (March 5, 2014) Wednesday
Rohn Cabin Checkpoint (Night 2) to Bear Creek BLM Shelter Cabin, -5º at 8 a.m.
We got up and dressed at 8am. It had 'flurried' a little more during the night, and there was about an inch of fresh snow on my machine, making a total of less than two inches. But that was far better than none! At least we would have just a little lubricant under our skis and track today.
Jasper fixed us a breakfast of hot coffee, sausage and blueberry hotcakes.
They offered to fill our fuel tanks as their thanks for Joshes services yesterday, and the thermometer read -3º at the airstrip when they did. We took some photos of the crew in front of the cabin, said our goodbyes, and rode north out of camp at 10:15am under mosty gray skies.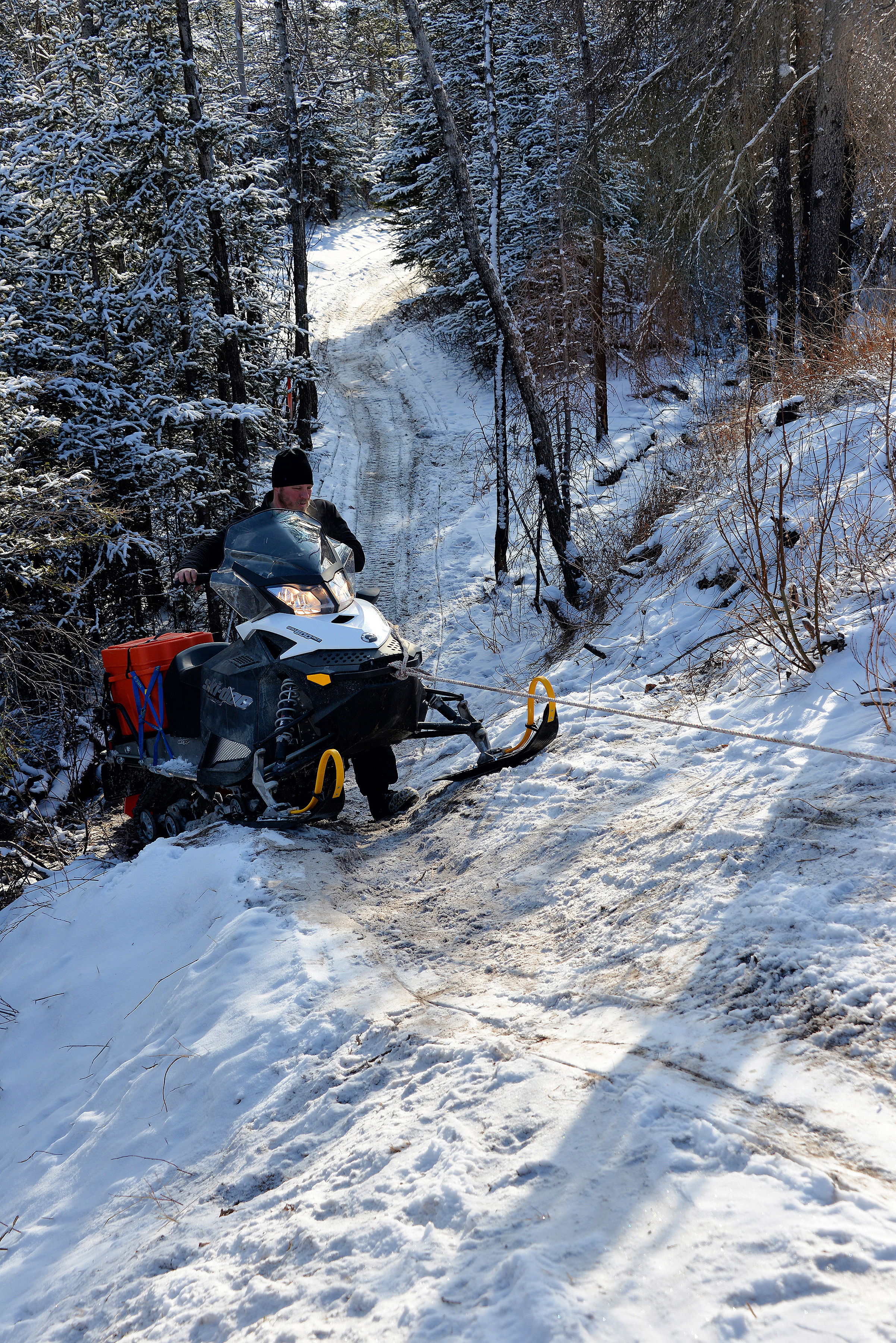 The trail was rough and slow. Rocks, root-balls, downed trees and muskeg humps really made for a poor trail. We got across the South Fork on the only smooth ground we would see for most of the day.
The trail skirts the Post River Slide for about three miles of the 8 miles it takes to get to the Post itself. Immediately to the north of the Post River lies the infamous "Post River Hill". We had been there before and knew it wouldn't be good. The hill is steep and very narrow and on an angle from bottom to top. We knew we'd never get up there without a disaster, like rolling down a 50-foot hillside and into a patch of big spruce. So we got out our Rope Winch and went to work. Josh ran his machine up the hill as far as he dared while I walked toward the top and made the winch fast to the base of a tree. Josh tied his end of the rope to the front of his machine and, as I worked the winch and he worked the throttle, we made the hill barely inches at a time.
Once Joshes outfit was up-top, we repeated the process with my machine and sled. It didn't take long, only about an hour, and we were on our way.
Within about a mile we got into a similar situation on another hill. This time the hillside had been burned out by a forest fire and the ground was a maze of rocks and tree roots with the soil either burned or washed away. Probably a combination of both. This was an shorter hill, and it only took us about 30 minutes to get up it. We had come les than 10 miles from Rohn and it had taken us over 5 hours.
We were having a lot of trouble keeping from tipping over, and it seemed we had one ski or the other up in the air and off the ground constantly. Josh stopped and got out the tool kit. He reasoned that an adjustment to the front springs might help our situation. And what a difference it made! We had gained so much better handling that we could almosty double our speed without the tippy situation!
We came upon the last musher to have left Rohn. He had left at 5pm yesterday. His dogsled was in pieces and he was dead in the water about 14 miles north of Rohn. I explained that the Trail Sweeps would be coming by at any time, and that their job was to assist you is any fashion you might need. We talked it over, and it seemed the only course of action would be for them to take the musher back to Rohn. After all, even with the atrocious trail conditions, it was only about 14 miles to Rohn. Nicolai is about 52 miles from the musher. Rohn it will probably be.
We worked our way past Egypt Mountain and got down into some better trail on the other side. That allowed us to make a little better time. By 5:30pm, 7 hours on the trail, we were just a little over 20 miles out of Rohn. I told Josh that we had better be looking for a place to pitch our tent around 7pm.
But, around Mile 27.5, the trail got a little wider and a little flatter. The rocks and the root-balls, pretty well vanished, and the only negative objects remaining were the frozen hummocks. But even they were now flatter and wider. We could actually run along between 5 and 10 miles per hour for long stretches.
The trail continued to get a little better. We got to the long-abandoned Bison Camp right after dark at Mile 36. It was getting COLD!
About 8 miles up the Iditarod trail from Bison Camp, and off the trail about one mile, lies a little BLM shelter cabin. We had been hoping all day that we might make that little shelter. And we were getting closer.
Josh detoured off the ID Trail and onto the trail to the cabin. There were no tracks on the fresh snow, and we hoped we would have the little shack to ourselves. We have stayed here many nights on our previous runs to Nome and the little cabin, while very crude, is also quaint and a great place to camp.
We had the cabin all to ourselves for the night. There wasn't much firewood there, but Josh made short work of what there was with a little bow saw, and we were in business. We got the lantern fired up, the stove fired up, and our little cooking stove fired up.
We had arrived at the cabin at 8:30pm after a very tough 10-hour day. We had made exactly 43 miles in those 10 hours, and we hadn't fooled around at all.
By 10:30pm we had the chores all done, dinner was finished, our beds were all rolled out, and we were ready to lay down.
The only problem with that was my diary. Over the years, I have learned that the diary has to come at the end of each and every day. If it doesn't then there are important things which can be forgotten and not laid to ink.
With that in mind, it is now 12:30pm and I'm just getting finished up with the writing of the occurences of today. The cabin is nice and warm. Probably half of the heat came from burning the trash left by those who stayed here before us. And that might not have even been this winter. The cabin doesn't appear to have been used for a long time.
---
---