Fri., March 14, 2014
Iditarod snowmobile Diary: Day 15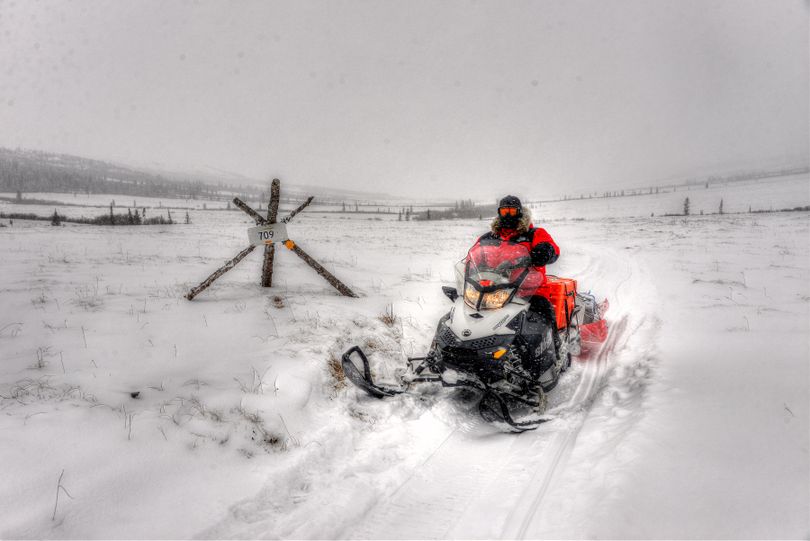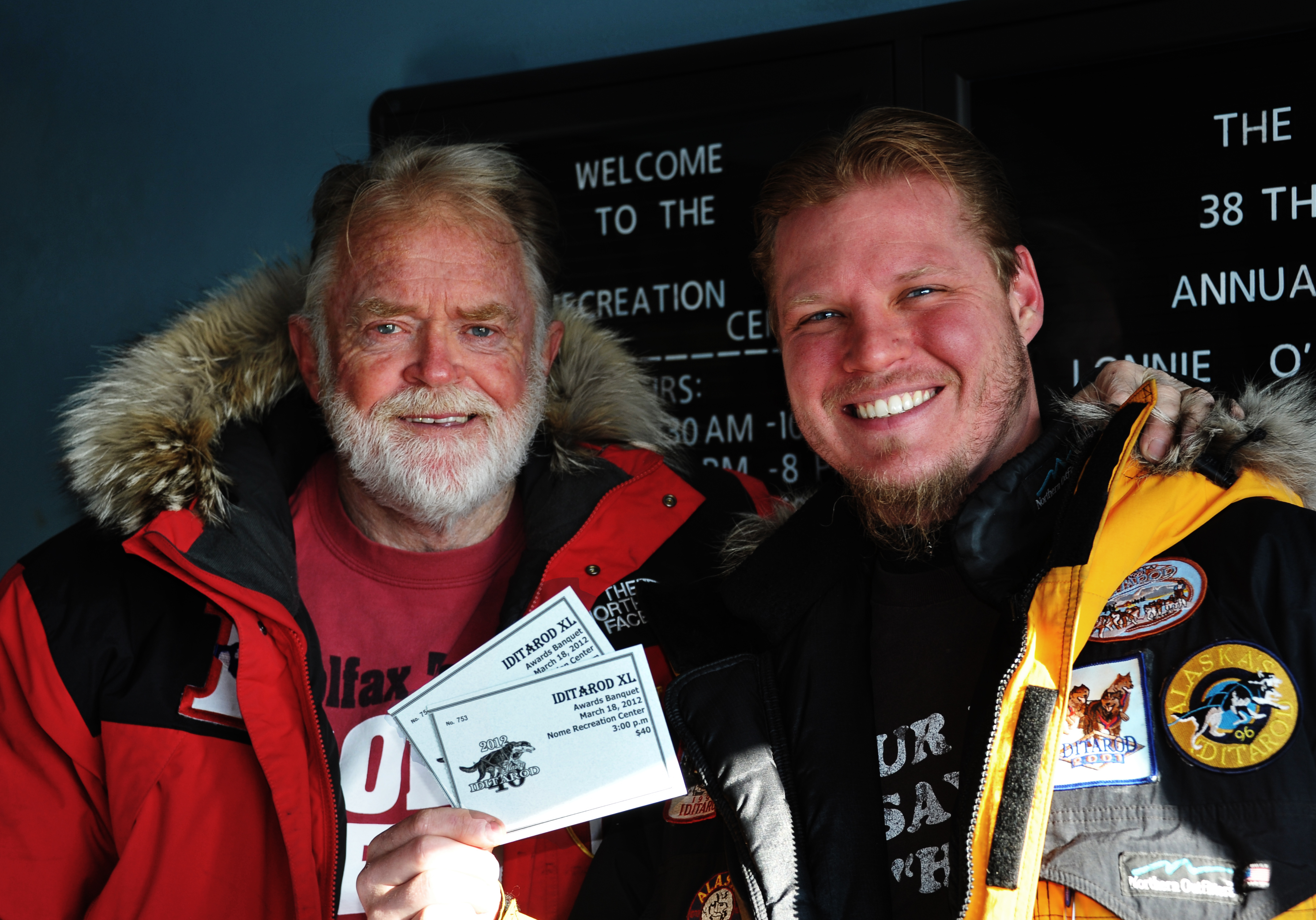 SNOWMOBILING -- Bob Jones of Kettle Falls and Josh Rindal of Spokane are repeating their effort to follow Alaska's Iditarod Sled Dog Race by snowmobile in February and March 2014.
See the complete diary and photos from their 2012 trip -- which marked Jones's 14th time on the Iditarod.
Click "continue reading" to see Jones's diary from Day 15 of their 22-day 1,400-mile adventure in 2014.
Below are links to each of the other diary posts and photos of their trip on the Iditarod Trail.
Day 15: (March 14, 2014) Friday
Unalakleet, Maggie's Hotel to Koyuk, +7º with whiteout conditions
A morning shower felt good. Maggie had a great breakfast all ready at 9am. I needed to do three things while in UNC: 1. Check with Evert's Air regarding the shipment of our snow machines and two sleds out of here when we get back. 2. Try to line up a place to stay up the trail tonight in Koyuk or Elim. 3. Make a visit to the clinic in an effort to get some water pills for my severely swollen feet.
It didn't take long, with the phone in the hall and Joshes phone card, to get the first two done. It would be the school in Koyuk tonight for us. And one of the native girls at the clinic came up with 10 hydro water pills. She borrowed them from someone else's prescription, as there were none available in UNC.
We packed up and made a fuel stop the last chore in town. We had ridden 115 miles in from our last fuel in Nulato. I took 5.6 gallons, for an average of 20.5 miles per gallon. That is great mileage. And it was done while towing sleds.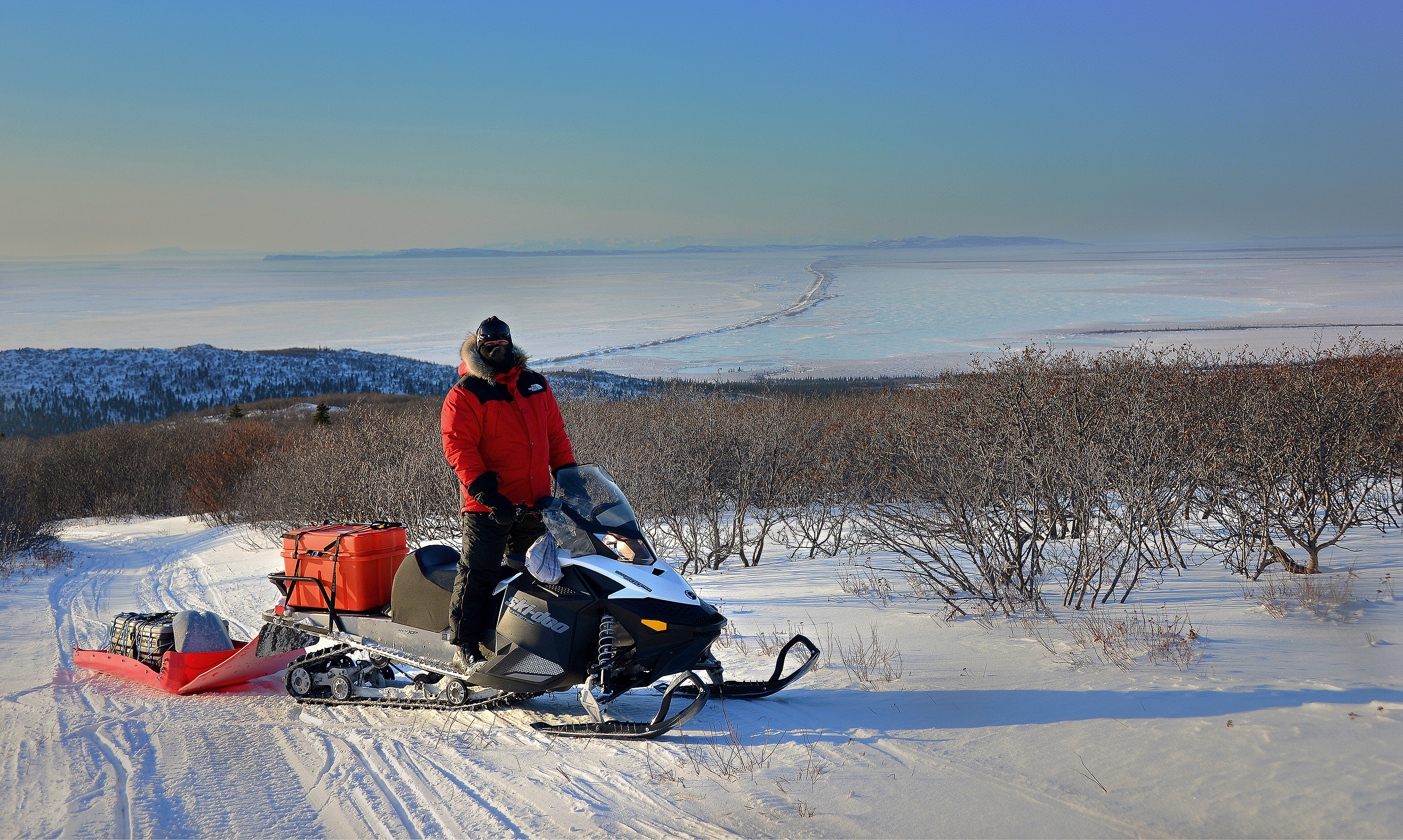 The Blueberry Hills were a little rough and it took us 4 hours to go the 40 miles into Shaktoolik. It was snowing hard when we drifted out of UNC, but we ran out of it in about 10 miles. There was about 5 to 6 inches of powder or the trail. Under that powder there was a serious amount of glare ice, and we did a lot of slipping and sliding. We past a woman and two men who were walking from Knik to Nome. One of them, Tim Hewitt, recognized me from a prior your, and he told me that this is his 8th trip over the trail on foot. He said that last year he made it with no food drops and that he had not gone into a single building the entire way. What an effort that was! They were happy to see the only snowmachiners of the day come by to help them break a trail through the snow.
The native store was still open when we rode in. By now it was snowing and blowing. And it was only +10º when we left Unalakleet. I asked the kid at the counter where the wood stove was located. He told me to feel free to open an adjacent door going to the boiler room. Now there was some heat! I peeled off a couple of layers of clothes to let them (and I!) warm up. We ate a couple of candy bars each and kidded around with the two young native clerks. They told us stories about the Iron Dog Race, and about how they got to help rescue one of the racers whose machine went into a hole in the ice in the ocean.
At 5:30pm it was time to head north the 43 miles to Koyuk. The trail out of Shaktoolik runs across about 10 miles of muskeg before it gets to the shore of the frozen Norton Sound, and there wasn't much padding. The snow depth here was only about 2 inches. We bounced along, at a 5mph clip, over the frozen-hard-as-rock-moguls for 3 or 4 miles, when the trail got a little better. By the time we got to Lonely Hill the trail was darn good. We could run at 20-25 miles an hour.
At Lonely Hill the trail goes right out onto the ice of the ocean, and it stays there for the remaining 30 miles to Koyuk. To begin with the trail this year was straight, flat and as smooth as anything we had seen the entire trip. A storm dropped onto the bay just as we arrived, and it began to snow hard. Visibility was reduced to a few hundred feet. It was a weird sensation: Here I was, running along at 25 miles an hour. And all I could make out in front of me was the back of Joshes machine and a straight line of trail markers headed toward the distance. Up, down, right and left there was nothing but pure white. I felt like I was in the inside of a huge funnel-shaped white wave. Time and depth had totally lost meaning.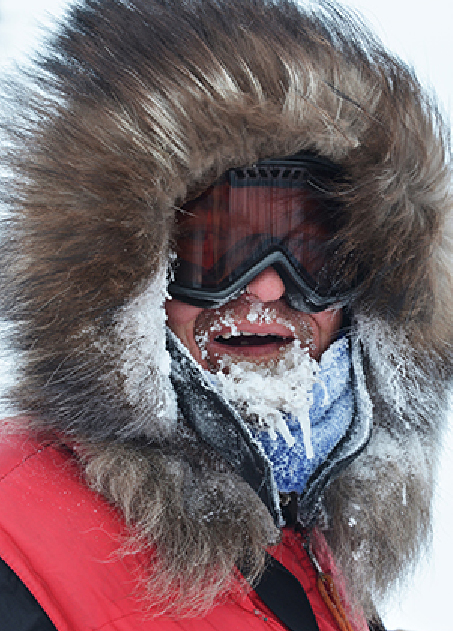 We came to a guy pushing a fat-tire bike along the trail. He had an Australian accent, and he seemed to be glad to have a little company. It's a long, lonely trip across Norton Sound! The trail was so icy under the fresh powder snow that he couldn't ride his bike with those conditions. So he was pushing it along at a 2 ½ mile an hour clip. I calculated that he still had about 20 miles to go to get into Koyuk, which, with no breaks, would take him 10 hours or more. He was in for a long, tough night. Josh and I figured he would end up camping under a block of sea ice somewhere along the trail.
The smooth ice lasted for perhaps 20 miles before things changed drastically. We now entered an area of the ice where some violent action had created an area of total chaos. Huge ice blocks were everywhere, and the little trail weaved in and out wherever there might be a passage. The snow was coming down harder, and we had a stiff tailwind. There was zero horizen and the trail itself was completely gone. The only guide we had were the trail marker stakes. Sometimes we had to make a search to find even those. But, in this storm, we would have had no chance without them to lead us along.
The trail wound around between hugh ice barracades for miles and miles. Progress was slow. But it was a very interesting ride. Where else would a person be out on the rough ice of a frozen sea on a snowmobile?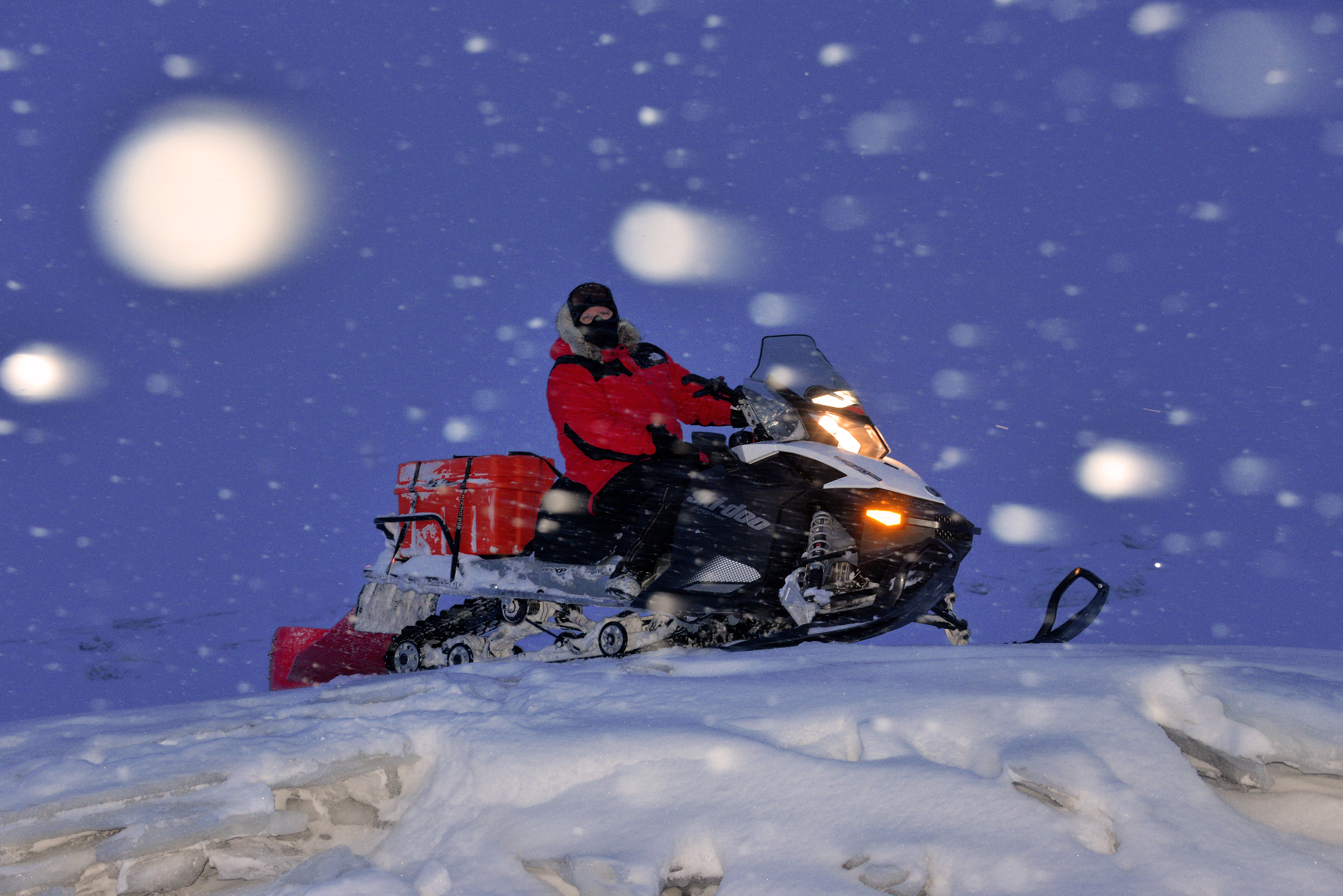 We kept making slow but steady progess and, according to my odometer, I knew we were getting close when it read 40, then 41, then 42 and finally, at mile 43, I could make out the faint beacon of the airport above the village. The last 5 miles we rode were in total darkness, but that was when we could see the trail the best. The snow was pounding down.
Koyuk is a very small village and it didn't take us long to find the school. It was still snowing hard, and there was about 6-inches of fresh stuff on the streets. Under that snow was glare ice. We slid sideways at every turn. Josh pounded on the door and a guy by the name of Don Barr was there to let us in. There were several snow-covered machines parked near where we parked ours.
We went inside and Don showed us to the Special Ed Room, where we would lay out our bedrolls on the floor to the tune of a donation to the school of 75 bucks each. We were going to stay in the library, but another party of travelers had beat us to it: We walked by the open library door. Lo and Behold, there was Doc Sayer, Ed Newton, Chris Woosley, Jamie Magneson and Chris's girlfriend. They had already been to Nome, and they were on their way back. What an absolute pleasure it was to see them! We all sat around the library and told stories for a long time. They all remarked as to how much our sign on Rainy Pass had added to a trip over the Iditarod Trail. And they talked about how tough portions of the trail had this year, especially the 30 miles out of Rohn.
They finally threw in the towel and kicked us out at 11:30pm. They were eager to get going in the morning, and needed their sleep. Josh and I took our food bag to the Home Ech room and quickly cooked up, and quickly ate, a big dinner of Mountain House Lasagna. It was delicious!
We rolled out our bags on the floor and went to work on our diaries. It is now 12:30am and time for 'lights out'. It's still snowing and blowing hard outside. We'll see how eager our pals are to get on the trail across the ocean in the morning! My final waking thoughts were of the guy with his bicycle coming through that rough sea ice in a heavy snowstorm…
---
---