Sat., March 15, 2014
Iditarod snowmobile Diary: Day 16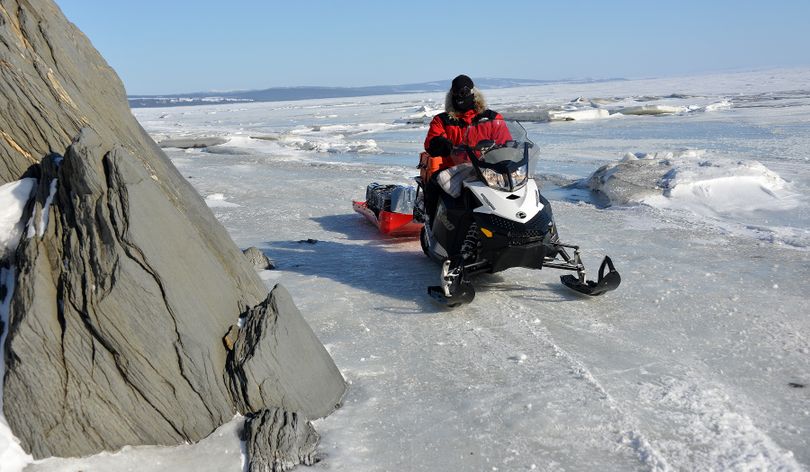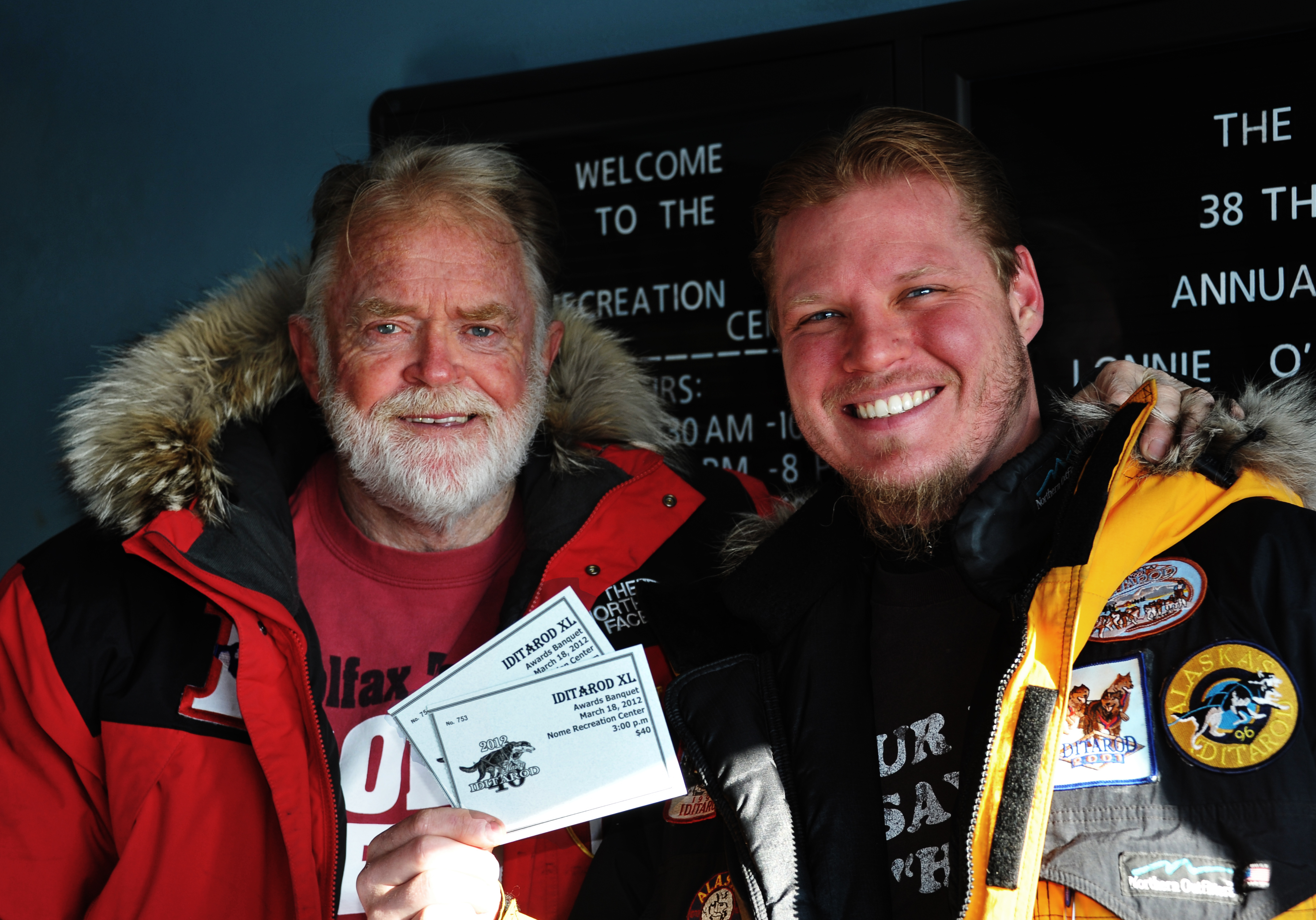 SNOWMOBILING -- Bob Jones of Kettle Falls and Josh Rindal of Spokane are repeating their effort to follow Alaska's Iditarod Sled Dog Race by snowmobile in February and March 2014.
See the complete diary and photos from their 2012 trip -- which marked Jones's 14th time on the Iditarod.
Click "continue reading" to see Jones's diary from Day 16 of their 22-day 1,400-mile adventure in 2014.
Below are links to each of the other diary posts and photos of their trip on the Iditarod Trail.
Day 16: (March 15, 2014) Saturday
Koyuk, School Special Ed Room to Golovin
The fat-tired biker got in around 5am. He was probably very glad to see the meager lights of Koyuk when he finally arrived.
I got up at the crack of 9:30am and walked down to the library and found it to be empty. A quick peep outside revealed that our pals machines were gone. That group travels fast! A little calculating shows that Doc Sayer, Josh and I are the only snowmobilers making the entire trip to Nome over the trail this year. That's a total of only three. The rest of Doc's party were picked up in McGrath and Takota. Of course, they are also riding back to those points. Doc will fly his machine back to Anchorage from McGrath. He's had enough of the brown trail.
Josh just checked out the window and reported a few patches of blue in the sky. We are going to fix a couple of cups of coffee and see what today will bring. We made arrangements for the library in Golovin for tonight. After that it is on to NOME!
We rode out onto the ice in front of Koyuk at high noon, zero, and with a stiff wind coming directly off the sea ice to the south. The trail kept on the land-side of the giant ice puzzle. We made good time, as the 6-inches of snow of last night gave us something soft to run in. We were lucky to have been in this storm for the past 250 miles.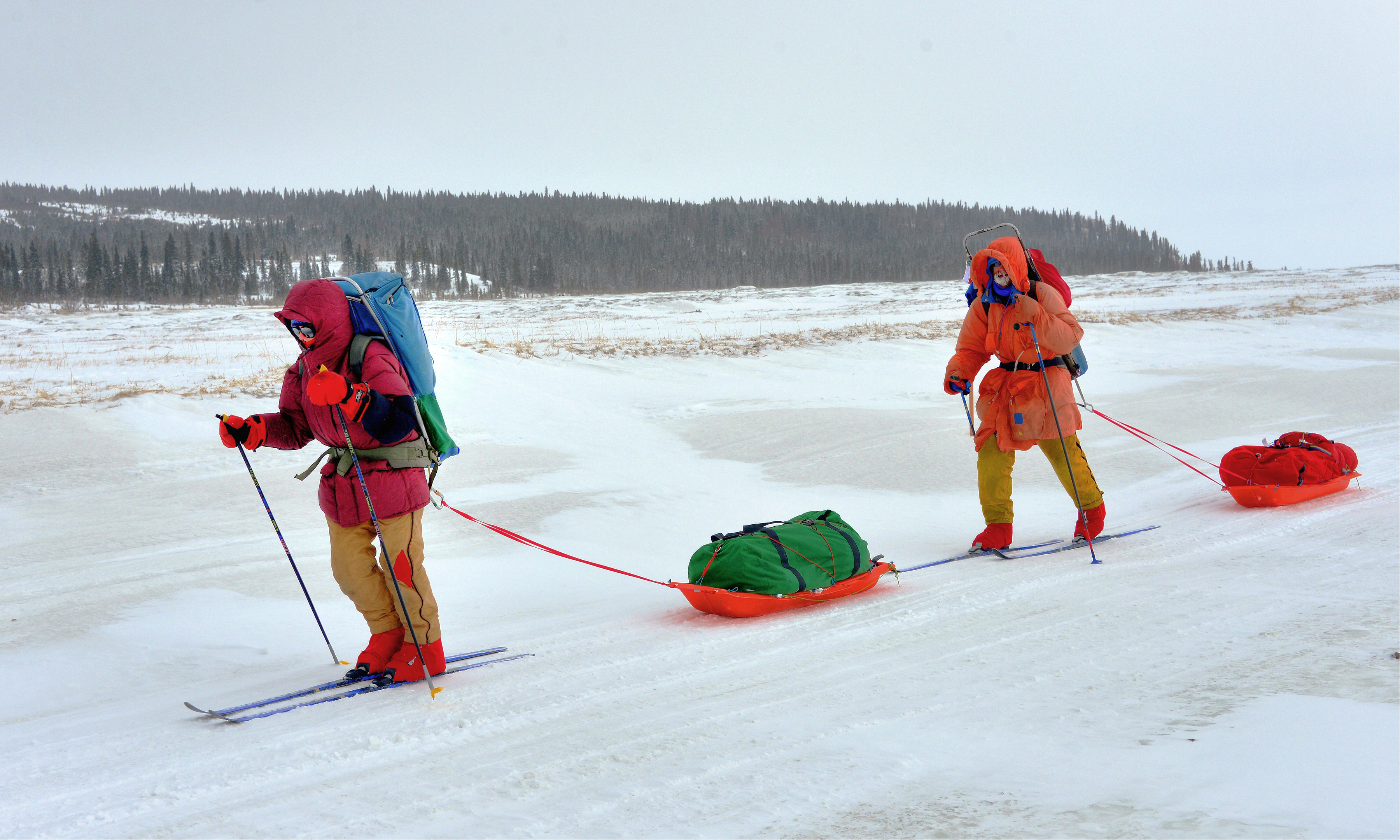 It wasn't long before we caught up with a couple skiing north up the trail. They were glad to see us, because the going was tough in the fresh snow: We would be 'grooming' their trail from here on. As we visited it became more and more clear that the tall guy was perhaps a little more than just another skier on the trail. He talked about Talkeetna and Mt. Ranier. Then he mentioned Mt. McKinley. I finally asked 'are you famous?' as a joke. His partner said "Minus 148 Degrees". I said Holy Shit! Were you a part of that group. It turned out that the guy was Dave Johnston, a member of the first winter ascent of Mt. McKinley. That climb took place clear back in 1967, and here was the guy. I ran over and gave him a big hug, just for good luck! That fantastic accounting of one of the most, if not the most, epic climbing expeditions of all time has been one of my favorite books for many years. The toll the effort took on those who participated was hard to believe. The group was up on the mountain for weeks, deprived of proper oxygen and surviving weather that many said was impossible for a human body to withstand. They came down off the mountain as changed men, and it was over 20 years before any of the group even spoke of their ordeal. One note is that the members spent more time in hospitals recovering from their climb than they actually spent on the mountain itself!
But here was one of those few, from an epic climb which took place 47 years ago, standing on the trail. I HAD to just hug the guy! That brief moment ranked with the finest experiences of my life. Johnston is now 71 years old. And here he was skiing up the Iditarod Trail with his gear in a pull-behind tow sled. It doesn't get any better than that! And, to top it off, he was a damn nice guy! WOW!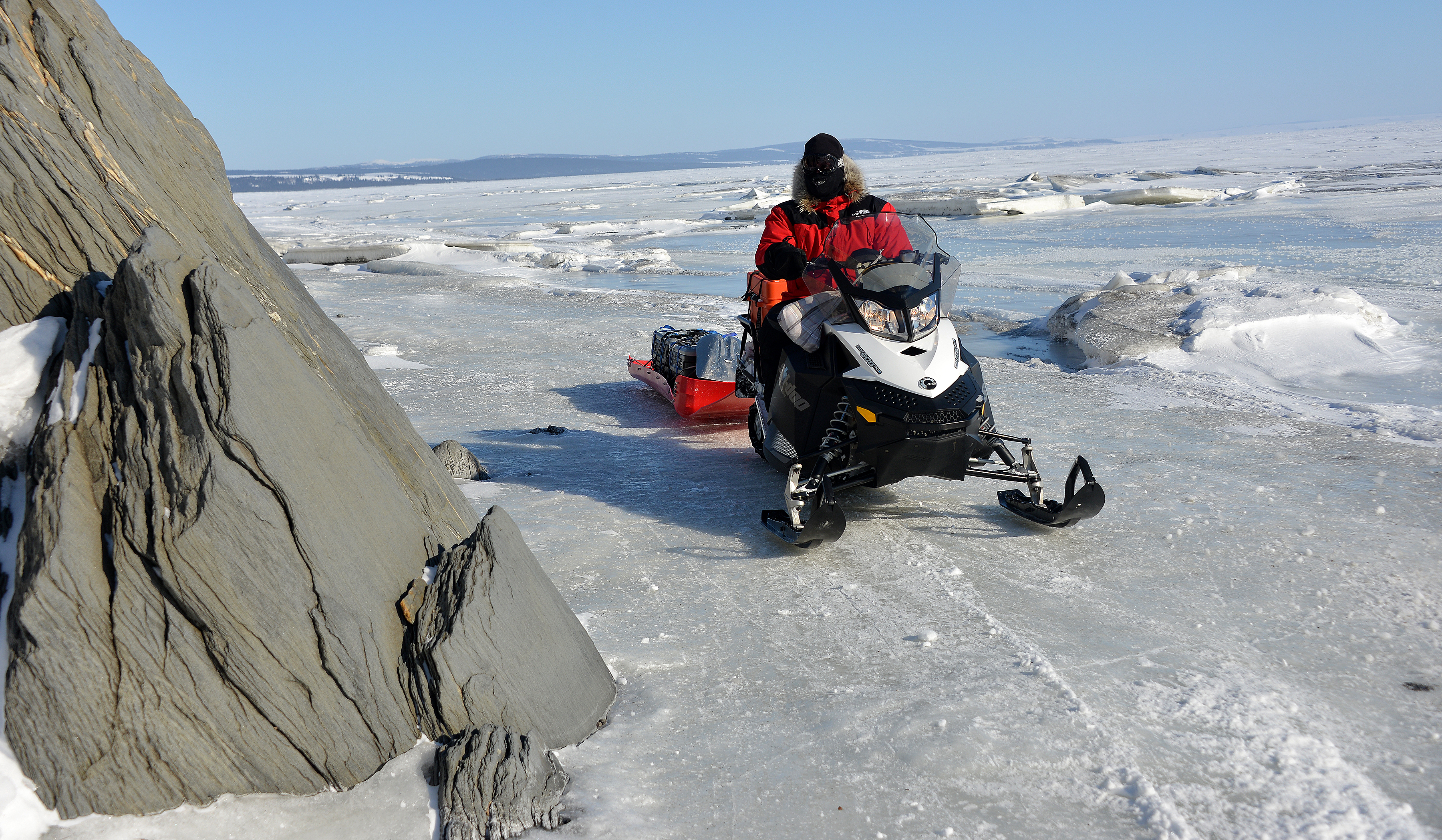 Josh and I made a great run into Elim in 3 ½ hours. The trail was soft with 6-inches of fresh snow and we were the first snow machines to make tracks there for a long, long time. This snow was a terrifically lucky break for us. It was probably around zero, there was a 20-25 mile and hour headwind which, coupled with our forward speed, made for some mighty cool breezes! But the condition of the trail made it all worthwhile!
We pulled up in front of the store in Elim and Jody, the clerk, told us that he had quit pumping fuel at 3pm. But he would go to the tank farm and fill us up.
We got our fuel: I took 6.2 gallons for the 115 miles from Unalakleet, an average of 18.5 miles per gallon. The snow had been deep for many miles. I was very impressed with the mileage the machine got.
We visited with the natives coming and going. Everyone is friendly, and everyone wants to know where we came from and where we are going. And they all introduce themselves and take their glove off their right hand and shake hands. In 15 trips up the Iditarod Trail, I have yet to have even one single person, man or woman, young or old, shake with a gloved hand. They are a respectful and courtous lot!
We got directions as to where the trail left the village. A native hopped on his 4-wheeler and let us out onto the sea ice and pointed at the trail. He hollered 'Good Lund" into the wind, jumped back on his machine, and rode back toward Elim.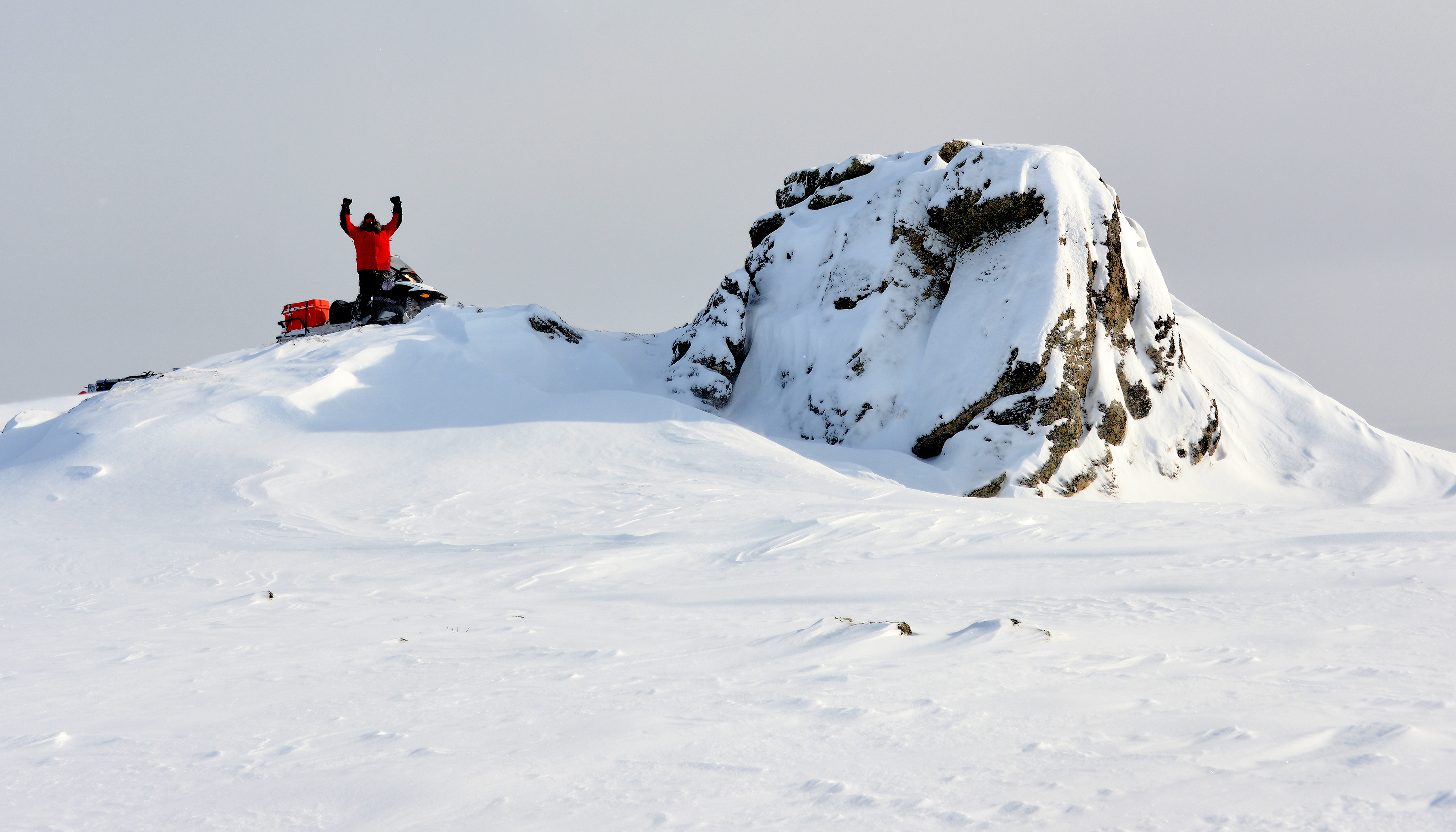 The trail from Elim follows the sea for about 8 miles to a point known as Walla Walla. There is a little shelter cabin right above the ice, and we have spent many nights there over the years. Josh and I camped there in 1012. But the sea ice was too rough for this Iditarod, and the trail went inland and stayed there. The country alongside the ocean is a heavy spruce forest, and it actually felt good to run along at 10mph in the moguls again!
We went over some of the most beautiful country on earth on our way to Golovin today. The fresh snow made for fantastic riding, and the condition of that snow created a condition whereas a person on a snow machine could ride anywhere.
We cruised along at 25 and 30 and 35 miles an hour. It was a fantastic ride.
We ran at 50mph across the smooth-as-silk surface of Golovin Bay, and pulled up in front of the school at exactly 7pm. I had a room arranged for us here, and it wasn't long before we were moved in and unpacked. It turned out to be gym night, and for a couple of hours we were entertained by the kids of Golovin. It made for a great evening.
The school has the first usable wireless that I have found since leaving Anchorage. So here was my chance to finally be able to send some high-quality jpeg photos home. But, as things would have it, there was some limit on the "size of the file", which resuted in my being only able to send 2 pictures per e-mail!
I will work on that until midnight than then I'm going to call it a night.
Josh and I have about 90 miles to go and we will be in Nome tomorrow night. We are going to try to make it to the Musher's Banquet. Trail conditions will determine if that happens or not.
---
---