Tue., March 18, 2014
Iditarod snowmobile Diary: Day 19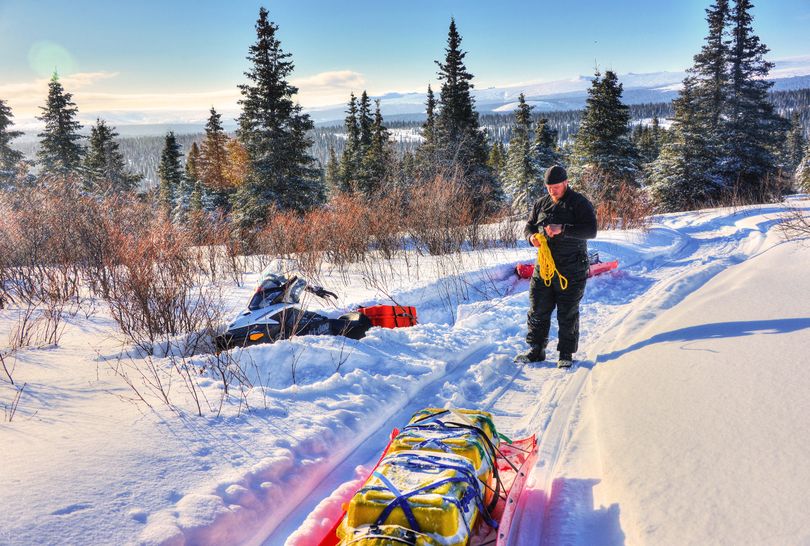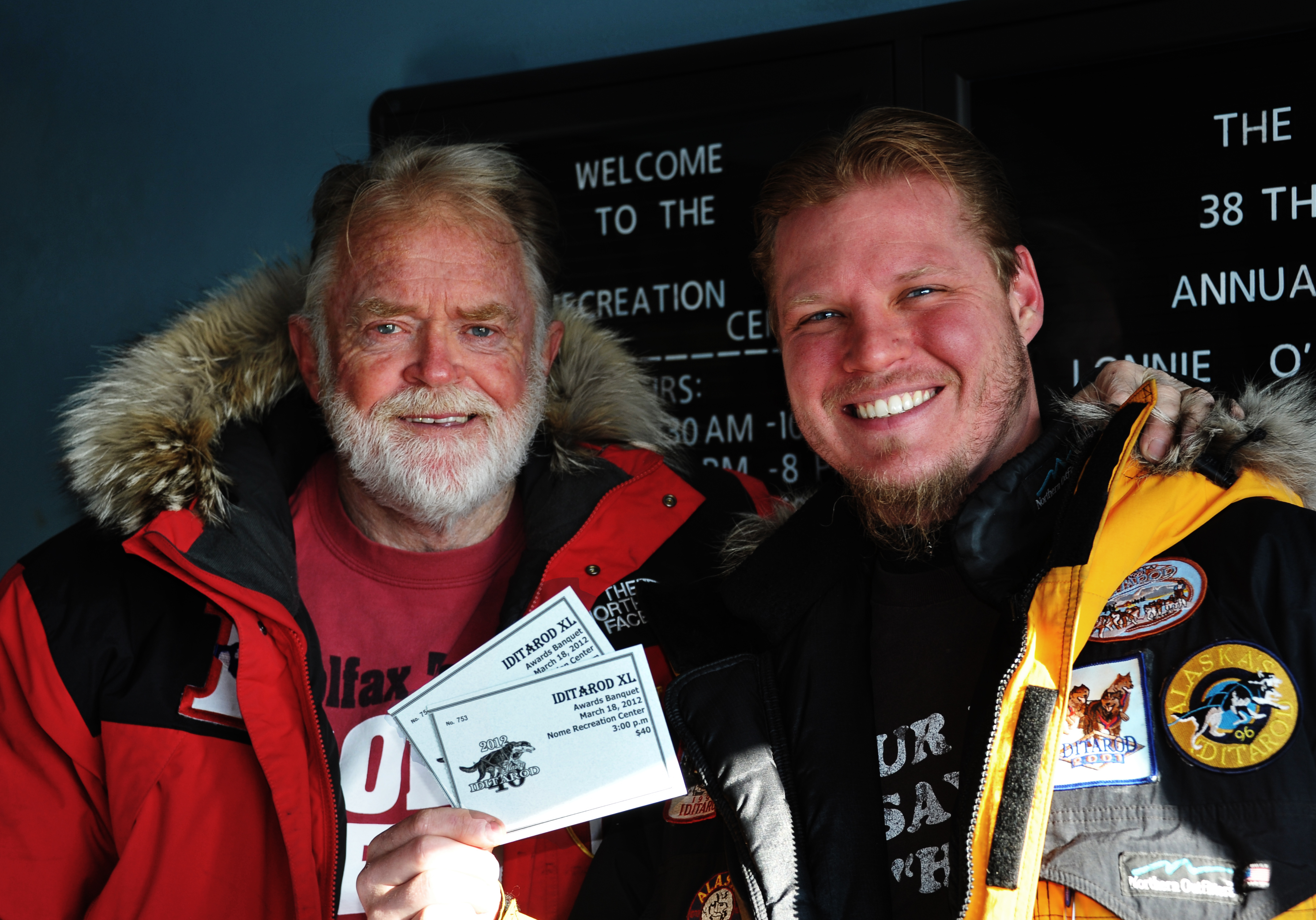 SNOWMOBILING -- Bob Jones of Kettle Falls and Josh Rindal of Spokane are repeating their effort to follow Alaska's Iditarod Sled Dog Race by snowmobile in February and March 2014.
See the complete diary and photos from their 2012 trip -- which marked Jones's 14th time on the Iditarod.
Click "continue reading" to see Jones's diary from Day 19 of their 22-day 1,400-mile adventure in 2014.
Below are links to each of the other diary posts and photos of their trip on the Iditarod Trail.
Day 19: (March 18, 2014) Tuesday
Nome Aurora Inn to Elim, +10º and very windy
We got packed up, fueled up, and went to the Bering Sea for breakfast on our way out of town. A layover day felt good yesterday, but we were ready to be back on the trail! I noticed that the wind appeared to be blowing hard from out of the west. That situation isn't common around here, but if it held up we would have a welcome tail wind headed east along the beach for Topkok.
As we walked out of the café we ran into our old pal Bucko Norman. We ducked into the Gold Rush Inn to get out of the wind for a brief 'how ya doin', and in the lobby was Greg Heister of Spokane. The voice of the Iditarod and of the Gonzaga Bulldogs. I had met Greg at Rainy Pass Lodge about 15 years ago, and neither of us had ever forgotten it. We all had a great little BS session, and it would have been easy to just stay there and continue it all day. But Josh and I had some miles to travel.
I looked at my watch as we dropped off Front Street and onto the sea: 12:00:00! Exactly Noon.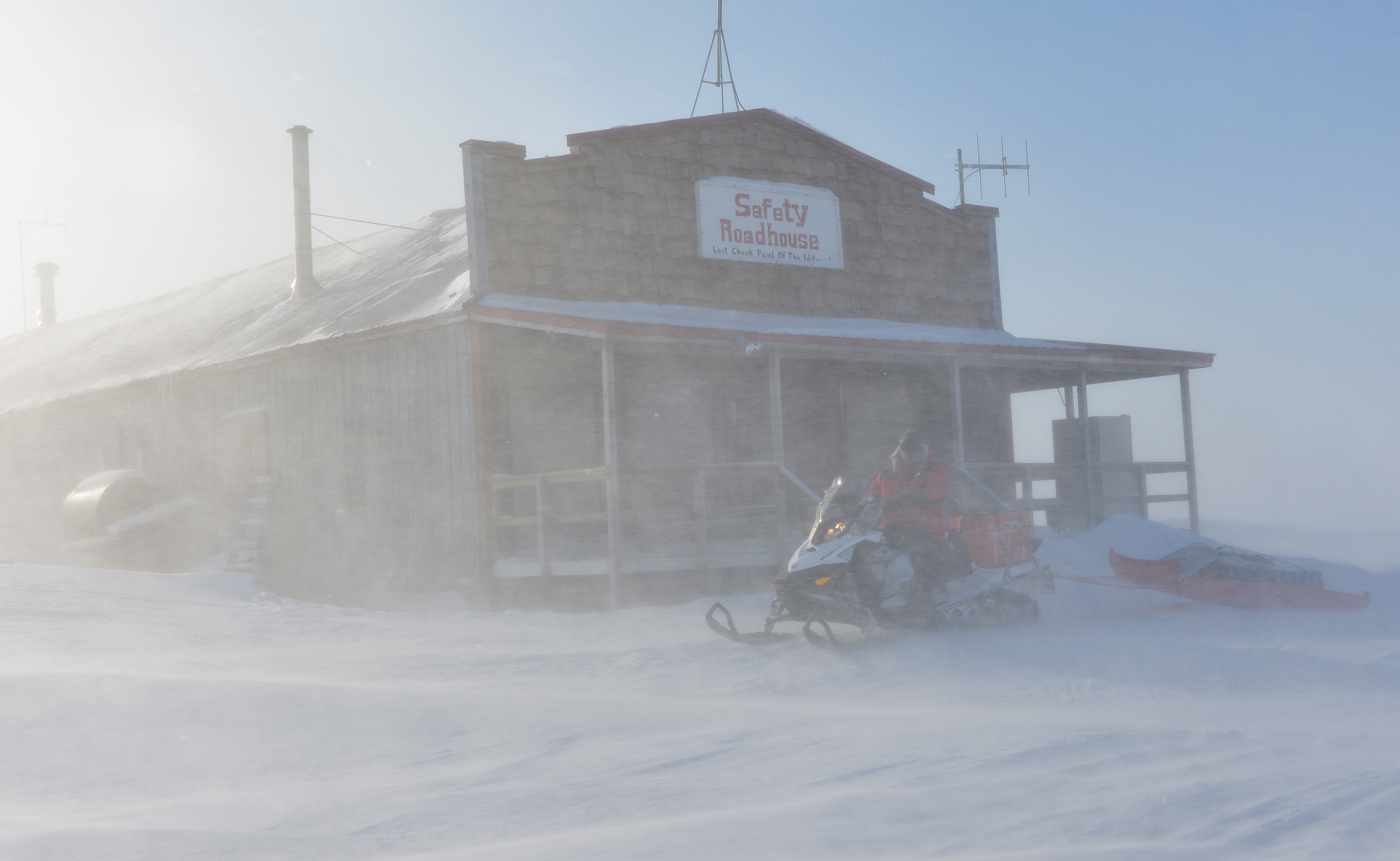 The wind had been blowing from west to east long enough for the snow to fill in the cross-drifts we had run over coming into town a couple of days ago. Had we been going the other way, the chill factor would have been off the charts. But, with the wind and our machines both headed the same direction, the conditions as far as warmth were great. We could feel the solar heat on our right sides. But that didn't take long to dissapate whenever we stopped.
Safety is 22 miles south of Nome. By the time we had gone about 15 miles, it became apparent that visability was quickly waning. Josh was running about 50 feet ahead of me and I could only see him about ten percent of the time. We agreed to keep our speed down to around 20mph as long as we could see each other and see the trail markers. The trail itself had disappeared under a rapidly flowing mass of wind-driven snow hugging the ground itself.
We made Safety OK. And we talked the situation over. In normal times, the stretch of trail that lie ahead can be the most dangerous section all the way from Knik to Nome. Snow blowing from land to the north towards the sea to the south can and does create periods of total whiteout. Snow machine carburators can fill with micoscopic particles of snow smaller than a piece of flour, and cut off the air supply to the engine. It is no place to have a dead machine in a ground-blizzard!
We decided that since the wind was in our favor, and that the trail is very well marked for the next 20 miles to Topkok, that we would give it a try. We were both surprised to find that, almost immediately after departing Safety, the trail and the visibility both got better. And the further we rode the better they became. We rode the 42 miles from Nome to Topkok in and hour and fifty minutes: Our best time of the entire trip!
We got out of the wind inside the shelter cabin for about 5 minutes, and then followed the trail up into the Topkok Hills, a gorgeous piece of country.
My odometer read 67.3 miles when we rode up to the front door of the native store in White Mountain at 3:20pm. A quart of chocolate milk and two candy bars just happened to have my name on it. And Josh had the same. We got warmed up and headed for Golovin.
The trail from White Mountain to Golovin was flat, smooth and straight. My odometer read 83.8 from Nome. And the time, after spending some at White Mountain, was 4:20pm. We stopped just long enough to check our watches before blasting out of town.
The bay was a total pleasure cruise, but the trail and the wind changed directions when we went back onto land. Deep cross drifts slowed our progress, but we could still run at 10 to 15 miles per hour. Between here and Elim we met up with some of our walking and bicycling friends of the trip up. The fresh snow through this area was deep, and we came to the poor guy from Scotland whom we had met 23 miles short of Koyuk a few days ago. He was back to having to practically carry his bike. And we came to the three walkers we had passed in the Blueberry Hills. And next we came to David Johnston and his wife once again. They were spread out for many miles. And they all seemed to be in great spirits.
I flipped my machine onto it's side for the second time today. And Josh rode off the trail into about 4-feet of powder snow and was instantly stuck to the top of his seat. I was still on the hard-packed trail, so Josh got out a section of rope and we got hooked up. On the third run his machine was back onto the trail. He put the rope away, hooked up his sled, and we were off for Elim.
It was a gorgeous ride across the high country north of Little McKinley.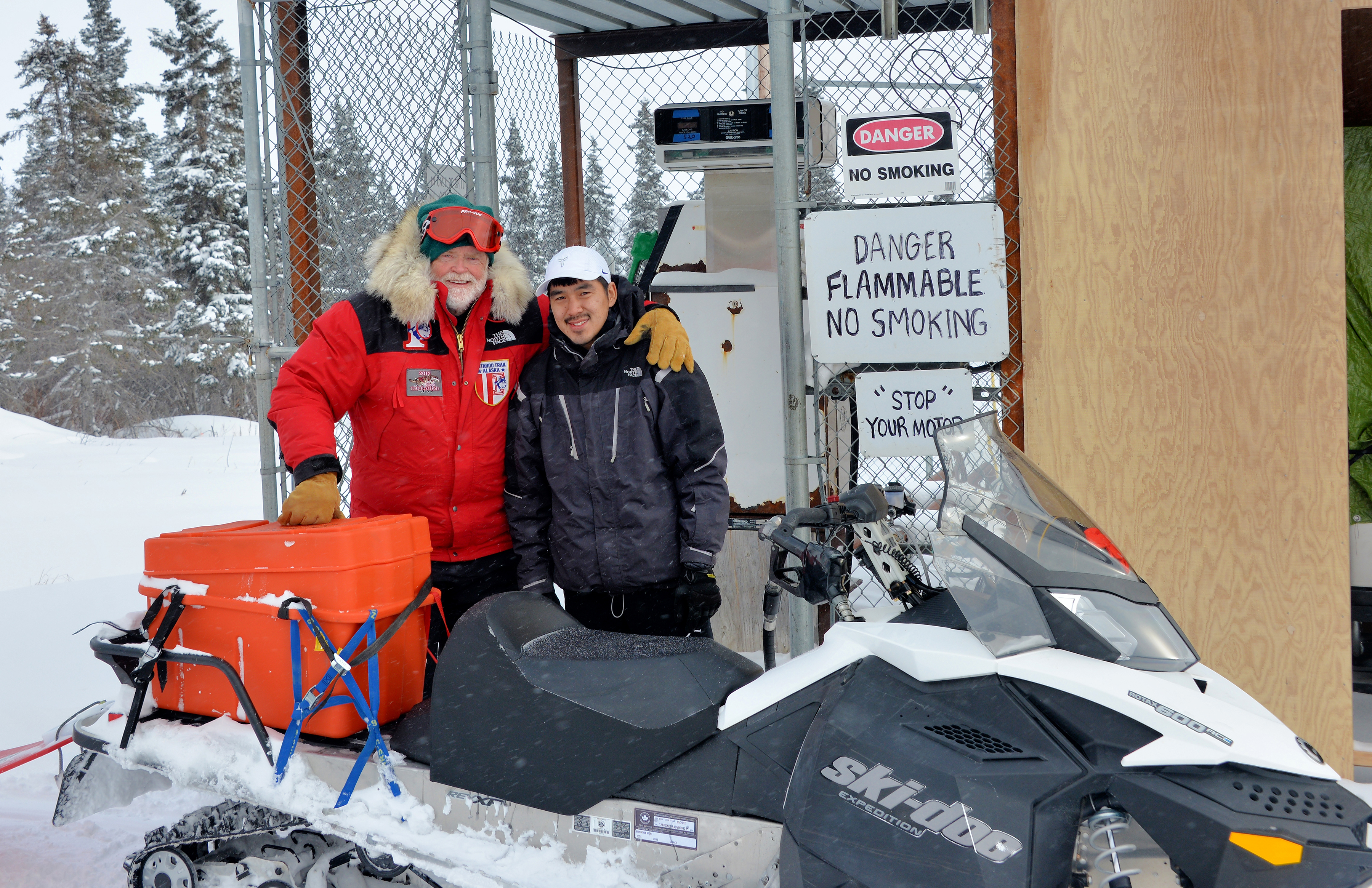 When we finally got down onto the beach, the overflow that we had to run through looked more ominous. The walkers told us to avoid the sea trail. And there was another used trail lined with Iditarod stakes heading back uphill and away from the beach. We took that trail, and it wasn't long before we came to the airport and the fuel tanks where we had taken on fuel when we were here before.
I had made arrangements to camp at the school tonight, and the school was about the first building we came to. My odometer read 112.5 miles from Nome. And my watch read exactly 7:30pm. We had made excellent time today. The door was open and there were a total pack of kid playing basketball. The janitor let us into the library and we move our gear inside.
It was great to be back in Elim!
One note: The kids in the villages are super firendly to travelers. One little girl even knew both Josh and my name from our stop at the store last week. A steady procession of polite and friendly kids came and went while Josh and I fixed something to eat.
In the morning we ride out toward Unalakleet!
---
---