Reward in Stevens County wolf poaching case jumps to $22,500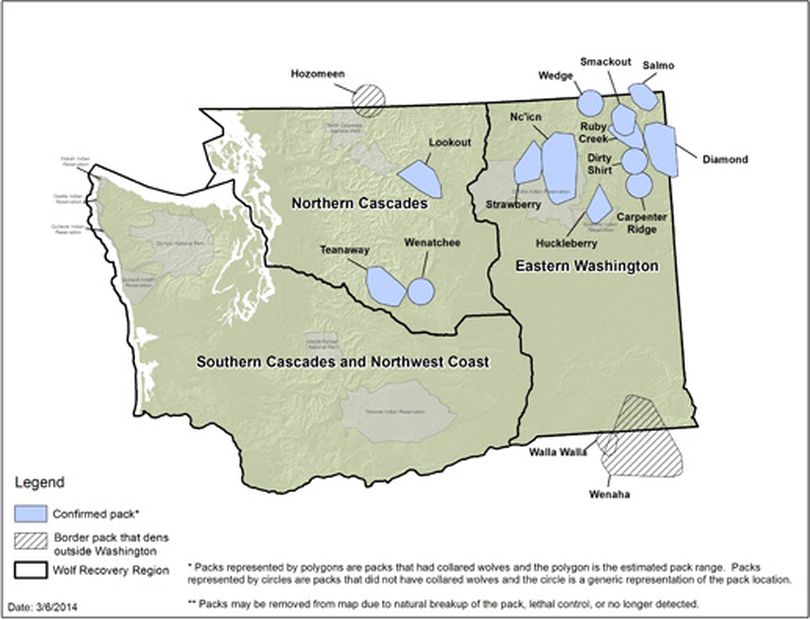 POACHING -- The Washington Department of Fish and Wildlife is seeking the public's help to identify the person or persons responsible for shooting and killing a gray wolf last month in Stevens County.
A 2-year-old black female wolf from the Smackout Pack was found dead Feb. 9 near Cedar Lake in northeast Stevens County. The condition of the carcass indicated it had died between Feb. 5 and Feb. 7, and a veterinarian's examination confirmed it had been shot.
Wildlife managers had captured the wolf about a year ago and fitted it with a radio collar so they could track its movements and those of her pack members.
WDFW, with the help of three non-profit organizations, is offering a reward of up to $22,500 for information leading to an arrest and conviction in the case. Conservation Northwest, the Center for Biological Diversity, and The Humane Society of the United States, have each pledged $7,500 to create the reward.
Gray wolves are protected throughout the state. WDFW is responsible for management of wolves and enforcement of laws to protect them. The illegal killing of a wolf or other endangered fish or wildlife species is a gross misdemeanor, punishable by up to one year in jail and a fine of up to $5,000.
Sergeant Pam Taylor of the WDFW Northeast Washington Region is leading the investigation. She urged people with knowledge of the crime to report it confidentially by calling WDFW's poaching hotline, 877-933-9847, or by texting a tip to 847411.
---
---