Mon., Oct. 6, 2014
Infected bighorn sheep to be removed from southeast Washington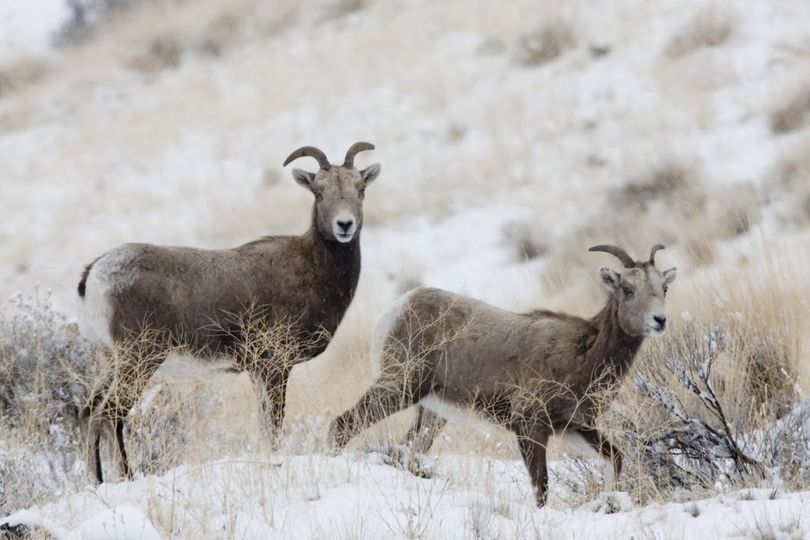 WILDLIFE – State wildlife officials plan to capture and remove eight bighorn ewes in southeast Washington this week to curb the spread of a bacteria deadly to other wild sheep in the area.
A contractor for the Washington Department of Fish and Wildlife (WDFW) and Idaho Department of Fish and Game will attempt to capture the animals near the confluence of the Grande Ronde and Snake rivers in southeast Asotin County using nets launched from a helicopter, Washington officials just announced in a media release.
The sheep will be transported in slings under the helicopter to a staging area near Heller Bar on the Snake River, and then loaded into a trailer.

The sheep will be taken to a captive facility at South Dakota State University where bighorn research is already under way to learn more about how to manage the bacterium Mycoplasma ovipneumoniae that causes fatal pneumonia in susceptible bighorns.

Any animals evading live capture will be euthanized, officials said.

Rich Harris, wildlife manager for WDFW, said the bacteria has no adverse effects on humans and there are no appreciable risks of exposing other animals during the capture and transport operation because it has poor survival beyond the respiratory system of sheep and goats.

"We believe these ewes are not only a remnant population with little chance of recovery, but a threat to other bighorn herds throughout Hells Canyon," Harris said.

The sheep are a subgroup of the Black Butte herd, said Harris. The Black Butte herd historically included as many as 215 animals -- including Washington's largest rams.

But it has suffered from pneumonia-related poor lamb survival on and off since an all-age outbreak in 1995 reduced the herd significantly. The ongoing pneumonia in lambs has prevented population recovery.

Over the past 20 years, bighorn sheep in the Hells Canyon region along both sides of the Snake River have suffered from pneumonia.

Typically adult bighorns surviving initial outbreaks of bacterial pneumonia have normal survival and reproduction, but few lambs survive to adulthood.

Researchers this summer discovered that in addition to 100 percent mortality in lambs, many of the relatively isolated ewes in the portion of the Black Butte herd range showed signs of pneumonia. Analyses conducted by the Washington State University diagnostic laboratory revealed that these ewes and their deceased lambs had contracted a new strain of the bacteria that appears to kill bighorns regardless of their prior exposure.

Harris said the inter-agency decision was made to remove the sheep now to keep them from spreading the bacteria to other animals during the mating season, which begins later this month.

Past outbreaks among bighorn sheep in Washington and other parts of the western United States have been linked to contact between wild sheep and domestic sheep or goats. These domestic animals carry Mycoplasma ovipneumoniae but are unaffected by the bacteria.

The outbreak of the Black Butte herd in 1995 is believed to have originated from contact with a domestic goat. It is unknown at this time if there has been additional contact between domestic goats or sheep and the Black Butte bighorns.
---
---