Mon., Oct. 13, 2014
Wolf shot in Whitman County; charges pending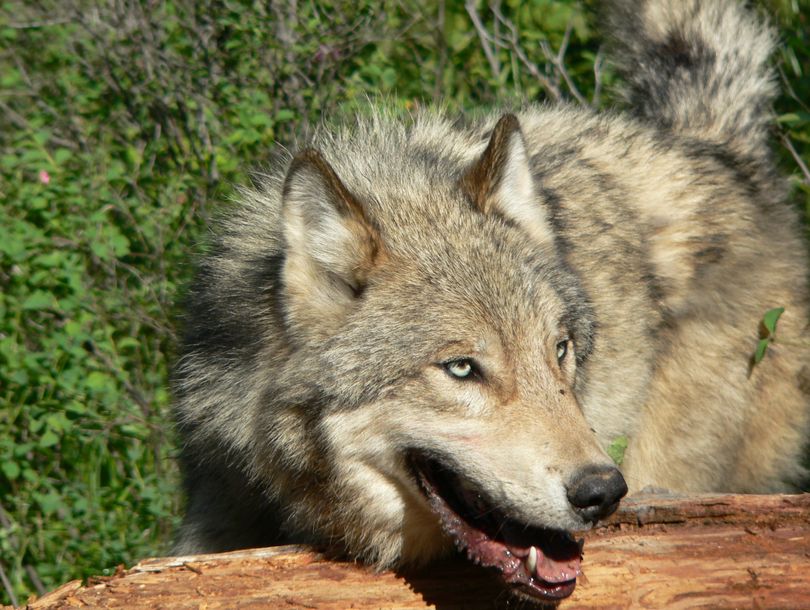 Updated 8 p.m. with response from state Fish and Wildlife police chief.
ENDANGERED SPECIES -- A farmer is being investigated in the shooting of a gray wolf in Whitman County on Sunday.
The wolf was shot southwest of Pullman, said Washington Department of Fish and Wildlife officers who responded to the scene Sunday after receiving a call.
"They determined that the wolf had been shot by a farmer who had pursued the animal for several miles in his vehicle after seeing it near his farm," said Nate Pamplin, the agency's wildlife program director.
Wolves are protected by state endangered species regulations.
The incident occurred west of U.S. Highway 195 on the opening weekend of the state's general deer hunting season.
"The shooting does not appear to have been associated with a defense-of-life action," Pamplin said.
The shooting did not appear "to take place under the statutory authority to shoot and kill a wolf that is caught in the act of attacking livestock in the Eastern Washington recovery zone," he added.
"No citations have been issued as this is an active investigation," said Steve Crown, state Fish and Wildlife police chief in Olympia. "We will not be releasing the suspect's information until the investigation is complete and the case has been submitted to prosecutor."
Scattered wolf sightings have been reported in Whitman County for years and wolf tracks were confirmed near Rock Lake in November 2013.
Washington has 14 confirmed wolf packs, none of which is in Whitman County.
Pamplin said he was not aware of any incidents with wolves and livestock or pets in 2014. None was confirmed in previous years.
A Whitman County Sheriff's Department spokesman said the case was being handled by the state Department of Fish and Wildlife police.
"Once the investigation is complete, the case will be sent to the Whitman County Prosecutor's office for a charging decision," Pamplin said. The man's name was not immediately released.
Wolves were hunted to extinction in Washington by around 1940. The animals have been moving back into the state from neighboring Idaho and British Columbia for more than a decade.

Since 2007, wolves have begun causing conflicts with Washington ranchers because the animals sometimes prey on livestock.

In August and September this year, 33 sheep and three cattle have been confirmed as killed by wolves in Stevens and Ferry counties.
---
---