Wed., Oct. 22, 2014
Ruby Creek wolf continues to elude state trappers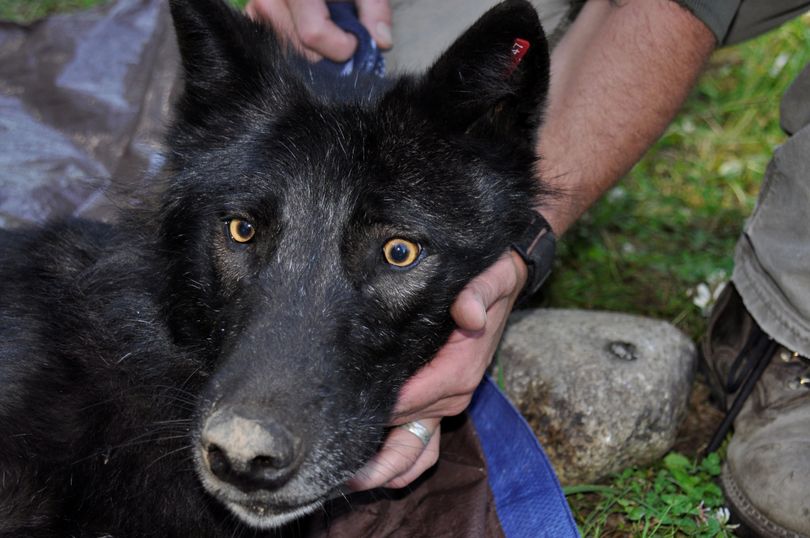 ENDANGERED SPECIES -- A gray wolf that was deemed too comfortable with being around rural homes and pet dogs near Ione, Wash., has eluded state trappers intending to put the female wolf into captivity at wildlife facility near Tenio, Wash.
State Fish and Wildlife officials have called off the trapping effort and will wait until snow accumulates to offer a better chance of capture.
The Ruby Creek wolf was trapped and radio-collared in 2013 and had been hazed with rubber bullets to try to keep it away from Pend Oreille County residences. Wolves learn quickly from these encounters and are much harder to capture the second time around. Wildlife managers are concerned for public safety as well as the prospect of the solo wolf being bred by a domestic dog during the winter mating season.
Here's the latest update for on the Ruby Creek wolf as well as ongoing wolf-management issues from Nate Pamplin, Washington Department of Fish and Wildlife assistant director and head of the state's wildlife program:
Ruby Creek Wolf:
To date, we have not been able to capture the Ruby Creek female for placement at Wolf Haven International. So far our efforts have been mostly trapping with leg-hold sets; we've had 24 traps in the ground for 18 nights. We have used traps with scent lure and blind sets (no scent). We've used scat and hair as bait from the dogs the Ruby female has been mingling with, as well as walking the dog around the area to lay scent. We've tried free ranging darting twice and pushing the wolf towards the traps.

At this point and given this level of effort, we have pulled the traps because trapping is probably not going to be successful. We will continue monitoring the Ruby Creek female and will be prepared to capture her using a dart gun, cougar walk-in trap, or leg-hold trap if the right opportunity occurs. Once snow arrives, we me need to dart her from the air. If these efforts are unsuccessful, we will re-evaluate options.
Whitman County Animal Mortality Investigation:
A man described as a farmer is being investigated for shooting a wolf after chasing it in a vehicle southwest of Pullman.
We are still conducting the investigation on the animal shot in Whitman County and sent genetic samples to a lab to determine whether the animal was a wolf or a hybrid. We expect the investigation to be concluded in the next couple weeks.
Profanity Peak Pack:
Washington's most recently confirmed wolf pack came to light in September after killing cattle in a remote national forest allotment in Ferry County near Profanity Peak. A new depredation was reported this week.
WDFW staff responded to the Diamond M ranch and investigated a cow that had substantial injuries on October 20. The animal was discovered during the round-up/collection efforts to move animals to the Basin and winter range. Staff confirmed that the injuries were caused by wolves. The wounds appeared to be about a week old. This is the third incident involving four livestock: 1) a dead cow and calf, 2) an injured calf (which was with three other calves that were observed injured, but were not able to be caught/inspected) and 3) an injured cow. Currently, we do not have any wolves collared in this pack.
The livestock operators are cooperating to try to avoid problems with wolves, Pamplin said, noting that staffers are trying to locate the wolves for a possible capture and radio-collaring misison.
The operator is collecting the cows from the main allotment where the depredations have occurred, so human presence is high and the number of cows remaining on the allotment is lowered and getting reduced almost daily. We know that there are cattle spread over multiple allotments in the immediate vicinity as well as private ranches on the periphery of where this pack likely ranges. Whether this pack is attacking livestock owned by others is unknown at this time.
---
---