Thu., Sept. 11, 2014
Fall chinook stampede toward Hanford Reach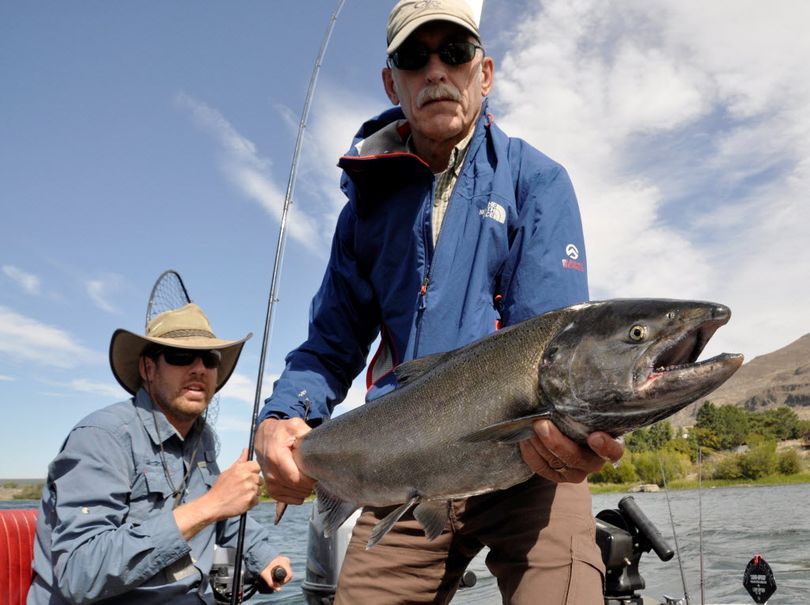 FISHING -- In case you've been in a coma for the past few weeks, let me remind you that a forecast record of 1.6 million chinook salmon is stampeding up the Columbia River.
A one-day record of 67,024 chinook was counted on Sunday, Sept. 7, only to be exceeded Monday by a record rush of 67,521 chinook.
It takes about seven days for upriver brights going over Bonneville to work their way upstream and get settled into the Hanford Reach, says Paul Hoffarth, Washington Department of Fish and Wildlife fisheries biologist.
That means 100,000-150,000 fish will be slamming into the reach this weekend.
Last year's record run of nearly 1.2 million chinook was dominated by 3-year-old fish averaging 8-12 pounds. More than 70 percent of this year's run is comprised of 4- and 5-year-olds, the bulk of them running 18-23 pounds.
Anglers have already been catching early arrivals.
On Sunday, Spokane fishing guide Dave Grove of Captain Dave's Guide Service (509 939-6727) helped his clients catch three adult chinook. Wild as well as unmarked hatchery salmon can be kept in the Reach. His anglers also caught a jack and released two wild steelhead.
I caught fish with Grove on Monday and the rumor that upriver brights are for the smoker is overstated. Our fish were delicious off the grill. You have to fish harder and perhaps release some to find brighter fish in October, but it can be done.
But whether they come off the smoker or grill, this is a not-to-miss run of fish.
Hoffarth calls the forecast of 1.6 million adult fall chinook "uncharted territory for fish managers," with "incredible numbers that are hard to believe."
---
---