Tue., April 14, 2015
North Idaho's Extreme Huntress faces out-of-state license charges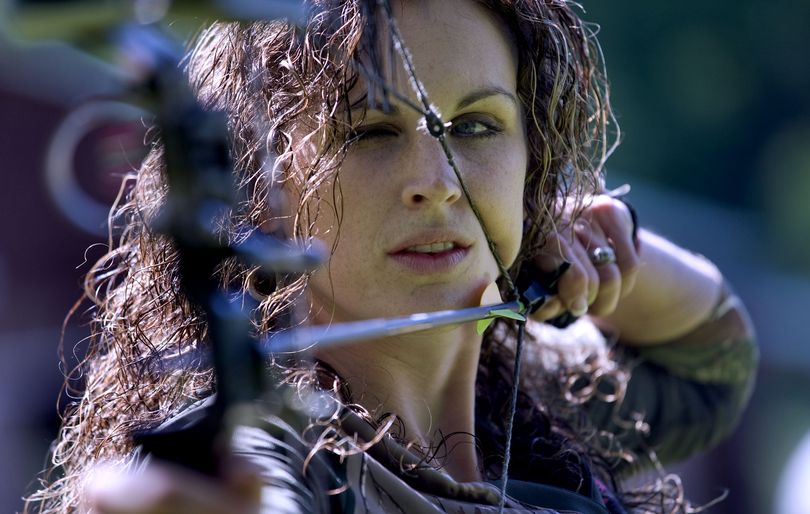 HUNTING -- North Idaho's famed Extreme Huntress from Bonner County is in hot water on charges of violating hunting permit regulations while she was vying for a national TV crown. She says she's not guilty. Her day in court is scheduled for April 20.
The Spokesman-Review was among many, many media outlets that tracked Amanda Rochelle Lowrey in 2013 on her trail toward the 2014 Extreme Huntress title.
However, according to the Hagadone News Network, Lowrey who garnered national acclaim after winning the televised hunting competition, is charged with violating hunting laws in North Dakota.
Lowrey is charged with making misrepresentations on a hunting permit application and unlawfully possessing big game, according to court documents filed in Divide County, North Dakota, the Sandpoint Daily Bee reports.
Lowrey pleaded not guilty to the misdemeanor offenses and a pretrial conference is set for April 20 in Crosby, N.D.
Extreme Huntress officials made this comment on the contest Facebook page:
Many Extreme Huntress fans have contacted us today with concerns about the recent news media reports regarding Amanda Lowrey and potential game violations. We were contacted by investigators from both Idaho and North Dakota fish and game departments in January 2014. We fully cooperated with their investigation and suspended any further competition activities with Amanda pending the outcome of the case.

Since this legal case is ongoing, we don't have a final determination of A...manda's status at this time.

We hold all our competitors to the highest levels of sportsmanship and ethics. We have a zero-tolerance policy, as listed on competition rules and entry form, for any competitor violating fish and game laws.

We look forward to our upcoming production and hope all sportsman will make adhering to our fish and game laws priority number one.
Here are more details from the Hagadone story by Keith Kinnaird:
The alleged offenses date to 2013, when Lowrey was competing for the Extreme Huntress title on the "Eye of the Hunter" program on NBC Sports. Lowrey became a semifinalist following a head-to-head hunting skills challenge in Texas, then advanced and won the Extreme Huntress trophy.

Within days of Lowrey winning the accolade in 2014, an Idaho Department of Fish and Game investigator requested that the North Dakota Game and Fish Department check its records for Lowrey's name, court records show.

Lowrey, an affidavit of probable cause said, purchased a resident hunting and fishing license in February 2013 and listed an address in Zahl, N.D. A search of her Facebook page indicated that she lived there from August 2012 to April 2013.

However, Lowrey purchased a resident deer license in Idaho in November 2012, according to Idaho Fish and Game records. She stated during her Extreme Huntress campaign that she was a Sandpoint resident.

Lowrey's Facebook page contained a photo of her posing with a mule deer which she said she harvested in North Dakota. The photo's geolocation metadata indicated the photo was taken near Epping, N.D., the affidavit said.

Subsequent Facebook posts by Lowrey indicated she harvested the buck while archery hunting, although North Dakota Game and Fish could find no record of her obtaining an archery license.

Fish and Game officers interviewed Lowrey on March 10 and she explained that her husband had been living and working in North Dakota and said the buck photo posted to Facebook was actually taken in Idaho, according to the affidavit.

Lowrey later called Idaho Fish and Game investigator Dave Overman and apologized for lying during the interview. Lowrey recanted her claim that the buck was harvested in Idaho and told Overman that she hit the deer with her truck in North Dakota and kept the animal but neglected to get a permit to possess it.

Lowrey said she posted the picture to Facebook during the North Dakota hunting season to gain publicity for the Extreme Huntress competition, the affidavit alleges.

Seymour Robert Jordan, a Divide County state's attorney, declined to comment on Monday. Lowrey deferred comment on Thursday and did not respond to a follow-up request on Monday.
---
---