Mon., April 20, 2015
10 top bicycle routes in Washington listed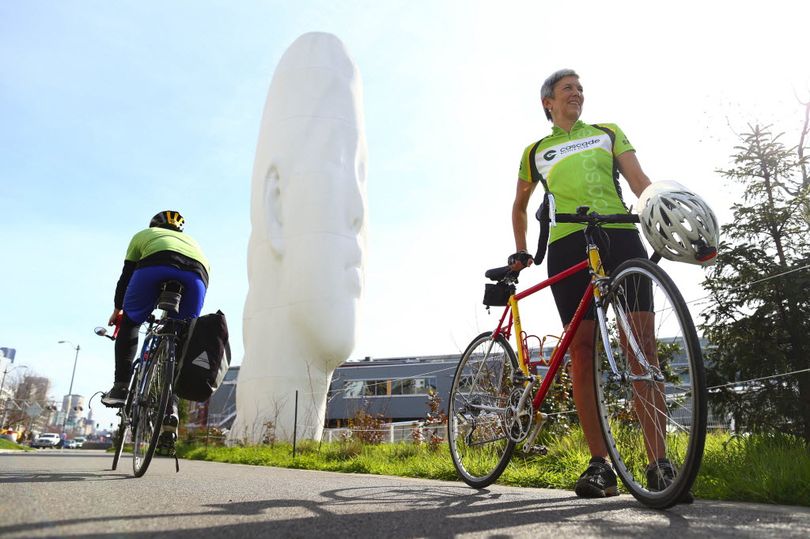 CYCLING -- Travelers visiting Washington State, including Puget Sound, for business or pleasure shouldn't forget their bikes.
Following is a rundown of 10 favorite bike rides from the leader of the Cascade Bicycle Club in a Seattle Times story moved by the Associated Press.
The list is clearly from a West Sider's perspective, as it omits great routes in the Palouse and northeastern Washington. But it's especially appealing to East Siders looking for new places to roll their wheels.
***
By TAN VINH/The Seattle Times

SEATTLE — Catherine Hennings, board president of Seattle's 16,000-member Cascades Bicycle Club, rides at least 75 miles a week in everyday life plus hundreds of miles around the state on weekends and on vacation.

So we asked Hennings to list her top 10 rides, anywhere in Washington, accessible for beginner to intermediate riders.

Here's the list, in her words in order of proximity to Seattle.
Seattle Urban loop
There's no better way to experience the sights, smells and sounds of Seattle than this 30-mile loop. This ride has it all — the boat traffic and salmon ladder at the Ballard locks, views over Puget Sound from Magnolia, the sculpture park, the Seattle waterfront, the Chinatown-International District, Lake Washington and the University of Washington.
From Gas Works Park, take the Burke-Gilman Trail (and connecting streets) west to Ballard's Hiram M. Chittenden Locks. Walk your bike across the locks and continue west on Commodore Way to Discovery Park.
Ride south through the park to Magnolia Boulevard and follow around the bluff to the Elliott Bay Trail and through Myrtle Edwards Park.
Ride along the Seattle waterfront on Alaskan Way, then turn left onto South Jackson Street and follow the bike route signs through the Chinatown-International District to the Interstate 90 trail.
When you reach Lake Washington, follow signs for the Lake Washington loop north to the University of Washington. From there, hop back on the Burke-Gilman Trail and back to Gas Works Park.
Bainbridge Island ride
Cascade Bicycle Club kicks off the cycling season in February with the Chilly Hilly, a 33-mile route around Bainbridge Island. You may have missed that event, but you can still ride the route on your own. See cascade.org.
Interurban Trail Loop
This North Seattle loop includes a wooded watershed in Lake Forest Park, a hidden pedestrian bridge over Interstate 5 and public art along the Interurban Trail. This 25-mile ride is fairly flat with the exception of a climb up Perkins Way.
Starting at Log Boom Park at the north end of Lake Washington, take the Burke-Gilman Trail south, then turn right on Northeast 170th Place to cross Bothell Way Northeast. Zigzag to continue west on Brookside Boulevard Northeast, which becomes Northeast 180th Street and eventually Northeast Perkins Way.
At the top of Perkins, turn right onto 10th Avenue Northeast and left onto Northeast 195th Street. Cross the pedestrian bridge to continue straight and then on the Interurban Trail heading south at Stone Avenue North.
At Northeast 83rd Street, turn left to Green Lake. Circle around Green Lake to the bike lanes along Ravenna Boulevard, which take you to the Burke-Gilman Trail north to complete the loop.
Centennial Trail
Even on a sunny day, this paved rail trail, which heads north from Snohomish to Arlington, is quieter than the Burke-Gilman, which makes it perfect for families on bikes. It gets you farther out of the urban area and into pastureland and charming historic towns. There are lots of ways to combine the trail with low-traffic country roads to create loops through towns such as Granite Falls, Sultan and Monroe. See centennialtrail.com.
Green River Gorge
The Maple Valley/Black Diamond area is another great choice for biking not far from Seattle. My favorite rides in this area include the chance to go over the scenic Green River Gorge and stop for lunch in the historic town of Black Diamond. There are lots of variations, but here's a 25-mile loop that covers the highlights:
From Landsburg Park in Maple Valley, head south on Landsburg Road Southeast. Turn left on Southeast Kent-Kangley Road and then right on Kanasket-Kangley Road Southeast, which continues as the Veazie-Cumberland Road into Cumberland. From there, go east on Southeast Green River Gorge Road, over the gorge.
Continue into Black Diamond on Lawson Street and after exploring Black Diamond, head north to Ravensdale on the Black Diamond-Ravensdale Road. From there, Southeast Ravensdale Way will take you back to Landsburg Road Southeast and the park where you started.
Olympic Discovery Trail
This wide, paved trail is mostly flat but punctuated by a few steep ravines that can be walked. Heading east from Port Angeles, follow the trail to Port Townsend past bays, through woods and farms and over rivers and streams on some cool bridges. Heading west from Port Angeles, the paved trail continues for only a few miles, but from its terminus just over the Elwha River, there are back roads that lead to Crescent Beach and Lake Crescent. For more info, see wabikes.org.
Lopez Island
The San Juan Islands are known worldwide as a bicycle tourism destination. Lopez Island can be done as a one-day outing from Seattle and is another family-friendly ride. There's a well-signed loop on quiet island roads, with side trips available to Spencer Spit State Park and Agate Beach County Park for beach exploring. From the ferry landing, head to Lopez Village, where you can pick up a biking map. The loop around the island is about 30 miles. (A popular annual cycling event, the Tour de Lopez, is April 25.)
Twisp River Road
The Methow Valley is known for its mountain biking but also has many great road-bike rides. My favorite — especially in the spring and early summer when mountain wildflowers are in bloom — is Twisp River Road. The road follows the beautiful Twisp River up the valley to a perfect lunch spot where the road crosses the river and the pavement ends. It's a 36-mile ride out and back. Starting in the center of Twisp, follow West Second Avenue until it turns into Twisp River Road and keep going until the pavement ends at the river. The road follows a gentle climb up the valley, with a fast return trip back to town guaranteed.
Stemilt Hill
Wenatchee is a great jumping-off point for bicycling, and this 25-mile loop is one of my favorites when I'm looking for a serious climb. The payoff is the views out over cherry and apple orchards to the Wenatchee River and snow-capped mountains.
From Wenatchee, head east on South Wenatchee Avenue, which becomes Malaga Highway, for about 4 miles. Turn right onto West Malaga Road and then right onto Joe Miller Road (steep climb). Turn left onto Stemilt Loop Road and continue climbing through orchards into the forest above.
After Stemilt Loop Road starts to drop, it turns into Wenatchee Heights Road. Turn right onto Squilchuck Road and head back to town.
Walla Walla
The rolling hills of southeastern Washington are perfect for a multiday bike tour that features miles of waving wheat fields along with excellent food and wine. There are a number of roads that connect Walla Walla with the towns of Waitsburg and Dayton to make a big loop for a weekend. A good description can be found in the "Cycling Sojourner" guidebook available through the Bicycle Alliance of Washington's Washington Bikes website, wabikes.org.
---
---