Thu., April 23, 2015
'Jumbo' trout are big attraction in Eastern Washington lakes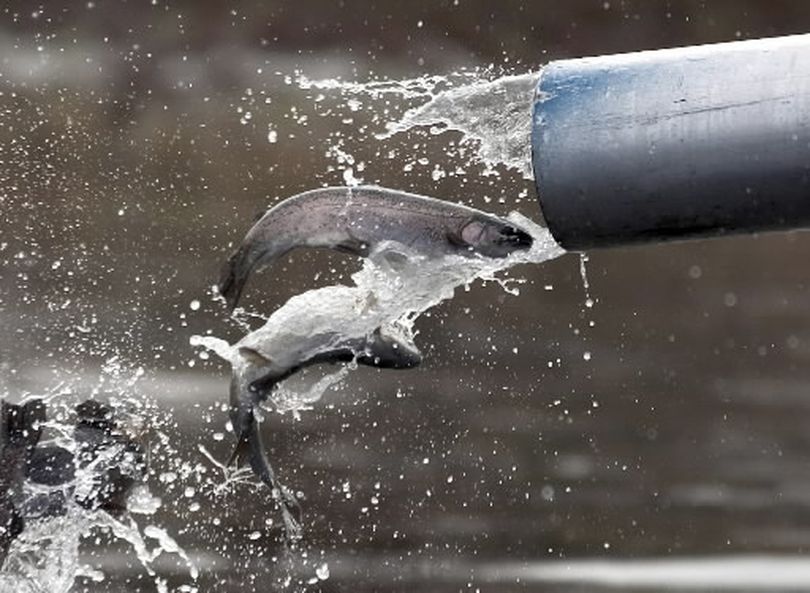 FISHING -- Two stories in the Thursday Outdoors special 2015 fishing coverage had errors regarding the term "jumbo" trout stocked into some Eastern Washington lakes.
These jumbo fish are meant to be "big" attractions to anglers headed out for the lowland lake trout season that opens Saturday, April 25.
Here's the definition of jumbo trout from the Washington Department of Fish and Wildlife website:
Jumbo Trout
In 2015, the Department will stock hundreds of lakes throughout the state with 144,700 jumbo trout averaging greater than 14 inches in length and 1 pound or larger in weight. Included in this Jumbo stocking will be 52,000 triploid trout that average 1½ pounds each. The triploid trout are purchased by the Department from private growers. About 42,000 of these trout will be stocked in April and May and an additional 10,000 will be stocked in June for a statewide Father's Day fishing promotion.
Click here to keep track of when Jumbo Trout are stocked in real-time.
Jumbo trout are especially effective in jumpstarting lakes such as McDowell, which was was rehabilitated last year and had a clean slate to start this year's fishery. Fry also are being stocked as a lower-cost fishery that will grow naturally in the lake and put smiles on anglers' faces next year.
---
---