Wed., Aug. 12, 2015
Cow dog hits the trail with hikers; feasts on hi-cal food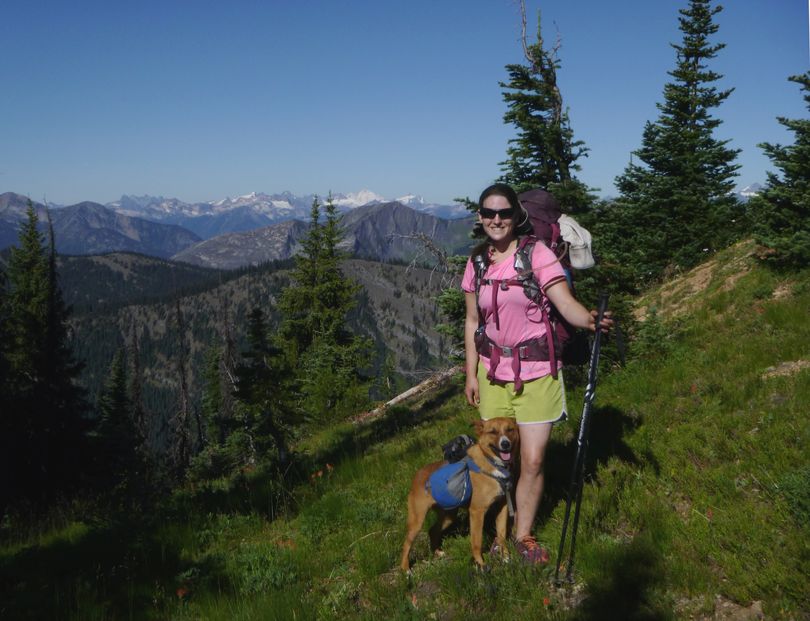 HIKING -- Duke the cattle dog caught the attention of several readers who enjoyed the Sunday Outdoors story about hiking 100 miles through the Pasayten Wilderness of northcentral Washington.
Indeed, Duke -- a two-year-old shelter dog -- is a hiking star, taking on the mileage with little difficulty.
One question asked: Did he carry his food?
Before the trek, Duke was eased onto a diet of special high-calorie dry food (more expensive, too). This enabled his owner, Samantha Journot, to give him the needed calories with less bulk and weight. Pet specialty shops are good places to shop for these specialty foods.

Duke carried all of his food, plus a pint water bottle and collapsible bowl to help him through the long waterless stretches the hikers encountered. He also carried a folding trowel, which was used to bury his dumps -- as well those of other members of the trip.
How did Duke's feet endure the 100 miles
Duke already had been trail toughened before the trek. Being young, he had a lot of energy to waste. Journot carried a long leash to keep him from bolting after ground squirrels in meadows, where he could do harm to his feet. By Day 3, Duke wasn't wasting too much energy. He lay down and rested when the group did. This helped save his feet. However, after 70 miles, we had a hot day on the PCT and the rocky trail was sizzling. Journot put booties on Duke, which he adapted to quickly. They definitely helped him, but they didn't fit well. We had to duct tape them into place with marginal results.

With Duke in mind, we got up at 3 a.m. the last day and had 15 miles done shortly after 1. Duke did much better by getting him of the trail sooner. Temperature in Twisp as we hit the pub for a late lunch and the cheeseburgers we were craving: 100 Degrees! The Twisp River Pub has a dog-friendly shaded deck with water bowls for dogs.

As for dog booties, you definitely want to have them for your dog on a multi-day trek. I think the simpler the better. One dog enthusiast recommends checking out dogbooties.com.
---
---