Wed., Dec. 2, 2015
Road-killed canine was dog, not wolf, officials say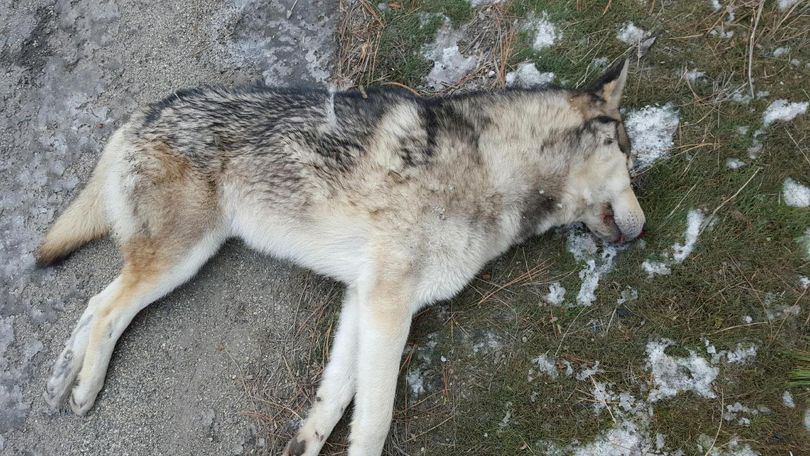 WILDLIFE WATCHING -- Was it a wolf or a dog? The question regarding the canine killed by a vehicle along U.S. 2 on Tuesday was answered in a definitive way today.
The owners of the dog came to claim its carcass at the Spokane County Regional Animal Protection Service, says Kevin Robinette, Washington Department of Fish and Wildlife regional wildlife manager.
SCRAPS identified the dog as an intact male husky.
The dog has been running loose at least for weeks, as noted by a reader who emailed me a photo of the dog she snapped on Oct. 11 near where it eventually was killed along U.S. 2.
While wildlife officials are still keeping their eye out for the possibility that a pack of endangered gray wolves eventually could form in Spokane County, this case illustrates the well known and continuing issue with loose-running dogs.
It's illegal in Spokane County to let dogs roam loose. That's partly for the safety of the dogs and the public, but also for the protection of wildlife.
The nicest family dog -- fed and pampered at home -- can chase deer and other wild creatures that must make their living in the wild. Chasing by dogs is especially stressful and lethal to wild animals in winter when snow conditions can favor the pets versus wildlife that's already struggling with low energy reserves.
And "nice dogs" also are known to pair up or form packs with other dogs and to become big-game killing gangs.
That's why it's illegal to let your dog run loose.
I might add, it's also selfish, lazy and stupid.
---
---