Tue., Dec. 8, 2015
Hunting show host, former Miss Kansas, cited for illegal grizzly hunt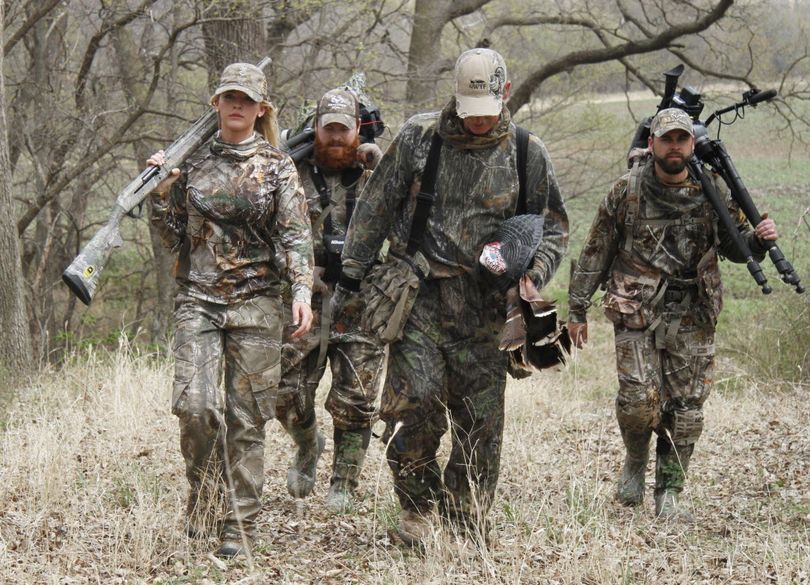 HUNTING SHOWS -- The former Miss Kansas who became the host of an Outdoor Channel adventure show has been charged with illegally shooting an Alaska grizzly bear and attempting to cover it up, the Associated Press reports.
Alaska State Troopers say 25-year-old Theresa Vail, star of "Limitless with Theresa Vail," and two hunting guides are charged with misdemeanors.
Vail during filming in May reportedly was legally hunting for a male grizzly, and in her haste to kill it, illegally shot a nearby sow.
Master guide Michael Wade Renfro and assistant guide Joseph Andrew Miller are charged with conspiring to cover up the violation up by obtaining a second bear tag and submitting the wrong information to game authorities.
Renfro's attorney says the accidental shooting of the second bear was an unfortunate event. Myron Angstman says Renfro and everyone else in the case have cooperated with authorities.
One thing begs more information: Did men capitalizing on a camera-ready hunting industry marketing gold mine lead this young woman into trouble?
BAD YEAR FOR TV HUNTING SHOWS...
Vail's case is the latest of at least three notable cases made against cable TV hunting programs this year, suggesting the pressure to produce footage to thrill the cable TV audiences.
In Montana, a Chewelah, Washington, man and host of the former cable TV hunting show "Trophy State of Mind" has been convicted and fined $12,215 for trespassing and illegally hunting deer and elk in Montana.
Matthew Alwine, 28, was sentenced in September for hunting violations on private property in the Crazy Mountains east of Clyde Park from 2010 to 2014, according to Montana Fish, Wildlife and Parks officers.
In Alaska, a contributor to a cable TV hunting show will serve 18 months behind bars for hunting violations committed in northwest Alaska between 2008 and 2014, under a plea agreement reached Nov. 23.
Here's the story by Sam Friedman of the Fairbanks News-Miner:
Clark W. Dixon, 41, a former contributor to the Sportsman Channel show "Hunting Syndicate" pleaded guilty Monday to two felony violations of the federal Lacey Act, according to a written statement from the U.S. Attorneys Office.

Four others hunters featured in the show have also pleaded guilty since charges were announced in September. One, Randall Goza, of Wasilla, is scheduled to go to trial.

According to the case against him, Dixon committed several hunting violations in Noatak National Preserve, including pretending to be an Alaska resident to go on resident-only hunts, leading a client on a grizzly bear hunt without a guide and falsifying a hunt record to claim that a bear he killed was taken by his father.

Under the terms of his plea agreement, Dixon will not contest the government confiscating his father's STOL Quest SQ-4 plane that was used in the hunts. He's agreed to pay a $75,000 fine and forfeit rifles and bows used in illegal hunts, as well as 17 hunting trophies, including grizzly bear, Dall sheep and caribou.

Other hunters who were featured in the show have also reached agreements, according to the news release.

• Dixon's father Charles Dixon, 70, was sentenced to pay $25,000 in fines and restitution to the Noatak Preserve, with the money directed to removing his illegal hunting camp from the preserve.

• Clarence Michael Osborne, 53, of Madison, Mississippi was sentenced to five years of probation with a probation condition that he not hunt anywhere in the world. He was also sentenced to forfeit a rifle, grizzly bear and moose mounts from his hunt and to pay $81,000 in fines and restitution.

• Fulton Wold, 41, of Nashville, Tennessee was sentenced to two years of probation. He must forfeit a rifle and moose and caribou mounts from his hunt and pay $8,500 in fines and restitution.

• Terry Goza, 71, of Hazlehurst, Mississippi was sentenced to pay a $7,500 fine.
---
---