Mon., Dec. 21, 2015
Court rejects plan to kill more wolves in Washington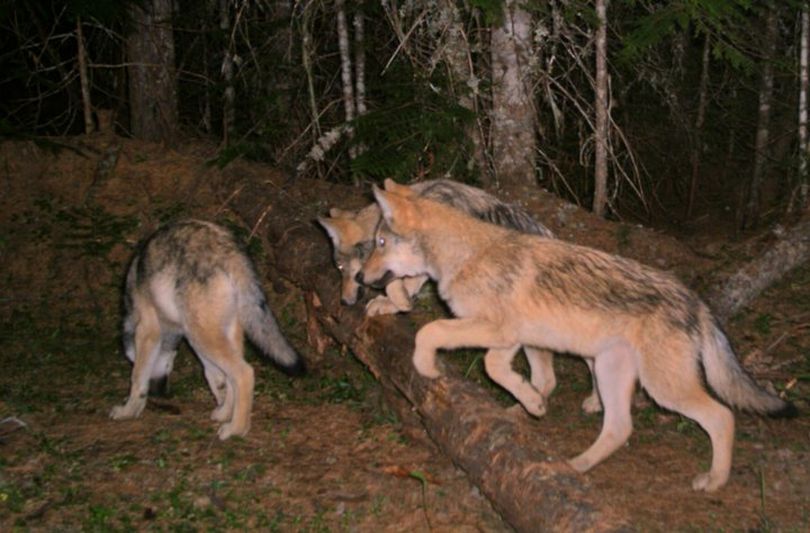 UPDATED with state wildlife official's response to court ruling.
ENDANGERED SPECIES -- A federal judge has rejected plans by a federal agency to assist in the killing of problem wolves in Washington state, the Associated Press reports.
U.S. District Court Judge Robert Bryan on Dec. 17 ruled that the Department of Agriculture's Wildlife Services should have prepared a more in-depth environmental analysis of the proposed killing of wolves.
The ruling favored conservation groups that sued the agency.
Wolves were hunted to extinction in Washington at the turn of the last century. But they started migrating into Washington from Canada and Idaho in the early 2000s. State wildlife officials have documented at least 16 wolf packs in the state, all in Eastern Washington.
Conflicts between wolves and ranchers have occurred and cattle and sheep losses have been documented and some lethal control of wolves by Wildlife Services and the Department of Fish and Wildlife has followed.
Several cases of wolves being illegally killed by shooters have been investigated.
At least three wolves have been killed in legal tribal hunting on the Spokane Indian Reservation this year.
Wildlife Services is a program within the U.S. Department of Agriculture that is responsible for controlling the number of wolves, grizzly bears, coyotes and other wild animals. Officials at the agency didn't have a response on the ruling.
Environmental groups cheered Thursday's ruling, the AP reports.
"It is long past time that we base wildlife management decisions on the best available science, not on antiquated, anti-wolf rhetoric and myth," said Bethany Cotton of WildEarth Guardians.

Environmental groups contend the environmental assessment failed to address the full ecological impacts of killing wolves in Washington, including impacts on wolves in neighboring states and on other animals, such as grizzly bears and Canada lynx.

Wildlife Services has been involved in the killing of wolves in Washington in the past.

In August 2014, Wildlife Services snipers shot from a helicopter and killed the Huckleberry wolf pack's alpha female.

Wildlife Services also advised the Washington Department of Fish and Wildlife in the 2012 destruction of the Wedge wolf pack in Eastern Washington. In that case, the state agency killed seven wolves after they preyed on livestock.

At the federal level, the state is split into two separate wolf populations. In the eastern third of the state, wolves are considered part of the large Northern Rocky Mountain population, which was removed from the endangered list in 2011. But in the western two-thirds of the state, wolves are considered part of the Pacific Northwest population, which is much smaller and still listed as endangered.
Following are excerpts from a response to the ruling by Donny Martorello, the state Fish and Wildlife Department's wolf policy leader:
WDFW has contracted with Wildlife Services for non-lethal and lethal strategies to address wolf-livestock conflict.

In 2014, Wildlife Services killed one wolf in the Huckleberry pack after we documented that members of the pack had killed 28 sheep.

In 2012, Wildlife Services provided technical information to WDFW when we removed seven wolves from the Wedge pack after its members had killed or injured over a dozen cattle.

In his ruling, Judge Bryant rejected the Environmental Assessment prepared by Wildlife Services of its wolf management activities, and he barred the program from participating in the lethal removal of gray wolves in Washington. However, Wildlife Services may continue to work on non-lethal management as requested by WDFW. Those activities have included trapping and collaring wolves, investigating reports of wolf-livestock depredations, and implementing non-lethal measures.

WDFW filed a brief in support of Wildlife Services, because the federal agency has been assisting WDFW with implementation of the state Wolf Conservation and Management Plan. WDFW and Wildlife Services are considering their legal options for responding to the ruling.

As Judge Bryant noted in his order, "The decision of how to proceed – whether to prepare an EIS, renegotiate a narrower scope of involvement with WDFW, or abandon assistance efforts entirely – rests with Wildlife Services."

Because the case is ongoing, WDFW will not be discussing further details at this time.

Questions should be directed to Mr. Mark Abueg with the U.S. Department of Justice at (202) 353-6836 or mabueg@usdoj.gov.

For its part, WDFW will continue to implement the Wolf Conservation and Management Plan, which is the basis for the department's contracts with Wildlife Services. However, following the recent ruling, WDFW will carry out any lethal removal of gray wolves that may be warranted.

As you know, WDFW carefully considers whether lethal control is necessary before taking action. Gray wolves are state listed as endangered throughout Washington and federally listed as endangered in the western two-thirds of the state. The lethal control actions in 2012 and 2014 are the only such actions taken by the state since the first wolf pack was documented in Washington. Despite these two removals, the wolf population has increased every year in Washington since 2008.
---
---