Fri., Jan. 30, 2015
Wyoming balks as feds plan sheep grazing cuts to save bighorns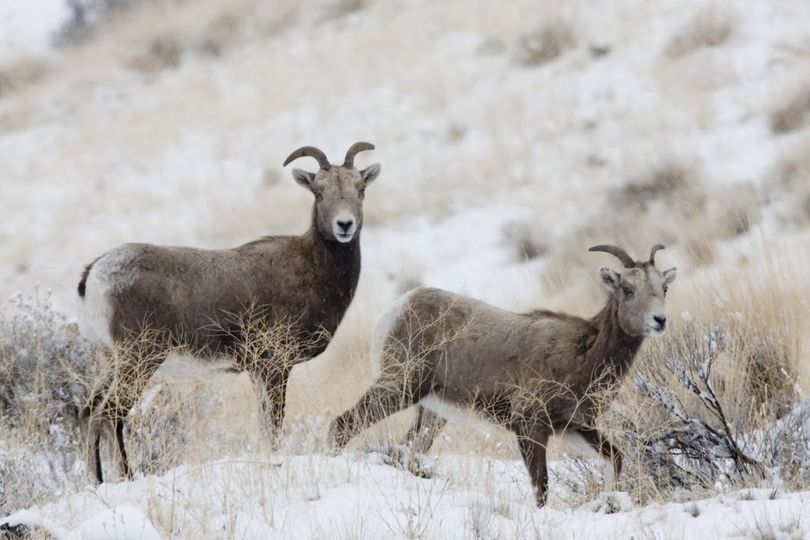 WILDLIFE -- Federal efforts to reduce chances that domestic sheep will spread disease to beleaguered bighorns is hitting a fence in Wyoming.
Some Wyoming lawmakers are pushing to protect domestic sheep in the state from a possible federal effort to remove them from public lands, the Associated Press reports:
Here is the latest from AP, although the story does not point out that the federal action has been prompted by massive die-offs of bighorn sheep in states such as Washington and Montana.
The U.S. Forest Service recently curtailed domestic sheep grazing on the Payette National Forest in Idaho to protect bighorn sheep from disease. The agency is developing a larger plan to consider whether it needs to curtail domestic sheep in Wyoming and other western states to reduce the threat to bighorns.

Domestic sheep producers in Idaho and elsewhere last year appealed the Forest Service's decision to curtail grazing on the Payette National Forest to a federal appeals court in San Francisco. Wool growers' associations in Wyoming, Colorado and Idaho have joined the fight.

Amy Hendrickson, executive director of the Wyoming Wool Growers Association, said Thursday the prospect of coming federal cuts to grazing allotments has created great concern among sheep operators in the state.

"It's hard for a lot of our producers to make management decisions, decisions what to do, because they just don't know whether they're going to be able to graze or not," Hendrickson said.

Sen. Larry Hicks, R-Baggs, is sponsoring a bill to codify in Wyoming law a plan that state agencies have used for the past 10 years to resolve possible conflicts between wild and domestic sheep. Recognizing the plan in state law will put the state on firmer legal ground if it has to fight any federal effort to evict domestic sheep producers, he said.

State management agencies, hunting groups and grazing interests worked together to devise the Wyoming plan in 2004. It ranks sheep areas in the state according to their value, placing the greatest restrictions on domestic sheep in the prime bighorn areas.

"For the last 10 years, we've been operating under a handshake," Hicks said. "In Wyoming it works really well, to the point that the agencies have adopted it."

The Wyoming Wool Growers Association and the Wyoming Wild Sheep Foundation, a wild sheep conservation group, intervened together against environmental groups that filed a federal lawsuit alleging that domestic sheep grazing threatened a small bighorn herd on the Medicine Bow National Forest. A decision in that lawsuit is still pending.

Hicks sponsored legislation that became law two years ago specifying that if concern over bighorns in the Medicine Bow National Forest threatened existing domestic sheep operators that the state would remove the wild sheep.

Sen. Stan Cooper, R-Kemmerer, is sponsoring similar legislation this year that would specify the state would remove a herd of bighorns from the Darby Mountain area of the Bridger-Teton National Forest if the federal government proposed to cut domestic sheep operations there.

Wyoming Gov. Matt Mead, Idaho Gov. C.L. "Butch" Otter and Utah Gov. Gary Herbert wrote to U.S. Agriculture Secretary Tom Vilsack last summer expressing concerns about the Forest Service's development of its forthcoming sheep plan.

The governors told Vilsack that new grazing allotments had to be identified before any domestic sheep producers were displaced from grazing allotments. Members of Congress from around the West have voiced similar concerns to agency officials.

Jessica Crowder, policy adviser for Mead, said Thursday that the Region 4 office of the U.S. Forest Service, headquartered in Ogden, Utah, is preparing the sheep risk assessment. Crowder said she expects the Forest Service will share more information with states in the West in coming months.

Attempts to reach Forest Service officials for comment on the pending plan were unsuccessful on Thursday.

Lauren M. Rule, an Oregon lawyer, represents environmental groups challenging domestic sheep grazing on both the Payette and Medicine Bow national forests.

Rule said Thursday she doesn't see how codifying Wyoming's existing sheep plan would help the state if the Forest Service proposes cuts in grazing. She said the existence of a state sheep plan in Idaho didn't stop federal action to reduce grazing there.
---
---