Thu., July 2, 2015
Sturgeon anglers land rare white/pink specimen in Snake River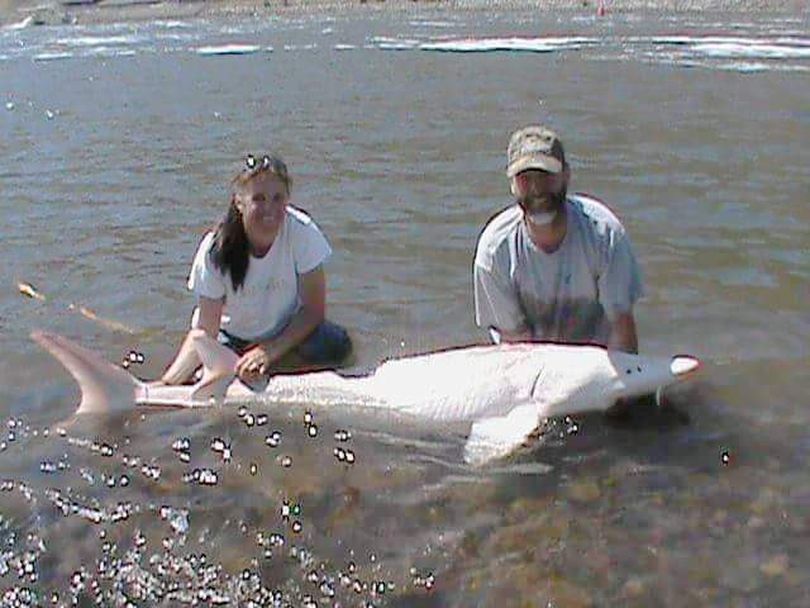 Craig Dowdy of YJ Guide service and his wife, Melodie, fished with clients just downriver from Lower Granite Dam last week, catching 23 sturgeon in an eight-day stay.
Although they did catch a 9-footer and one keeper, the biggest thrill came on June 20 when Mrs. Dowdy landed a 6-foot, 3-inch all-white sturgeon with blue eyes and pink highlights on the tail.
Area biologists who saw the photos said they had never seen anything like it, Dowdy said.
"Melodie fought the fish for 45 minutes before the fish finally gave up," Craig said. "After talking to the biologists in the area no one has any info about albino sturgeon on the Snake and most have never seen anything like it."
Note how the Dowdys are taking the photo before releasing the fish. They turn the sturgeon upside down to subdue it for removing the hook and making the photo, and they don't lift the sturgeon's head out of the water, which has been proved to damage these long-lived gentle giant fish.
---
---