Tue., March 3, 2015
Enviros sue to prevent wolf control in Washington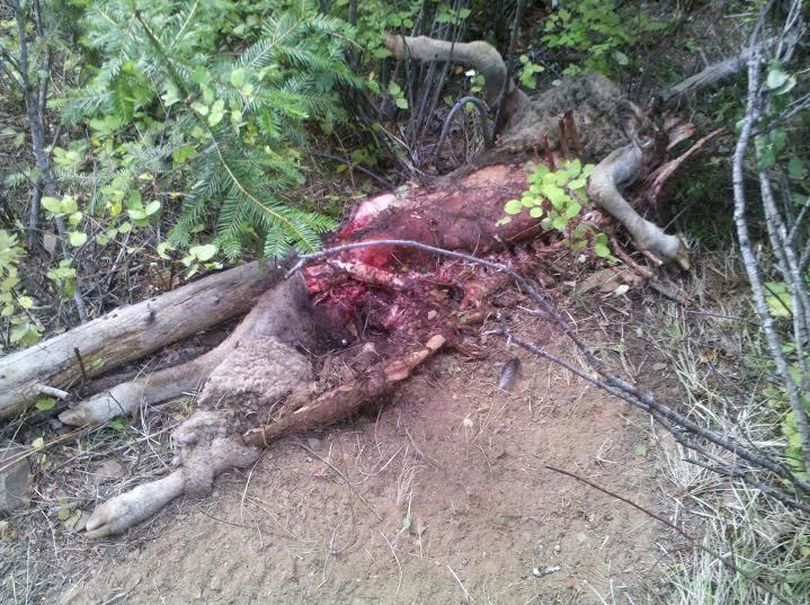 ENDANGERED SPECIES -- Turning a cold shoulder to the social and economic issues of wolf recovery, five environmental groups including The Lands Council based in Spokane say they have filed a lawsuit today against the U.S. Department of Agriculture's Wildlife Services program. The groups are challenging the federal agency's authority to kill endangered wolves in Washington.
A similar suit was filed Feb. 11 in Idaho by a different group of five environmental organizations.
Despite hunting, trapping and predator control, Idaho has up to 10 times more wolves than the 100 minimum established by the federal government in the 1987 Northern Rockies wolf reintroduction plan.
Wildlife Services assists ranchers, farmers and state wildlife agencies in doing the dirty work of trying to minimize production losses to predators and other wildlife ranging from starlings to bears.
From my perspective in the middle ground on the wolf issue, the media release (see attached) from the Western Environmental Law Center is full of overstated charges that will be counterproductive for wolves politically and on the ground.
"Wildlife Services' activities related to wolves in Washington have been extremely harmful," said John Mellgren, attorney at the Western Environmental Law Center.
Where's the proof? Wolf numbers, range and packs are increasing in Washington, according the state wildlife officials.
Northeastern Washington ranchers also would disagree the the action is unwarranted or "extremely harmful."
In Washington's worst of two cases, the state Fish and Wildlife director made the difficult call to request Wildlife Services' assistance to eliminate the Wedge Pack in 2012 after the seven wolves zeroed in on cattle in at least 16 confirmed attacks.
Bottom line: That action ended the immediate nightmare for the ranchers, and within a year the Wedge Pack was reforming and making a living off natural food sources.
The environmental groups' media release continues:
Washington has experienced Wildlife Services' recklessness firsthand. Last August, Wildlife Services' snipers mistakenly shot and killed the Huckleberry wolf pack's alpha female during a helicopter gunning operation. The killing was in direct violation of explicit instructions from the Washington Department of Fish & Wildlife (WDFW) to not kill either of the pack's alpha members. The death of the Huckleberry pack's breeding female threatens the future of the entire pack.
There's no proof the future of the pack is threatened by that mistake. The media release does not mention that the sheep ranchers were using a range rider and guard dogs to protect their flock. It doesn't mention that dozens of sheep were killed and ultimately they had to pull about 1,600 sheep out of the grazing area on private timber company land and move them to another private pasture. That's costly to a producer.
"The science tells us that killing wolves does not actually reduce wolf-livestock conflicts," Mellgren says, "but Wildlife Services is continuing its brutal assault on this iconic animal and it needs to stop."
There is no brutal attack on wolves in Washington except from the point of view that no wolf shall be killed. That attitude is not in the best interest of wolf recovery because it won't fly socially in this state or any other Northwestern state.
The "science" Mellgren refers to is a Washington State University study that found killing wolves in some cases increased wolf attacks on livestock in the long run.
While there's merit to looking at the overall impacts of predator control, it's unnecessary and counterproductive to restrict wildlife managers from lethally removing predators, especially in hot-spot situations.
Washington Fish and Wildlife Department officials made that clear when the WSU study was publicized.
Jay Kehne of Conservation Northwest, who works with ranchers in non-lethal methods of avoiding wolf attacks, has confirmed that wolves will have to be targeted in some cases to make wolf recovery work. Kehne also is a Washington Fish and Wildlife commissioner.
The lawsuit filed today seeks to require USDA to prepare an in-depth Environmental Impact Statement addressing the effects of employing Wildlife Services to kill endangered wolves in Washington. In other words, they want to make it prohibitively expensive to manage wolves.
That's environmental overkill.
---
---